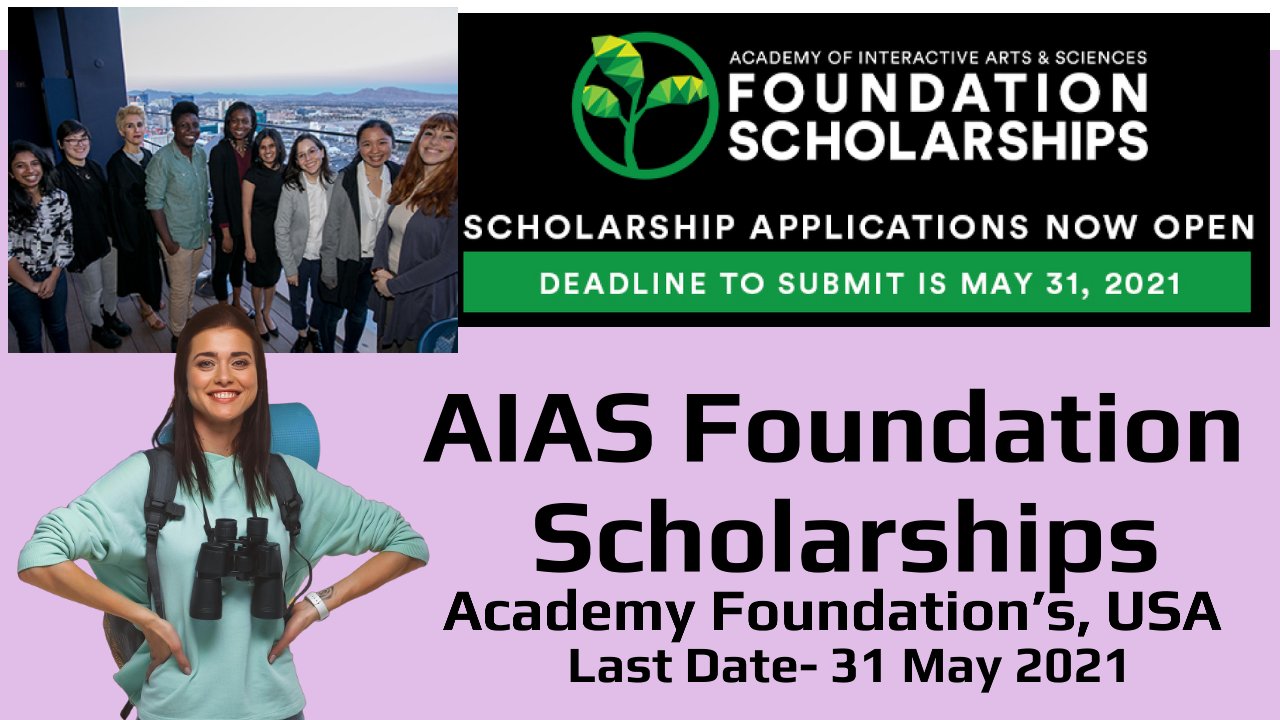 Designation/Position- AIAS Foundation Scholarships
Academy of Interactive Arts & Sciences Foundation, Los Angeles invites application for AIAS Foundation Scholarships for eligible candidates
About- We are now accepting submissions for our AIAS Foundation, WomenIn, and Girls for Gaming scholarships. These scholarships support aspiring student game makers in undergraduate or graduate level programs who are planning on pursuing a career in development or leadership as well as video game early professionals and recent graduates within their first two years in the industry.
Study level- Undergraduate or Graduate
Location- Academy of Interactive Arts & Sciences Foundation, Los Angeles
Eligibility/Qualification–
• Must be a full-time undergraduate student or a graduate student attending an accredited college or university during the 2021-22 academic school year OR or working as an early professional (within their first two years in the industry).
• Must be 21 years or older by February 8th, 2022. If under 21, must acknowledge that they are not eligible to participate in activities during D.I.C.E. Summit including the mentor program on site.*
• Major: Any field
• GPA: 3.3 minimum on a 4.0 scale
• Applicants do not need to be a US citizen or permanent resident to apply. In compliance with federal law, any non-U.S. citizen who receives a scholarship must not be listed on a published "Specifically Designated Nationals" terrorism watch list.
• Family members of AIAS Foundation board and staff and individual major donors of the Foundation (defined as contributors of at least $1000 in donation) are not eligible to apply for the scholarship.
• Academic institutions must be accredited by the standard and customary university/college accrediting institution(s) for the country or countries where they operate. If there is any question as to the accreditation of any academic institution, the Foundation reserves the exclusive right to determine in its sole judgment whether students from that institution will be eligible for Foundation scholarships.
• Previous scholarship recipients are not eligible to apply.
Job/Position Description-
Applicants to the AIAS Foundation Scholarship must intend to pursue a career or working as an early professional in any aspect of game development including but not limited to: art, animation, programming, engineering, game direction, game design, sound design, law, marketing, and business administration.
The student scholarship winners will each receive $2,500 while professional scholars will receive a travel stipend to another video games conference. All scholars participate in a year-long mentorship program and are eligible to participate in a professional training and networking opportunity at the 2022 D.I.C.E. Summit and 25th D.I.C.E. Awards show. Girls for Gaming scholar recipients will also receive an additional workshop on how to further grow ally communities and amplify female voices through their program.
How to Apply-
https://www.aiasfoundation.org/programs/aias_foundation_scholarships_application_form.asp
Last Date for Apply– 31 May 2021
More Opportunities:-
Dean's International Research Scholarship, University of Sydney, Australia
Rosa-Luxemburg-Stiftung Awards at Rosa-Luxemburg-Stiftung, Germany
Jönköping University Scholarships at Jönköping University, Sweden
Woods Hole Internship at Woods Hole Oceanographic Institution, U.S.A.