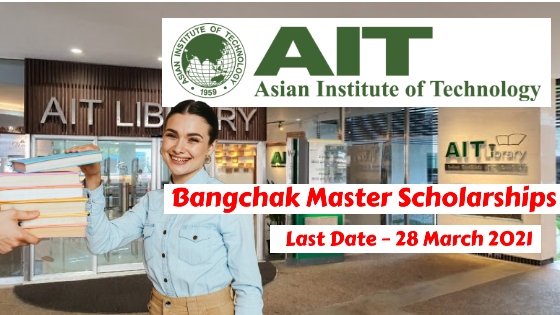 Designation/Position- Bangchak Master Scholarships 2021
Asian Institute of Technology (AIT) in Thailand invites application Bangchak Master Scholarships 2021 for eligible and interested candidates
About- Bangchak Initiative and Innovative Centre (BIIC@AIT) located at Asian Institute of Technology (AIT) in Thailand is currently looking for excellent a total of three master applicants in
Energy
Food Engineering and Bioprocess Technology (FEBT)
Environmental Engineering programs (EEM).
All research assistant scholarships are fully-funded (covering the stipend and tuition fees) and open to students from any nationality (preferably Thai nationals). English is the official language of communication at AIT.
The Bangchak Initiative and Innovative Centre addresses fundamental and applied research challenges facing the sustainable development goals worldwide and its objective is to inculcate entrepreneurship and innovation enterprises. The research program concentrates on sustainable and green technology. The Centre is generously funded to collaborate closely with top industries and universities domestically and internationally.
Research/Job Area- Energy, Food Engineering and Bioprocess Technology (FEBT), Environmental Engineering programs (EEM).
Location- Asian Institute of Technology (AIT), Thailand
Eligibility/Qualification–
Any nationality is welcome to apply (Preference to Thai Nationals)
First-class (honours) bachelor's or GPA 3.0 from reputed Universities
Have English proficiency score as required by AIT Language Center (IELTS-Academic: 6 (writing and overall) or AIT EET ≥ 6.0, TOEFL ≥ 550).
General Requirements
The role of researcher is to carry out innovative research which will lead to commercial prototype, product or process.
Capable of working within a project team to achieve innovative results.
Exceptional communication, organisation and interpersonal skills.
Ability to present results in technical reports, and prepare scientific papers for publication in international refereed journals.
Experience in incubation/founding start-up company is added advantage.
Experience in the following fields will be a plus; Artificial Intelligence, IoT, Big Data Analytics, Blockchain, Energy technology, Clean Technology, Smart Cities etc.
Job/Position Description-
The role of researcher is mainly, but not exclusively, to carry out innovative research in the field of sustainable development which will lead into commercial prototype, product or process. They will act as a bridge between both industry needs and academic research objectives in order to bring about highly structured and well defined solutions to the industrial problems. BIIC@AIT researchers will be expected to have both academic and industry experience, together with a sound understanding of the wider energy landscape beyond their area of expertise. All researchers will be expected to initiate and contribute to writing of proposals and other external funding streams.
We offer an interesting and challenging international environment focusing on education, research, scientific advice and innovation, which contribute to enhancing the economy and improving social welfare. We strive for academic excellence, collegial respect and freedom tempered by responsibility. The bursary is consistent with the norm for master students. The period of student assistantship is 24 months.
How to Apply-
For Admission in August 2020 batch, please fill the online application which is given in the following link http://www.services.ait.ac.th/admissions/. Along with this application, applicant should send the following documents all in one combined PDF file to the following email (sheree@ait.ac.th) on or before 31st March 2020. The successful applicant can start immediately in August 2020 semester.
Covering letter
Project proposal which may lead to commercial products (2 pages maximum)
Information about education, exams and previous relevant work/research experience (a CV).
Certified copies of academic diplomas and certificates.
Publications relevant to the research scope and any other work which the applicant wishes to be taken into account and should clearly state the applicant's contribution.
Names and contact information of at least two references.
Last Date for Apply– 31 March 2021
Deadline for Fall semester(August 2021 intake): 31 March 2021
More Opportunities
Postgraduate Research Scholarship at The University of Sydney, Australia
Excellence Scholarship at Leiden University, The Netherlands
Australian Government RTP Scholarship (International), University of Sydney
Felix Scholarships for Indian citizens at University of Reading, United Kingdom