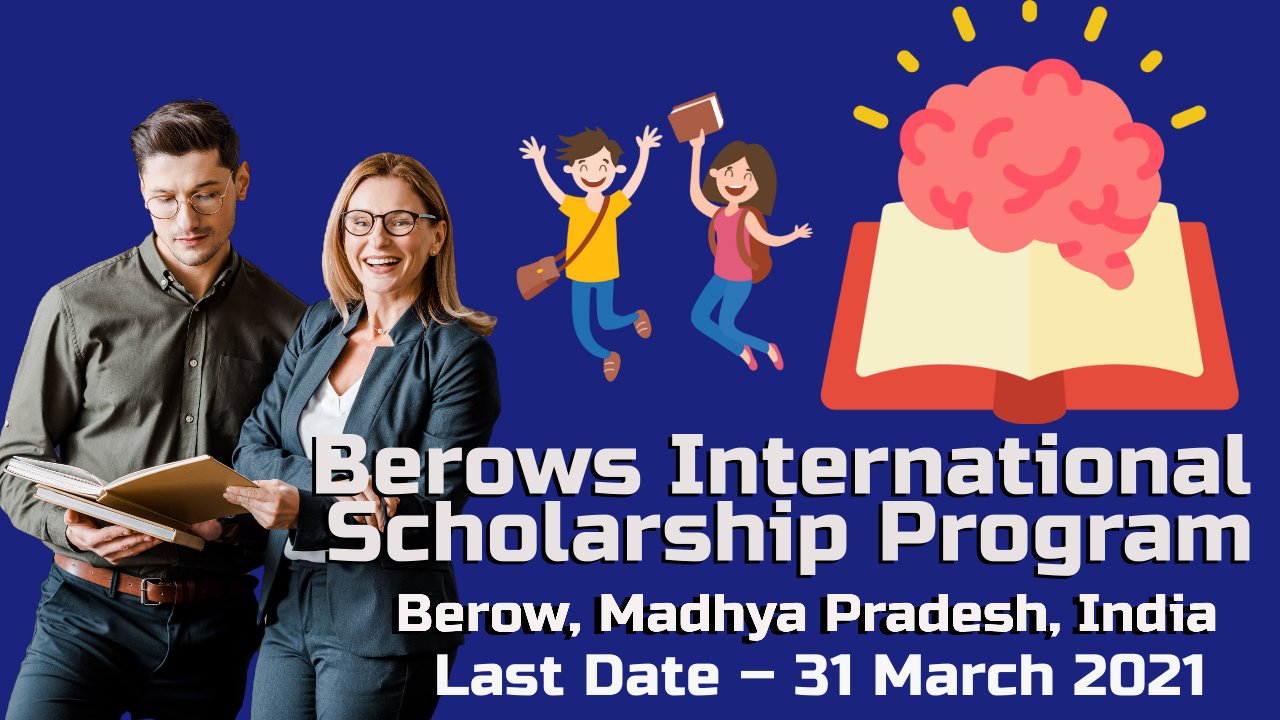 Designation/Position- Berows International Scholarship Program
Berows, Madhya Pradesh, India invites application for Berows International Scholarship Program for eligible and interested candidates
About- Berows International Scholarship Program Test (BISPT) is a scholarship program to provide financial aid to meritorious students from all over the world. The BISPT scholarship program's objective is to motivate the students by providing the scholarship and making students independent. This program aims to solve a student's financial problems so students can progress in life without taking any loan for their education.
Study level- All areas
Location- Berows, Madhya Pradesh, India
Eligibility/Qualification–
PLEASE NOTE THAT YOU ARE APPLYING TO PARTICIPATE IN OUR ONLINE TEST SCHEDULED FOR 11 April 2021 (SUNDAY) TO WIN A Berows International Scholarship Program Test (BISPT) BASED ON MERIT.
You can apply for JUNIOR, GRADUATE, and SENIOR CHAMPION only if you are appearing in or passing out your class 9th, to 12th or Diploma or Under Graduation 1st to 5th Year And Post-graduation 1st and 2nd Year exam of a degree, Any course in any school/college/university in the year 2021. (Read all the eligibility criteria carefully in the ABOUT BISPT menu of our website www.bispt.com before filling up the application form)
Job/Position Description-
Berows International Scholarship Program Test (BISPT) is a merit-based scholarship test conducted by Berows with the assistance of various Educational Institutions, trusts, and NGOs from all over the world. To furnish an online platform to students with brilliant minds and allowing them to exhibit their knowledge by participating in the quizzes organized and earn scholarships. To compel the young blooming minds of students to expand and attain as much knowledge as possible for the betterment of themselves as well as society. BISPT scholarship is available for students in 3 groups as per their educational level. They have been divided into three groups named Junior Champions, Graduate Champions, and Senior Champions.
How to Apply-
1. All the Students are requested to read & select the Eligibility Criteria
2. Now Register for the BISPT Scholarships & Submit Application Successfully.
3. Students have to appear for the BISPT Examination which will be conducted through Online examinations Only.
4. Students have to clear the examination & also get a higher rank to get a higher scholarship amount.
Note: (1) Every Participant has to pay one-time registration fees of ₹150 INR ($2 USD) only.
(2)Scholarships will be awarded by Cash, Cheque & Bank Account transfer only.
Last Date for Apply– 31 March 2021
More Opportnities:-
UWGSS Graduate Studies Scholarship at the University of Winnipeg, Canada
Amsterdam Merit Scholarship at Universiteit van Amsterdam, Netherlands
Bangchak Master Scholarships 2021 at Asian Institute of Technology (AIT) in Thailand
Postgraduate Research Scholarship at The University of Sydney, Australia