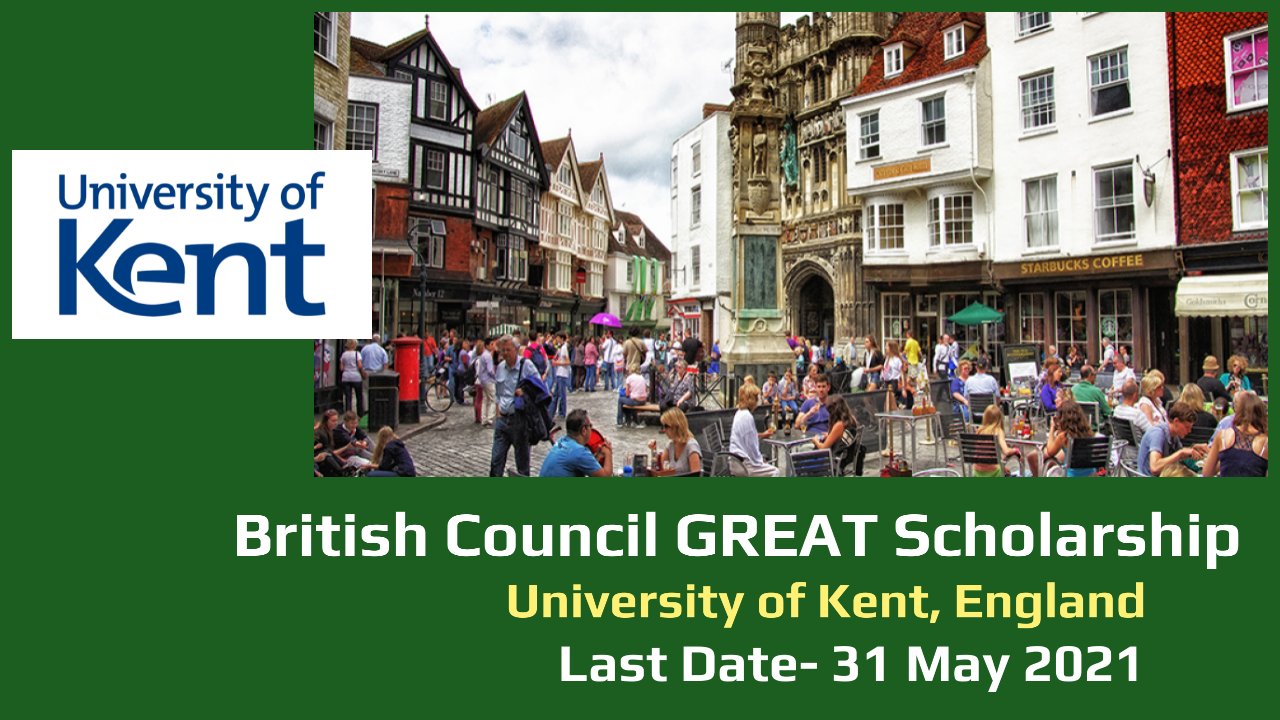 Designation/Position- British Council GREAT Scholarship
University of Kent, England invites application for British Council GREAT Scholarship for eligible and interested candidates
About- British Council GREAT Scholarship: China, Egypt, Ghana, India, Kenya, Malaysia, Thailand. University of Kent, England invites application for British Council GREAT Scholarship for eligible and interested candidates
Study level- Master's Degree
Location- University of Kent, England
Eligibility/Qualification–
To be eligible for a scholarship, you must: 
be a citizen of one of the programme's countries: China, Egypt, Ghana, India, Kenya, Malaysia, or Thailand, and be assessed as an overseas fee payer. 
have received a conditional offer and have accepted this before the deadline date of 31 May 2021 
be active in the field with work experience or proven interest in the subject area
be willing to embody the UK Higher Education experience, by attending lectures and tutorials and engaging with extra-curricular activities, and act as an ambassador for UK Higher Education by promoting the value of studying at a UK HEI
be willing to establish an engagement with the UK as a scholar, through personal and academic fulfilment
 Represent the high standards of the GREAT brand by becoming an advocate for scholarships
 be willing to attend a networking event of all UK-based GREAT scholars, to discuss experiences and capture perceptions of studying in the UK
Job/Position Description- 
The GREAT Scholarships programme is funded jointly by the UK Government's GREAT Britain campaign, British Council and the University of Kent, as part of the Study UK campaign. 
We are delighted to offer dedicated scholarships of £10,000 to Chinese, Ghanaian, Indian, Kenyan, Malaysian, and Thai passport holders applying for a taught master's programme based at one of our UK campuses. The award will go towards one year of tuition fees. 
Scholarships will be awarded as follows: China (x2), India (x2), Thailand (x2), Malaysia (x1), Ghana (x1), Egypt (x1), Kenya (x1) for a total of 10 awards available in 2021. 
 For details about how to apply, please read all the information on this page. For general information about the scholarship scheme, please visit the 
How to Apply- 
Applications for the British Council GREAT scholarship should be made via your applicant portal. You will only be able to apply for the GREAT Scholarship once you have received an offer for your programme from the University of Kent.
In order to be considered for this award, you will need to submit the following:
an essay of no more than 500 words about a topic you have studied previously and why you found it interesting. This topic should be related to or have inspired you to apply for your chosen degree programme.
This document should be uploaded in word or pdf format only, other formats will be rejected. 
If you have applied for a programme with the Medway School of Pharmacy, please email international@kent.ac.uk. 

Scholarships will be awarded based on the information provided on your application to the University of Kent, together with the clear thinking and motivation shown in the submitted essay.
Candidates will be informed of the outcome of this award by 30 June 2021. If you have not been contacted by this date you should assume you have been unsuccessful.
 The University of Kent reserves the right not to allocate the awards if the selection panel identifies no suitable candidates.

The British Council GREAT Scholarship is subject to full terms and conditions which will be provided to successful candidates at the point of award.

If you have any questions regarding the International Scholarships, then please contact international@kent.ac.uk. 
Last Date for Apply– 31 May 2021
More Opportunities:-
High Potential Students Grant by RWTH Aachen University, Germany
Global Graduate Scholarship by University of Michigan Flint, United States
AIAS Foundation Scholarships by Academy Foundation's, Los Angeles, USA
IOE-ISH Taught Master's Scholarships, University College London, England