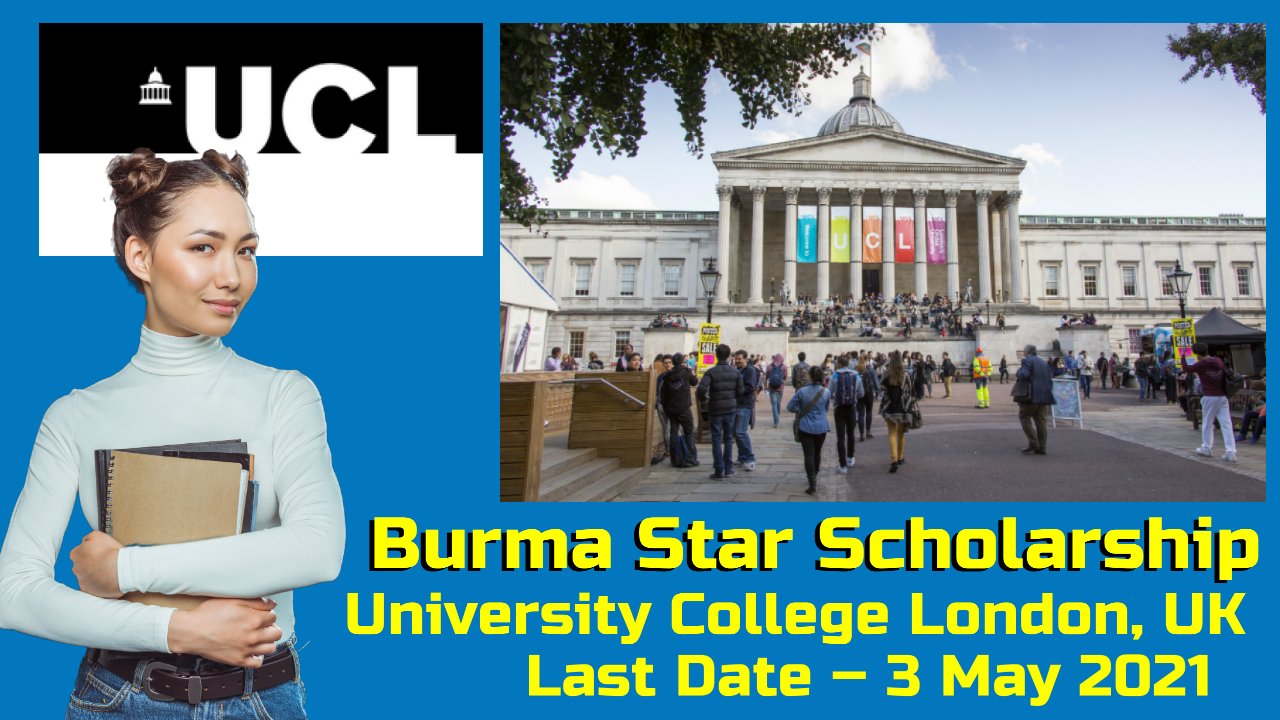 Designation/Position- Burma Star Scholarship
University College London, United Kingdom invites application for Burma Star Scholarship for eligible and interested candidates
About- The Burma Star Scholarship at UCL was established by the Burma Star Memorial Fund to ensure that those who participated in the Burma Campaign of 1941-1945 would never be forgotten. The Burma Star Scholarship will create a living memorial for the 14th Army: a network of scholars from around the world, whose achievements will make the world we share a better place in the future.
Study level- MSc
Location- University College London, United Kingdom
Eligibility/Qualification–
Candidates who hold an unconditional offer of admission to study an MSc at the Institute for Global Health (full-time).
Candidates who are residents of: Myanmar, UK, Canada, Australia, New Zealand, USA, France, Netherlands, Sri Lanka, Belgium, China, India, Pakistan, Bangladesh, Nepal, Hong Kong, Gambia, The Republic of Congo and the Democratic Republic of Congo, Ghana, Kenya, Nigeria, Zambia, Zimbabwe, Uganda, Sierra Leone, Malawi, Tanzania, West Indies, South Africa.
Please submit*:
A two-page CV
A personal statement which addresses the following questions:
Highlight why you are interested in studying an MSc at the Institute for Global Health and relevant experience (600 words)
Highlight how you intend to further the aims of this scholarship programme (200 words)
Highlight your future career plans and how these align with the ethos of the scholarship (200 words)
A completed funding statement 
*Please note all applicants must already hold an unconditional offer to an MSc at the Institute for Global Health. 
Job/Position Description-
The Scholarship is being offered to those studying an MSc at the Institute of Global Health (MSc Global Health and Development, MSc Health Economics and Decision Science and MSc Applied Infectious Disease Epidemiology), in particular those whose financial circumstances may restrict their ability to take up further study. The award will be available to residents of any of the allied nations that contributed to the Burma Campaign and will cover full tuition fees and living costs for the duration of study. We are also looking for applicants who would be willing to act as ambassadors for the scholarship programme 
How to Apply- 
https://www.ucl.ac.uk/global-health/study/fees-funding
Last Date for Apply– 3 May 2021
More Opportnities:-
UWGSS Graduate Studies Scholarship at the University of Winnipeg, Canada
Amsterdam Merit Scholarship at Universiteit van Amsterdam, Netherlands
Bangchak Master Scholarships 2021 at Asian Institute of Technology (AIT) in Thailand
Postgraduate Research Scholarship at The University of Sydney, Australia