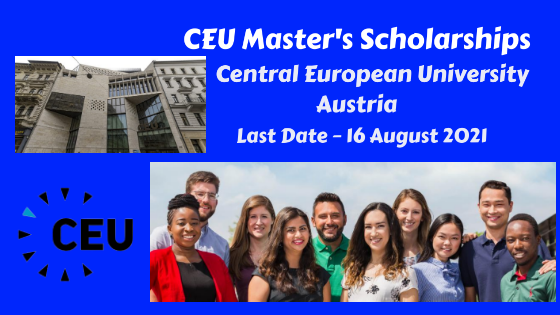 Designation/Position- CEU Master's Scholarships
Central European University, Austria invites application for CEU Master's Scholarships for eligible and interested candidates
About- Central European University is an undergraduate- and graduate-level "crossroads" university where faculty and students from more than 100 countries come to engage in interdisciplinary education, pursue advanced scholarship, and address some of society's most vexing problems.
CEU is accredited in the United States, Austria, and Hungary and offers English-language bachelor's, master's, and doctoral programs in the social sciences, the humanities, law, management, and public policy. Located in the heart of Central Europe — in Vienna and Budapest — CEU has a distinct academic and intellectual focus, combining the comparative study of the region's historical, cultural, and social diversity with a global perspective on good governance, sustainable development, and social transformation.
Research/Job Area- Any subject Area
Location- Central European University, Austria
Eligibility/Qualification–
All applications must be complete with relevant standard test scores (TOEFL, IELTS, GRE, etc.)
Admissions decisions are made by academic selection committees within the given program on the basis of the candidate's past academic achievement, the strength of recommendations, English language competency, intellectual merit, work experience (if applicable), expectations of the program, future plans, and general compatibility with the goals of the academic unit.
Subsequently, financial aid is awarded based on a combination of academic merit and financial need, if declared.
Job/Position Description-
The CEU Master's Scholarships cover up to 100% of the tuition fee, health insurance and also includes a monthly stipend to assist with housing and living costs.
As of 2021/22 the value of dormitory housing benefit is included in the monthly stipend.
One-year master's degree programs at CEU typically run for 10 months, admitting students with a four-year bachelor's degree. Most programs include an orientation session, two 12-week semesters, and a two-month spring session during which students prepare their thesis or research assignment.
Two-year master's degree programs at CEU, typically admitting students who have a three-year bachelor's degree, usually run for 20 months, interrupted by a summer break that does not require campus presence. The semester structure is similar to that of one-year programs.
CEU doctoral programs, typically for students with a master's degree in a related field, normally take between three and six years to complete. First-year: students must complete the taught course credits specified by their department. Upon completing a comprehensive examination and a dissertation proposal (or an extensive research paper), students are approved for full doctoral candidacy. Year two and beyond: the period of doctoral candidacy, in which the student pursues research toward the dissertation. For further
Read more about:
How to Apply-
https://sits.ceu.edu/urd/sits.urd/run/siw_ipp_lgn.login?process=siw_ipp_app_crs
Last Date for Apply– 16 August 2021 (23:59, Central European Time)
More Opportunities:-
International Accommodation Scholarship, Murdoch University, Australia
GroundwatCH Erasmus Mundus Scholarship at the Netherlands
Think Big Postgraduate Scholarships at University of Bristol, UK