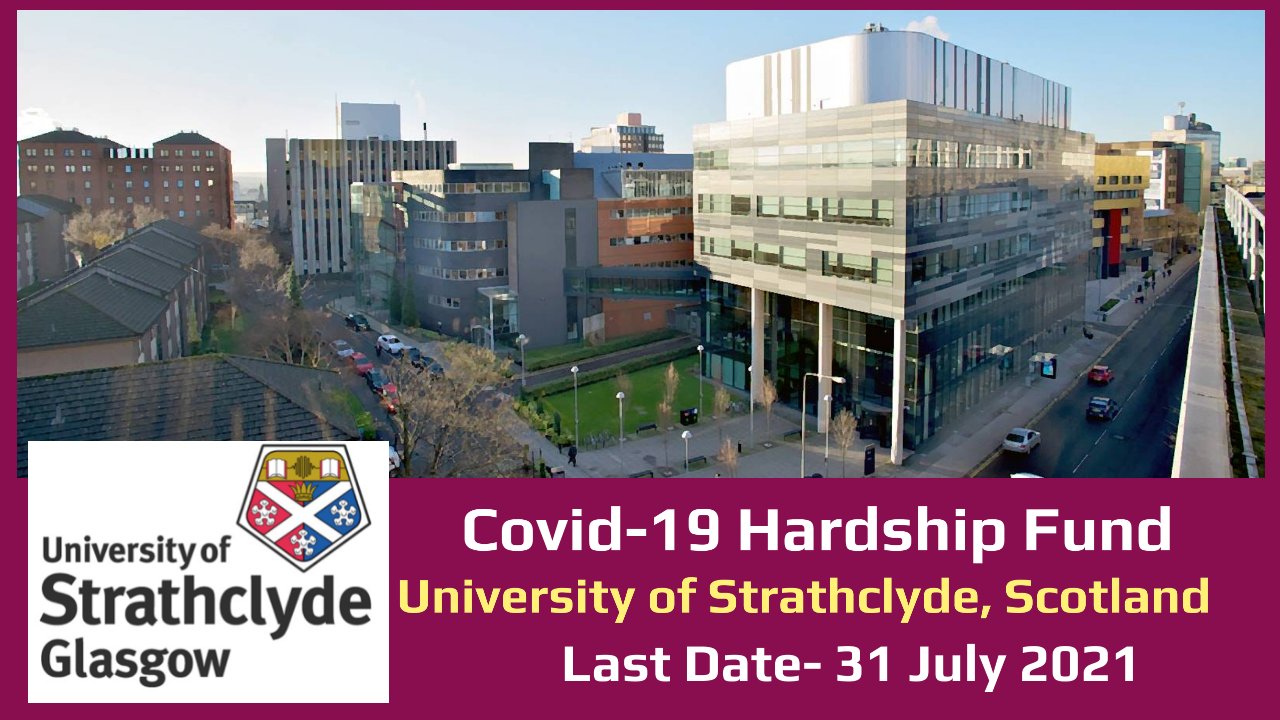 Designation/Position- Covid-19 Hardship Fund
University of Strathclyde, Scotland invites application for Covid-19 Hardship Fund (Fully Funded) for eligible and interested candidates
About- If you are struggling to meet your living costs during semester, or you're worried about meeting your costs over the summer please apply to this fund. University of Strathclyde, Scotland invites application for Covid-19 Hardship Fund (Fully Funded) for eligible and interested candidates
Study level- Undergraduate, Postgraduate Taught, Postgraduate Research
Location- University of Strathclyde, Scotland
Eligibility/Qualification–
Registered students of the University (including students in Academic and Voluntary Suspension) are eligible to apply to the Fund if they meet the following criteria:
have fallen into financial hardship or anticipate financial hardship related to the current Covid-19 pandemic; and
Other funds are not available to meet their essential needs, or are insufficient to meet these needs; or
An award is appropriate to meet exceptional needs
Awards may also be made on an exceptional basis to students who are "Valid to Register" status.
Job/Position Description- 
Country Group– UK, EU, EEA, UK and Islands, RUK, International
Level of Study-Undergraduate, Postgraduate Taught, Postgraduate Research
Mode of Study-Full Time, Part Time
Opens 25 March 2020
Deadline 31 July 2021
Help with Living costs
Duration Short term to meet immediate needs
How to Apply- 
Complete the Application for Financial Support form if you wish to apply for financial support. You only need to submit one application (and one set of supporting documents) and our assessing team will assess your circumstances and eligibility across all of the funds we administer (Housing Support Fund, Mature Students Hardship Fund, University of Strathclyde Covid-19 Hardship Fund, The Lady Eileen McDonald EU & International Student Fund and Discretionary Fund). 
Please complete the application, ensure you include all income and expenditure.  We cannot assess an incomplete application.  You must provide all the documents needed or your application will be delayed.  Please provide photocopies, originals will not be returned.
Application for Financial Support
University of Strathclyde Discretionary Fund Assessment Guidance
Last Date for Apply– 31 July 2021
More Opportunities:-
High Potential Students Grant by RWTH Aachen University, Germany
Global Graduate Scholarship by University of Michigan Flint, United States
AIAS Foundation Scholarships by Academy Foundation's, Los Angeles, USA
IOE-ISH Taught Master's Scholarships, University College London, England