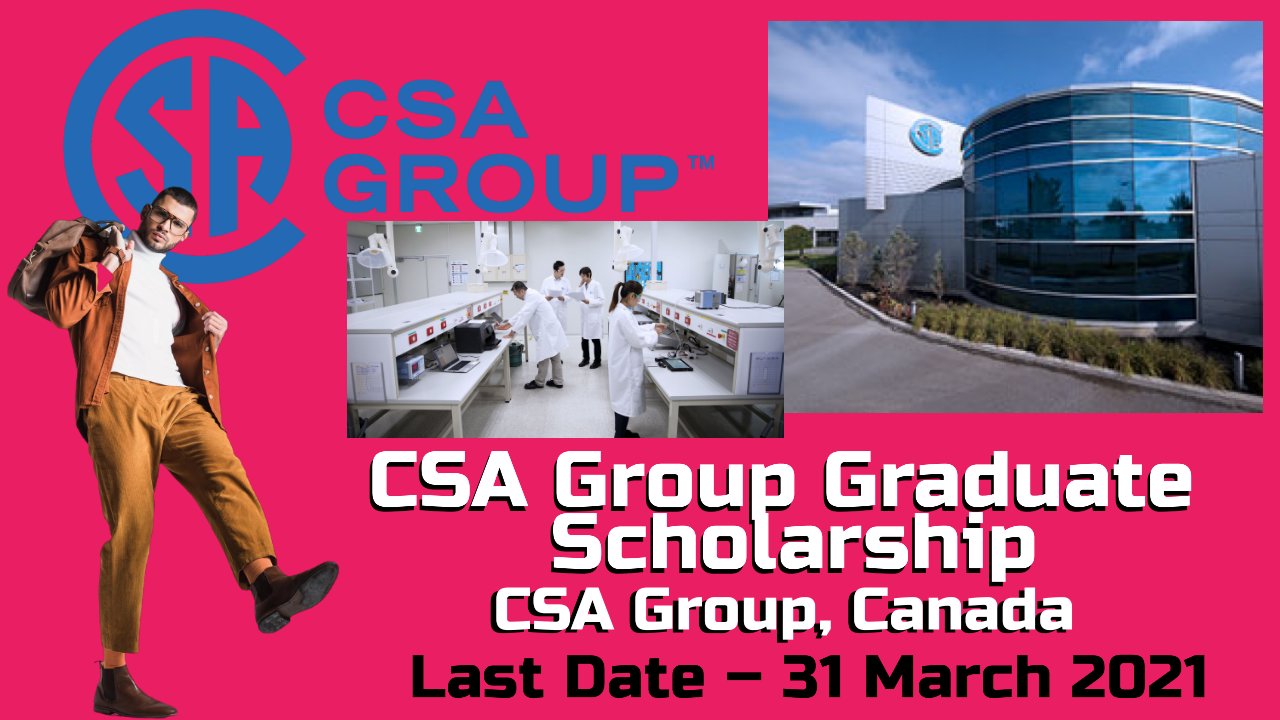 Designation/Position- CSA Group Graduate Scholarship
CSA Group, Canada invites application for CSA Group Graduate Scholarship (Graduate students) for eligible and interested candidates
About- The purpose of the CSA Group Graduate Scholarship is to support graduate students in the pursuit of knowledge generation related to standards. Graduate students at the Masters level studying at a publicly-funded, accredited Canadian university are eligible to apply.
The thesis can be conducted in any field (e.g. engineering, social sciences, health sciences) and must include standards as a component of the research. The topic does not need to be related to an area in which CSA Group already has standards. The research may investigate aspects of an existing standard or may explore an area for future standards development.
Study level- Graduate program
Location- CSA Group, Canada
Eligibility/Qualification–
Students must be applying to a graduate program for full time studies at the Masters level at an accredited Canadian University, or must be currently be enrolled in a Masters program at an accredited Canadian University;
If awarded the scholarship, the student(s) must be enrolled in a Masters program to hold the award;
Eligibility is limited to enrollment at accredited Canadian universities.
Job/Position Description-
Awards are $10,000 per year;
Award duration is a maximum of two years.
How to Apply-
See the Application Instructions for details on how to apply and submit the following to scholarship@csagroup.org:
Application Form
Proof of Canadian Citizenship, Permanent Residency, Protected Person, Student Visa or Study Permit, as applicable
Transcripts
Letter of Support from Supervisor
Two Referee Forms (submitted directly by the Referees to scholarship@csagroup.org) in the form provided as part of the application.
Last Date for Apply– 31 March 2021
More Opportnities:-
UWGSS Graduate Studies Scholarship at the University of Winnipeg, Canada
Amsterdam Merit Scholarship at Universiteit van Amsterdam, Netherlands
Bangchak Master Scholarships 2021 at Asian Institute of Technology (AIT) in Thailand
Postgraduate Research Scholarship at The University of Sydney, Australia