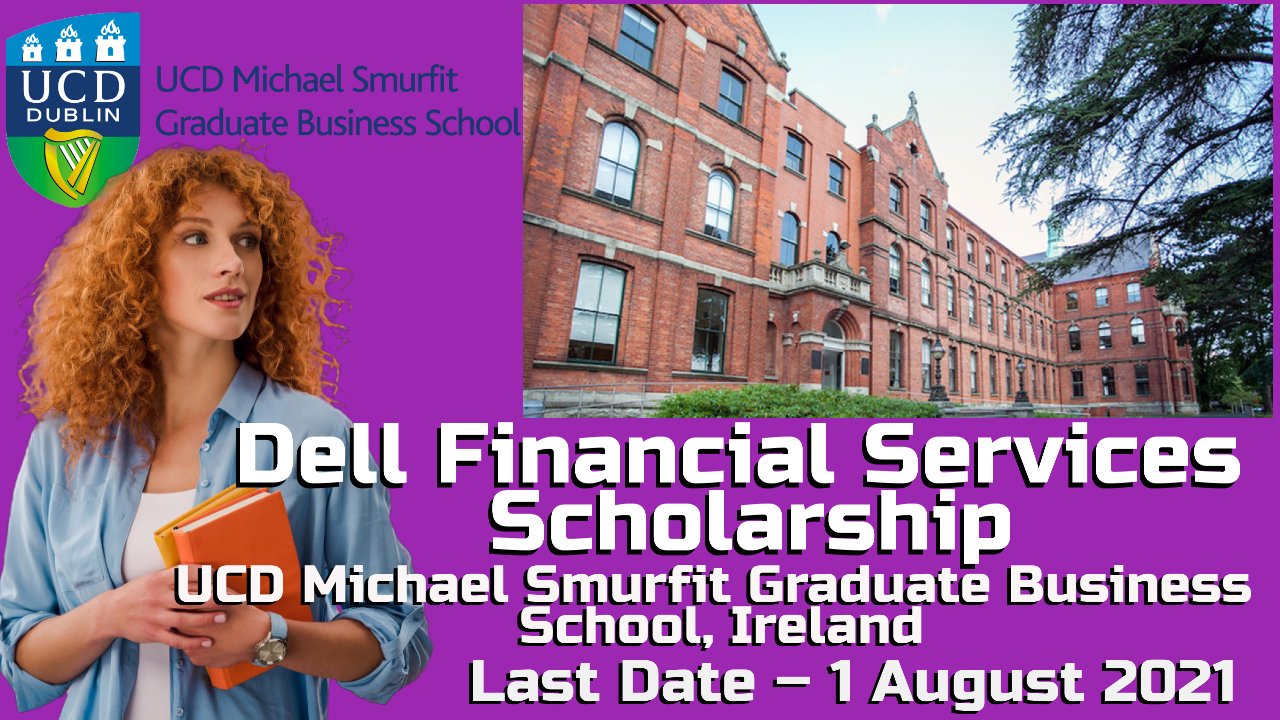 Designation/Position- Dell Financial Services Scholarship
UCD Michael Smurfit Graduate Business School, Ireland invites application for Dell Financial Services Scholarship for eligible candidates
About- UCD Michael Smurfit Graduate Business School is offering a Full-Time MSc applicant the chance to receive a scholarship to cover the full tuition fees for the MSc in Finance. Experiential. Transformational. International. The globally-ranked Smurfit MBA provides an unequalled opportunity to unlock and develop your leadership potential, accelerate your career and build your global network. In this video, Professor Cal Muckley, Academic Programme Director, discusses the key features of our world-class MBA programme, ranked #1 in Ireland by the Financial Times. Dell Financial Services Scholarship is now open
Study level- Hons degree
Location- UCD Michael Smurfit Graduate Business School, Ireland
Eligibility/Qualification–
An applicant already holding an overall Hons 1.1 degree result (or international equivalent) or who achieves this same overall degree result in summer before the start of the programme.
Excellently written essay question answers in the course application as well as an excellent online Kira interview as part of the online application to the programme.
Job/Position Description-
1. This scholarship is open to EU or non-EU applicants except full-time employees of UCD.
2. The scholarship is limited to those who will have submitted a complete application directly to UCD Smurfit School entry to the MSc Finance full-time and who hold a full, unconditional offer from The School.
3. The scholarship will be awarded to a candidate deemed to be of the highest calibre by the UCD Smurfit School judging panel. UCD Smurfit School reserves the right not to award the Scholarship prize if no candidate of the required calibre is identified.
4. The scholarship consists of full tuition fees for the upcoming academic year.
5. The judging panel reserves the right to split the scholarship fund amongst a small number of winners.
6. The continuation of the scholarship funding is subject to the awardee passing all exams at the end of trimester one.
7. Candidates must be available to commence the MSc Finance full-time programme in early September of that academic year.
8. The scholarship is not open to recipients of any other scholarships being awarded by UCD Smurfit School.
9. Closing date for applications: 1st August 2021
10. The winning candidate will be informed by the end of August 2021.
11. Classes commence in early September of each academic year.
12. No cash alternative.
13. No substitutions allowed.
14. The winner must agree to participate in publicity if applicable.
How to Apply-
There is no separate application process for this one Scholarship. All course applications submitted before the deadline of 1st August 2021 will be considered for this scholarship. Those successful applicants who hold a Full or Conditional Offer and who have accepted that offer for the full-time MSc Finance by 15th August 2021 are automatically considered. Following that, The School will then select a small short list and have a winner chosen by the end of August 2021.
Last Date for Apply– 1 August 2021
More Opportnities:-
UWGSS Graduate Studies Scholarship at the University of Winnipeg, Canada
Amsterdam Merit Scholarship at Universiteit van Amsterdam, Netherlands
Bangchak Master Scholarships 2021 at Asian Institute of Technology (AIT) in Thailand
Postgraduate Research Scholarship at The University of Sydney, Australia