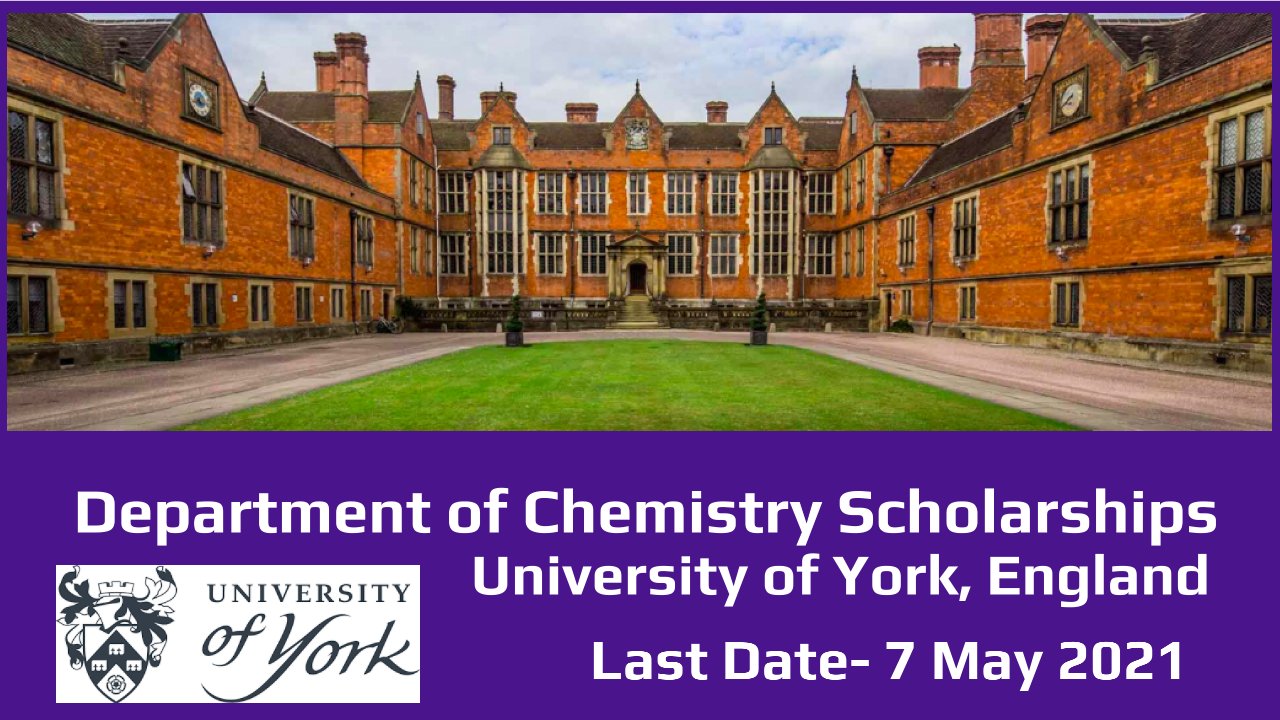 Designation/Position- Department of Chemistry scholarships
University of York, England invites application for Department of Chemistry scholarships for eligible and interested candidates
About- The Department is offering up to 20 scholarships to students reading for an honours BSc or MChem degree course in Chemistry for entry in September 2021. A member of the prestigious Russell Group, we are a dynamic, research-intensive university. We work collaboratively in partnership with institutions across the world to develop life-saving discoveries and new technologies that tackle some of the most pressing global challenges. 
Our 30+ academic departments undertake groundbreaking research that underpins our inspiring teaching and challenges students to dream big, think critically and change the world.
Study level- BSc or MChem degree in Chemistry.
Location- University of York, England
Eligibility/Qualification–
Open to International (including EU) and UK (home) students.
Open to students in the Department of Chemistry.
Open to offer holders of a BSc or MChem degree course in Chemistry.
Job/Position Description- 
Funding: £250 to £500
Academic year: 2021/22
Open to: International (including EU) and UK (home) students
Qualification level:Undergraduate
Number available: 20
How to Apply- 
Application deadline: Friday 7 May 2021, 11.59pm BST
We send our Facts, Figures and Sponsorship brochure to all offer holders and ask them to provide an expression of interest. We award the sponsorships at the end of Autumn Term, or the early part of Spring Term.
Last Date for Apply– 7 May 2021
More Opportunities:-
Dean's International Research Scholarship, University of Sydney, Australia
Rosa-Luxemburg-Stiftung Awards at Rosa-Luxemburg-Stiftung, Germany
Jönköping University Scholarships at Jönköping University, Sweden
Woods Hole Internship at Woods Hole Oceanographic Institution, U.S.A.