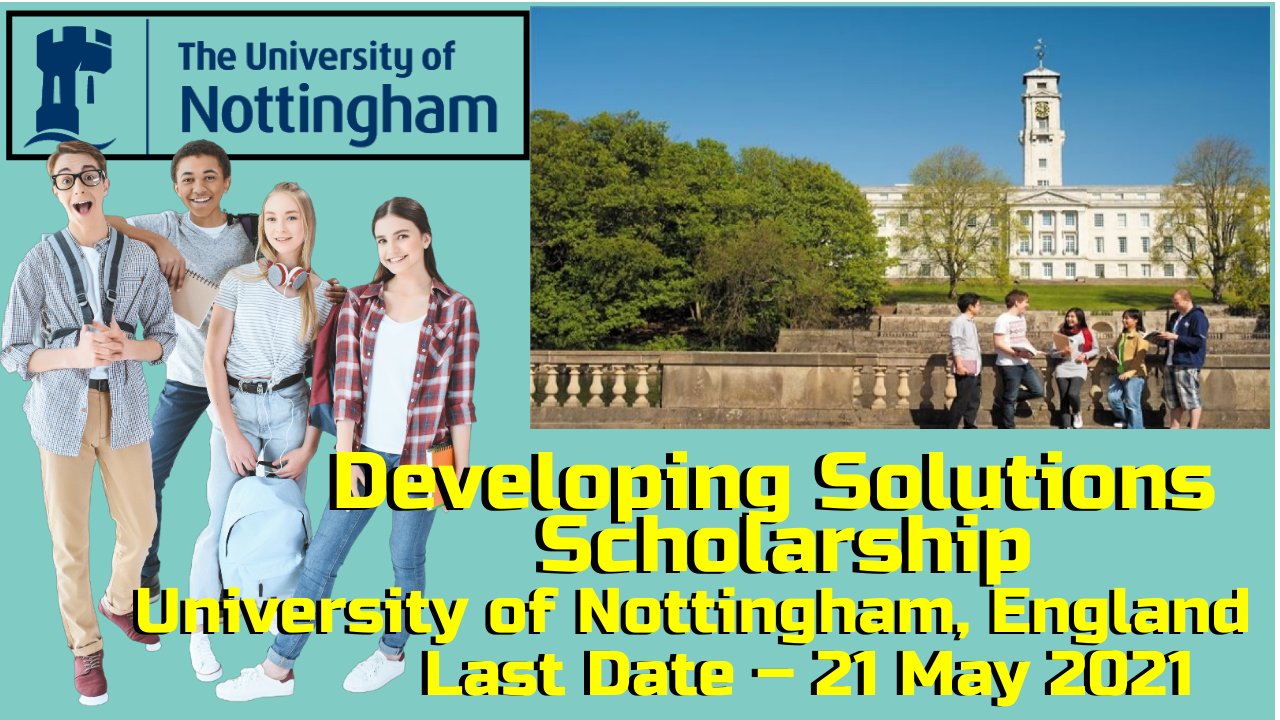 Designation/Position- Developing Solutions Scholarship
University of Nottingham, England invites application for Developing Solutions Scholarship for eligible and interested candidates
About- This year we are celebrating the 20th anniversary of our flagship Developing Solutions Masters Scholarship. Founded in 2001, this scholarship programme is for international students who want to make a difference to the development of their home country
Some of our previous scholars have written about their experience on our International Student Life blog.
Study level- Master's Degree
Location- University of Nottingham, England
Eligibility/Qualification–
To apply for this scholarship, you must:
You cannot be a current student or graduate of the University of Nottingham, or have already studied outside of your home country. Priority is given to those who have not previously studied outside of their home country. Students who are currently studying in the UK are not eligible to apply.
Job/Position Description- 
We're offering 105 scholarships covering 50% or 100% of full-time masters tuition fees. These are available for high-achieving international students who live in Africa, India or selected Commonwealth countries
How to Apply- 
You must apply for and receive an offer to study a full-time masters (including MRes) at the University of Nottingham before applying for this scholarship. Search for courses and find out how to apply.
When you have received your offer to study with us, you can apply through the scholarships section of our application system, MyNottingham.
If you have an offer for an MRes course, email the scholarships team on scholarship-assistant@nottingham.ac.uk for instructions on how to apply.
Last Date for Apply– 21 May 2021
More Opportnities:-
UWGSS Graduate Studies Scholarship at the University of Winnipeg, Canada
Amsterdam Merit Scholarship at Universiteit van Amsterdam, Netherlands
Bangchak Master Scholarships 2021 at Asian Institute of Technology (AIT) in Thailand
Postgraduate Research Scholarship at The University of Sydney, Australia