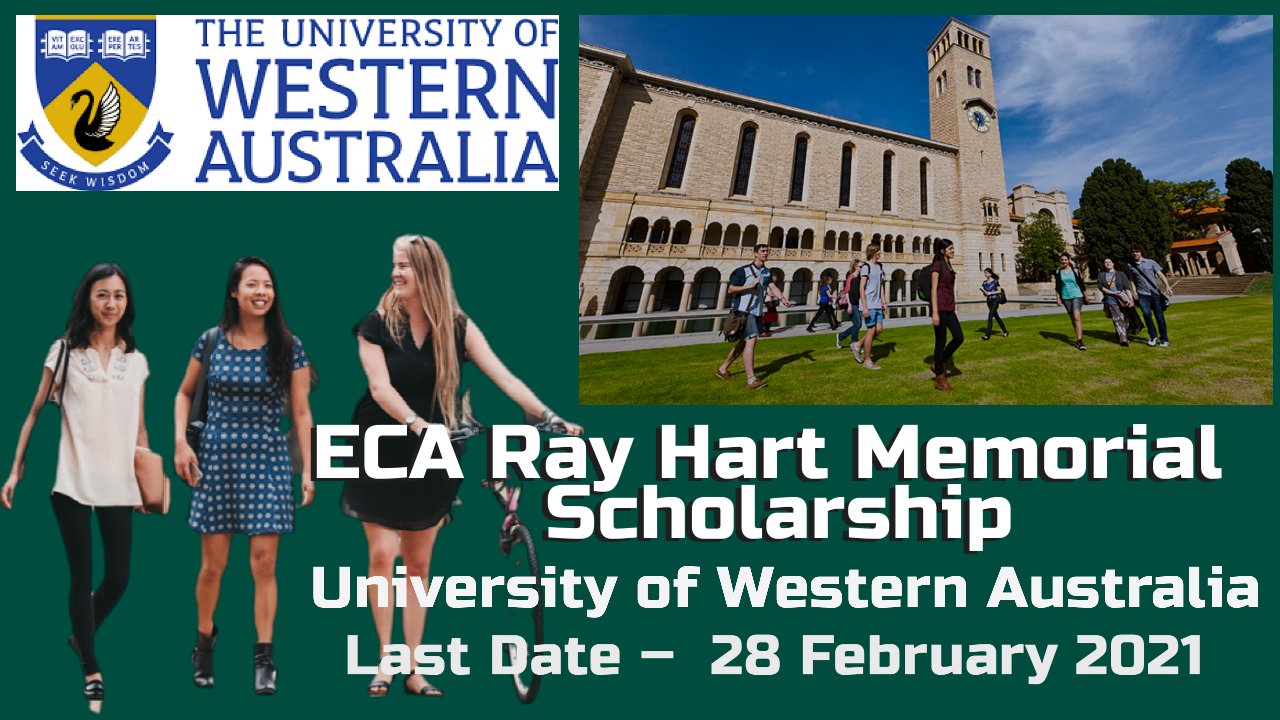 Designation/Position- ECA Ray Hart Memorial Scholarship
The University of Western Australia invites application for ECA Ray Hart Memorial Scholarship for eligible and interested candidates
About- ECA Ray Hart Memorial Scholarship award was created in 2004 to perpetuate the memory of Dr Ray Hart who was a graduate of this University and the founding President of the Environmental Consultants Association (ECA). Ray worked as a consultant ecologist and environmental scientist in WA.
The ECA donated to The University of Western Australia to establish this award, and maintains a strong interest in supporting this award.  Dr Hart's work covered all aspects of flora, vegetation and fauna ecology and management, and his focus was always to achieve sound environmental management through the integration of environmental principles across all scientific disciplines.
Study level- Bachelor of Science (Honours) 
Location- The University of Western Australia, Australia
Eligibility/Qualification–
(a) enrolled or eligible to enrol
(i) in the Bachelor of Science (Honours) course with a specialisation in
(1) Environmental Science
(2) Conservation Biology or
(3) Zoology or
(ii) Master of Environmental Science (72530) and
(b) intending to undertake research that includes a substantial field component and displays a multidisciplinary approach to an ecological question.
Job/Position Description- 
To encourage and assist a student to pursue field research in natural science.
The scholarship recipient will be invited to attend an event organised by the Environmental Consultants Association WA and will be given the opportunity to talk about the achievements of the research project.
How to Apply- 
Applications are called for by Coursework Scholarships and Prizes and must be submitted by the advertised closing date.
Applicants will need to include a brief outline of the proposed research project and how the project will address a commitment to—

developing skills in the field of ecological research; and
applying field research to achieve broad and pragmatic insight into interdisciplinary ecological studies.
https://www.uwa.edu.au/study/scholarship-listing/eca-ray-hart-memorial-scholarship-f513951#login
Last Date for Apply– 28 February 2021