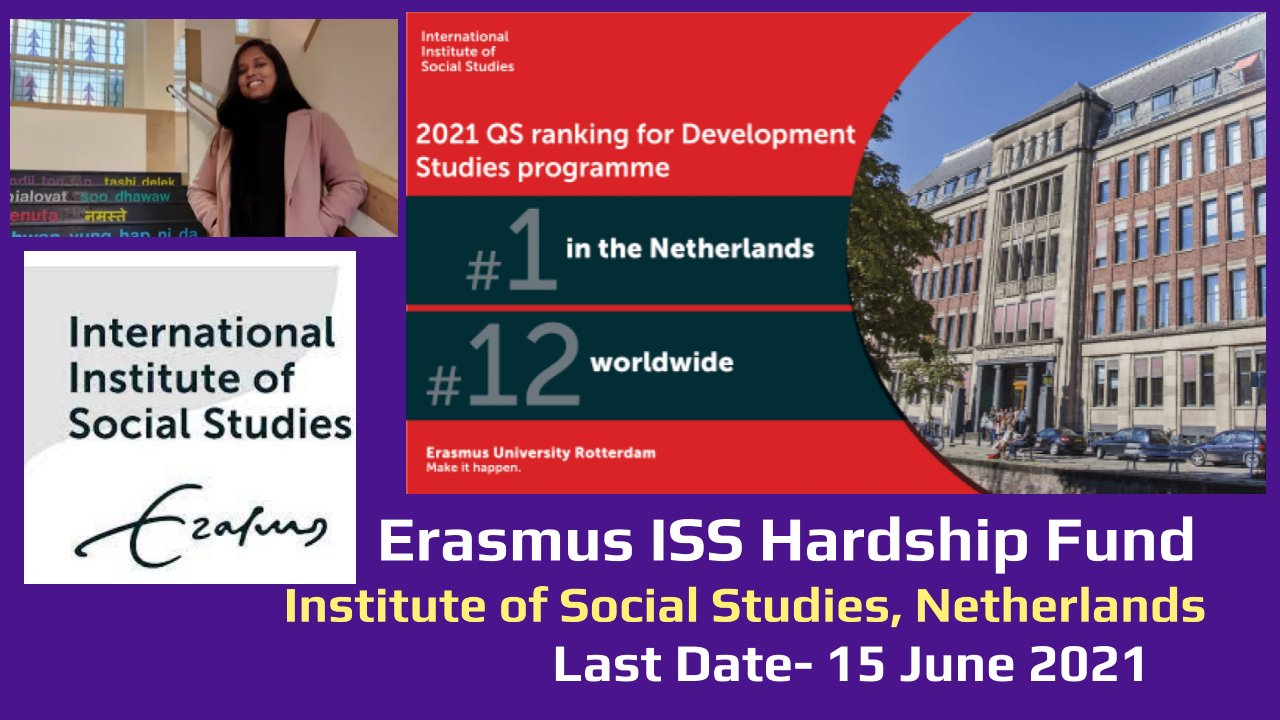 Designation/Position- Erasmus ISS Hardship Fund
International Institute of Social Studies, Netherlands invites application for Erasmus ISS Hardship Fund for eligible candidates
About- Most students studying at ISS do so with a partial or full scholarship. To help you find appropriate funding for your studies, we have compiled all the available scholarships per-country and created a scholarship database. Selecting your country of origin, will generate a list of available funding opportunities. International Institute of Social Studies, Netherlands invites application for Erasmus ISS Hardship Fund for eligible candidates
Study level-  Master
Location- International Institute of Social Studies, Netherlands
Eligibility/Qualification–
A Motivation Statement (one page) – Explaining the reason you should be the beneficiary of this fund.
Detailed financial information (including supporting bank statements) to prove your ability to support yourself for the remaining tuition fee, living expenses and health insurance.
EU/EEA students are encourage to apply for this scholarship.
The decisions on allocation of the scholarship are taken on an ongoing basis. Students selected for the scholarship bursaries will be informed by the student office.
Job/Position Description- 
This fund can provide a fee discount of up to 30% of the tuition fee. The application is open to anyone who has a strong motivation statement and has been admitted to the programme. This fund is for those who do not have sufficient financial means of their own and who might benefit from this opportunity to cover their study costs.
How to Apply- 
To apply please email your request and the supporting documents to the ISS admission office (admission@iss.nl) as soon as possible (but before 15 June at the latest).
Last Date for Apply– 15 June 2021
More Opportunities:-
High Potential Students Grant by RWTH Aachen University, Germany
Global Graduate Scholarship by University of Michigan Flint, United States
AIAS Foundation Scholarships by Academy Foundation's, Los Angeles, USA
IOE-ISH Taught Master's Scholarships, University College London, England