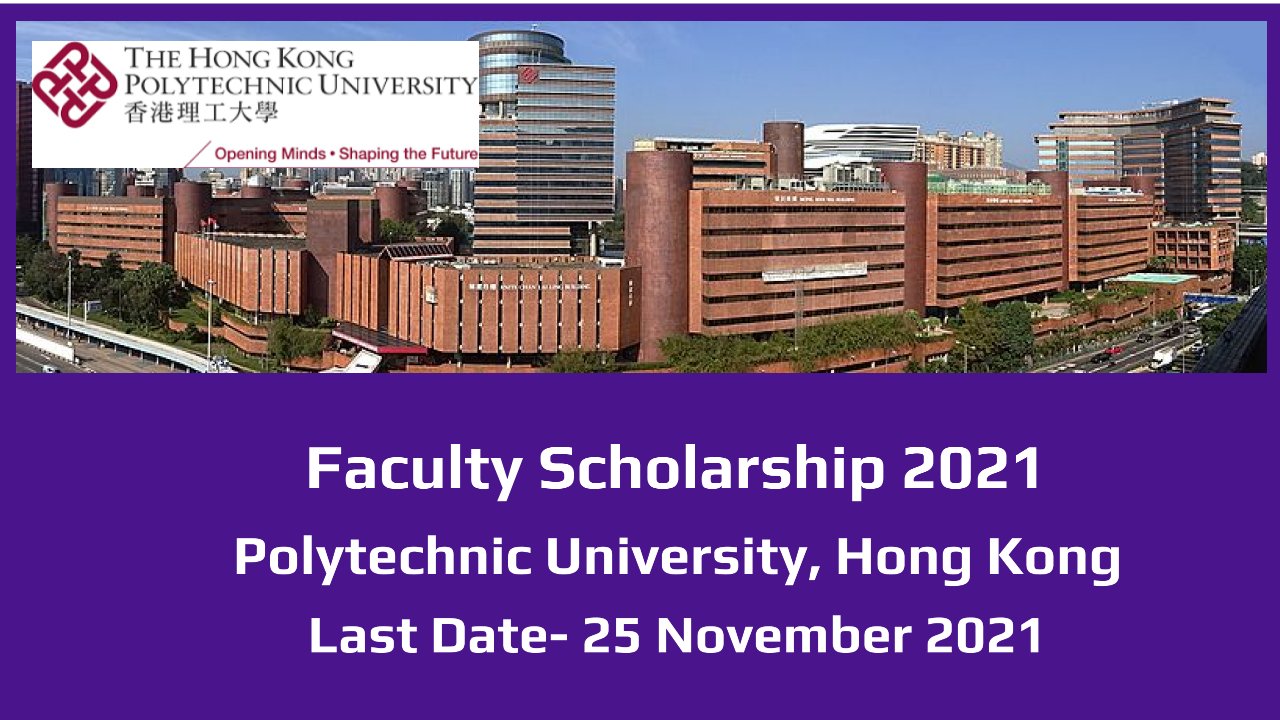 Designation/Position- Faculty Scholarship
Polytechnic University, Hong Kong invites application for Faculty Scholarship (Fully Funded) for eligible and interested candidates
About- PolyU recognizes the achievements of outstanding prospective and current students. Scholarships are offered to outstanding local and non-local students alike. Polytechnic University, Hong Kong invites application for Faculty Scholarship (Fully Funded) for eligible and interested candidates
Study level–  Master's Degree
Location- Polytechnic University, Hong Kong
Eligibility/Qualification–
The Department of Chinese and Bilingual Studies and the Department of English of the Faculty of Humanities offer additional scholarships to outstanding international students based on their academic merit and interview performance.

For details of faculty/school-based scholarships, please contact the individual department/faculty directly for the latest information.
Job/Position Description- 
Tuition fee for a full-time Bachelor's Degree programme currently stands at HKD145,000 (USD18,600) per academic year. The table below shows an estimation of other expenses including accommodation, day to day living costs:
Items
Amount (per academic year)Note
HKD
USD
EUR
Tuition fee (for Year of 2021/22 Entry)
$145,000
$18,600
€15,800
University-managed accommodation**Normally granted for first 2 years for 2021/22 cohort
$13,000
$1,700
€1,400
Personal expenses
$51,000
$6,500
€5,500
Total
$209,000
$26,800
€22,700
Note: Approximate exchange rate is USD1.00 = HKD7.80 and EUR1.00 = HKD9.20.

The above estimates are for reference only. The actual amount required will vary depending on individuals' lifestyles and preferences.
How to Apply- 
https://www.polyu.edu.hk/geo/prospective-students/undergraduate/international/scholarships-and-fees/
Last Date for Apply– 25 November 2021
More Opportunities:-
High Potential Students Grant by RWTH Aachen University, Germany
Global Graduate Scholarship by University of Michigan Flint, United States
AIAS Foundation Scholarships by Academy Foundation's, Los Angeles, USA
IOE-ISH Taught Master's Scholarships, University College London, England