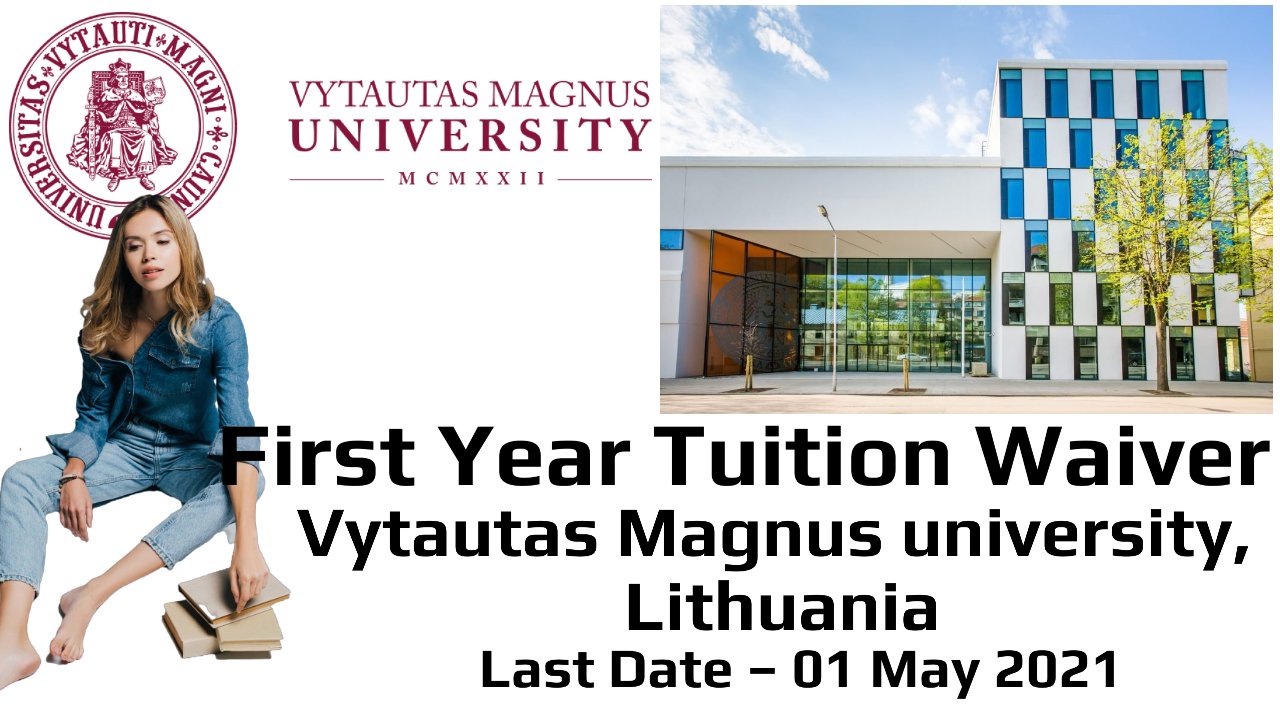 Designation/Position- First Year Tuition Waiver
Vytautas Magnus university, Europe invites application for First Year Tuition Waiver for eligible and interested candidates
About- Vytautas Magnus University is seeking ambitious, intelligent, and talented students and offers them various scholarship opportunities for full-time Bachelor´s and Master´s degree studies. Applications for scholarships (tuition fee waiver for 1 semester or 1 year) for VMU international students will be opened in the beginning of May, 2021.
Study level- Bachelor´s or Master´s Degree Programme
Location- Vytautas Magnus university, Europe
Eligibility/Qualification–
Copy of Letter of Acceptance or Letter of Conditional Acceptance issued by Vytautas Magnus University.
Proof of English proficiency. Minimum requirements: B2 level (TOEFL 87-109 iBT/534-633 PBT, IELTS 5-6,5, Cambridge English First (FCE), BEC Vantage, Michigan ECCE, PTE General Level 3, TOEIC Listening & Reading 785, TOEIC Speaking & Writing 310) if the applicant is not a native speaker and/or had not received education in English.
Documents (scanned copies) certifying the results of applicants' scientific (art) production and (or) other scholarly activity if any.
You are eligible for Vytautas Magnus University Scholarship if you:
Meet the University's academic requirements (Admission score – not lower than 8,5) and your Grade Point Average (GPA) is not lover than 8 out of 10.
Meet English language entry requirements.
Hold an offer (Letter of Acceptance) for a full-time Bachelor´s or Master´s Degree Programme at Vytautas Magnus University.
Job/Position Description-
Type of scholarship: tuition fee waiver 25%, 50%, 75%, or 100% for the first study year of full-time Bachelor's and Master's degree programme taught in English.
Total number of scholarships: 15
How to Apply-
Applicants are required to fill in the application form Scholarship Application Form for Prospective Degree Students and attach to the application form the required application documents online https://epasirasymas.vdu.lt/(Application launches on March 16, 2021).
Please create a new account entering a Personal ID Number (or Passport Number for Non-European Union Citizens).
Last Date for Apply– 1 May 2021.
More Opportnities:-
UWGSS Graduate Studies Scholarship at the University of Winnipeg, Canada
Amsterdam Merit Scholarship at Universiteit van Amsterdam, Netherlands
Bangchak Master Scholarships 2021 at Asian Institute of Technology (AIT) in Thailand
Postgraduate Research Scholarship at The University of Sydney, Australia