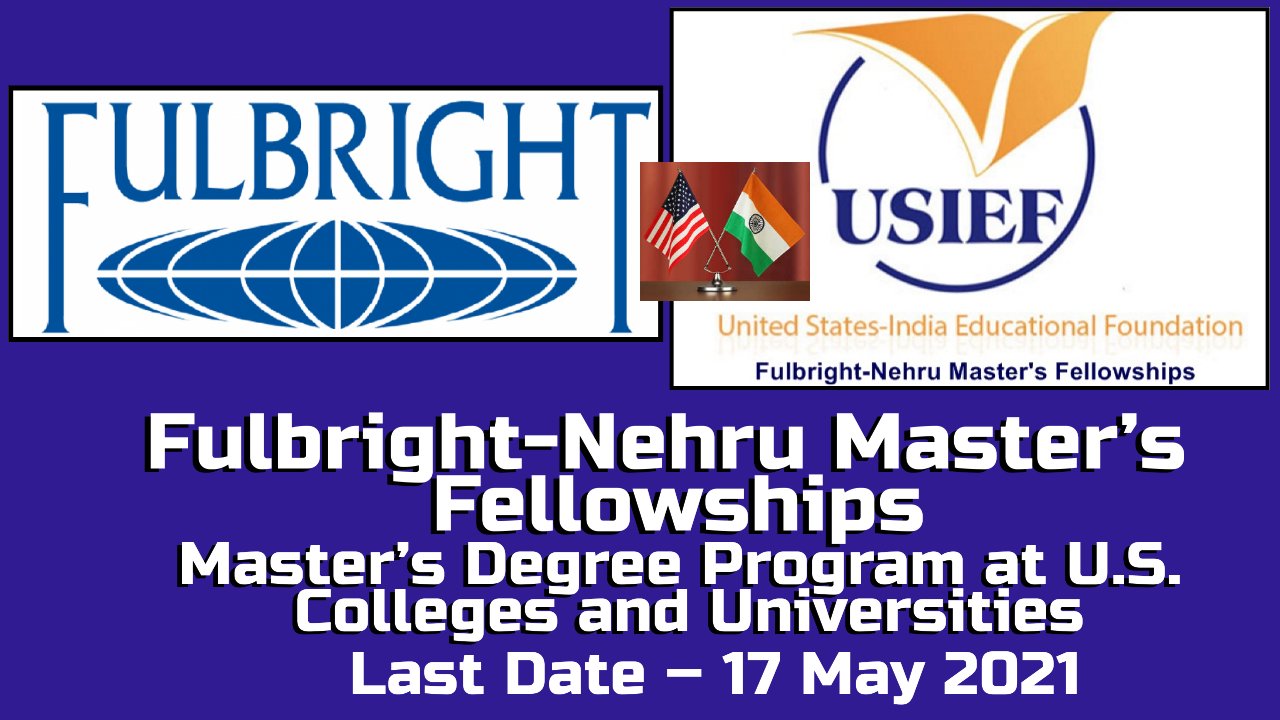 Designation/Position-  Fulbright-Nehru Master's Fellowships
The United States India Educational Foundation, New Delhi invites application for Fulbright-Nehru Master's Fellowships for candidates
About- The Fulbright-Nehru Master's Fellowships are designed for outstanding Indians to pursue a master's degree program at select U.S. colleges and universities in the areas of Arts and Culture Management including Heritage Conservation and Museum Studies; Economics; Environmental Science/Studies; Higher Education Administration; International Affairs; International Legal Studies; Journalism and Mass Communication; Public Administration; Public Health; Urban and Regional Planning; and Women's Studies/Gender Studies.
These fellowships are for highly motivated individuals who demonstrate leadership qualities, have completed the equivalent of a U.S. bachelor's degree, have at least three years professional work experience, and are committed to return and contribute to their communities. The fellowships are for one to two years.
Study level- Master's degree program
Location- The United States – India Educational Foundation, New Delhi
Eligibility/Qualification–
In addition to the General Prerequisites, the applicants:
must have completed an equivalent of a U.S. bachelor's degree from a recognized Indian university with at least 55% marks. Applicants must either possess a four-year bachelor's degree or a completed master's degree; or a full-time postgraduate diploma from a recognized Indian institution, if the bachelor's degree is of less than four years' duration;
must have at least three years' full-time (paid) professional work experience relevant to the proposed field of study by the application deadline;
should demonstrate experience in leadership and community service;
must not have another degree from a U.S. university or be enrolled in a U.S. degree program; and
if employed, should follow the instructions carefully regarding employer's endorsement. If applicable, obtain the endorsement from the appropriate administrative authority on the FNMasters Employer's Endorsement Form. The employer must indicate that leave will be granted for the fellowship period. The applicant can download the FNMasters Employer's Endorsement Form from the USIEF website.
Job/Position Description- 
The fellowship will provide the following benefits:
J-1 visa support;
Round-trip economy class air travel from fellow's home city to the host institution in the U.S.;
Funding for tuition and fees,* living and related costs; and
Accident and sickness coverage per U.S. Government guidelines.
The Fulbright-Nehru Master's Fellowships provide no financial support for dependents.
* USIEF funding may not cover all costs and the fellow may need to supplement grant benefits with other resources.
How to Apply- 
Last Date for Apply– 17 May 2021
More Opportnities:-
UWGSS Graduate Studies Scholarship at the University of Winnipeg, Canada
Amsterdam Merit Scholarship at Universiteit van Amsterdam, Netherlands
Bangchak Master Scholarships 2021 at Asian Institute of Technology (AIT) in Thailand
Postgraduate Research Scholarship at The University of Sydney, Australia