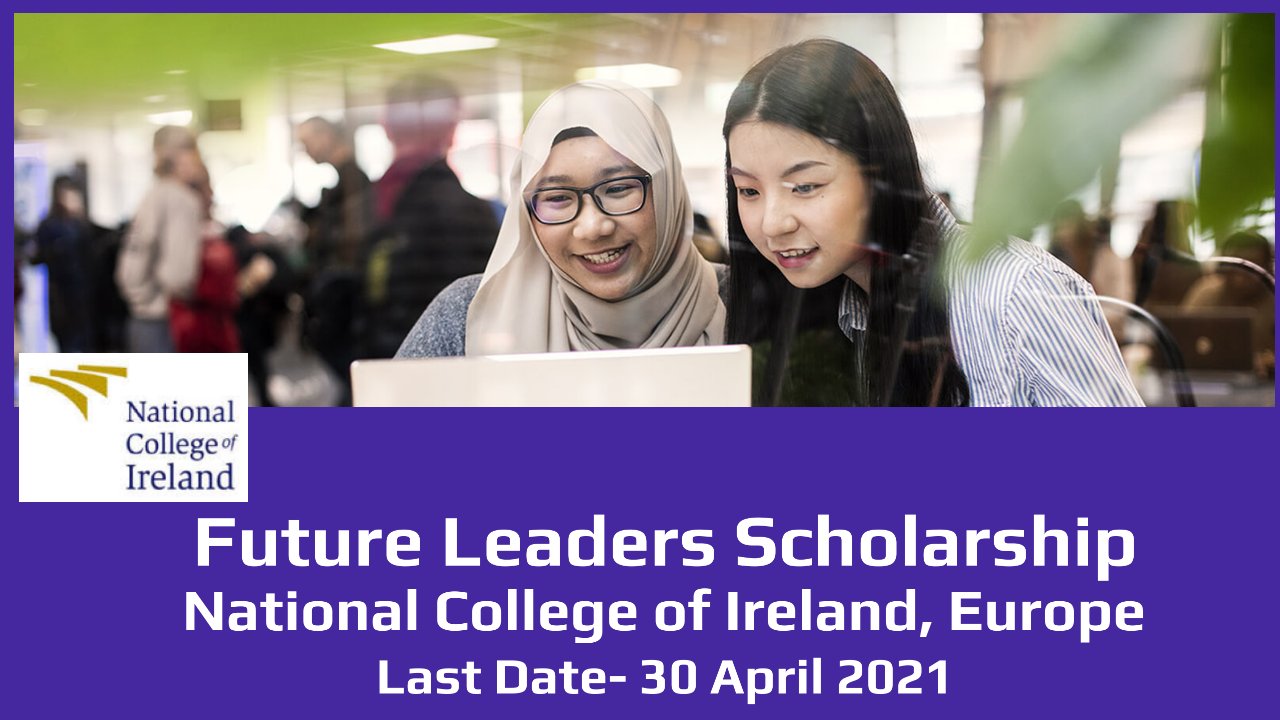 Designation/Position- Future Leaders Scholarship
National College of Ireland, Europe invites application for Future Leaders Scholarship (Fully Funded) for eligible and interested candidates
About- National College of Ireland has an extensive scholarship and bursary portfolio for international students which aims to reward excellence and promote diversity among our student body. National College of Ireland, Europe invites application for Future Leaders Scholarship (Fully Funded) for eligible and interested candidates
Study level- Master's Degree
Location- National College of Ireland, Europe
Eligibility/Qualification–
All applicants are automatically assessed for a range of scholarships. This form should only be used where a student wishes to
apply for one of the scholarships not assessed as part of the standard application process.
To be eligible for consideration of an international scholarship, applicants must:
a. have been offered a place on an eligible full-time course
b. be classed as overseas students for tuition fee purposes
c. have confirmed their place as required
Students who are sponsored by their employers, government or a funding body (full / part) are not eligible to apply for this scholarship award.
Applicants are only able to apply for an international scholarship once.
Scholarship application deadline must be strictly adhered to.
Applications received after the final deadline will not be considered.
A scholarship offer is made subject to adherence to all subsequent deadlines for deposit and full fee payments.
The scholarship will be available in the form of a tuition fee reduction. If you are awarded a scholarship, your fee will be adjusted before you enrol on year one.
If you have been made an offer to study on a one year full-time course and you are awarded any other scholarship, bursary and/or
fee reductions from the college, the maximum amount awarded will not exceed more than half the tuition fee.
Students can only be in award of one scholarship, bursary or fees reduction at a time.
The scholarship is not transferable and will not be awarded if you choose to defer your entry to a different academic year or if you choose to transfer to a different course at the College.
Applicants will be informed of whether they have (or have not) been awarded a scholarship (with the value of the scholarship award
if they have been awarded) within four weeks of the application deadline dates.
The scholarship will only be awarded once an applicant accepts and meets the conditions of their offer, accepts their scholarship
offer, pays all or part of their fees and is eligible to enrol on the course.
Scholarships are competitive and limited in availability. Selection is based on the information you provide on your initial application and on this scholarship application form. It is, therefore, of great importance that you give your personal statement careful thought
and preparation and you refer to the criteria provided.
The college's decision in all matters relating to the scholarship is final.
The college reserves the right to revoke the scholarship if you leave the college before completing the programme.
If your scholarship application is successful, you may be asked to appear in online and / or printed college marketing materials.
This may involve providing a student profile and a photograph which may be used to promote the college's scholarship schemes and courses. By accepting a scholarship offer, you are also deemed to have accepted the marketing requirements as stated above
Job/Position Description- 
| | |
| --- | --- |
|  Scholarship Name | Amount |
| Future Leaders  | 50% of tuition Fees |
How to Apply- 
You may apply for one of these scholarships only once you have a full offer to study a Masters programme at NCI by downloading the attached form. The scholarship application must be emailed to international@ncirl.ie by 30 April.
Last Date for Apply– 30 April 2021
More Opportunities:-
Dean's International Research Scholarship, University of Sydney, Australia
Rosa-Luxemburg-Stiftung Awards at Rosa-Luxemburg-Stiftung, Germany
Jönköping University Scholarships at Jönköping University, Sweden
Woods Hole Internship at Woods Hole Oceanographic Institution, U.S.A.