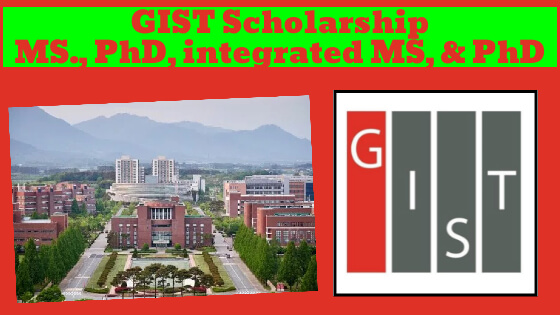 GIST Scholarship: Students and researchers from all over the world are invited to apply for the Gwangju Institute of Science and Technology Scholarship 2022. Students can apply for GIST's MS, Ph.D., and MS-Ph.D. scholarships.
Thanks to the South Korean scholarship, international students can help develop science and technology research in Korea. Students in South Korea's top scholarship program can collaborate and promote international and domestic research activities.
Participants in GIST-funded research projects and courses gain world-class scientific and technological knowledge and skills. UC San Diego's GIST scholarship program in South Korea is a joint effort with the South Korean Ministry of Science and Technology. The ministry provides full financial assistance to students to encourage the development of scientific technologists and innovation.
GIST Scholarship
Summary
The Gwangju Institute of Science and Technology is a top Korean university.
An MS, PhD, or an MS + PhD is available.
Foreign students can use the South Korean scholarship to help build a strong research foundation for science and technology advancement.
For the number of professor citations, GIST ranks 1st among South Korean top universities.
The Gwangju Institute of Science and Technology Scholarship 2022-2023 deadline for international students is April 15, 2022.
The university helps students find work in their chosen field. It also gives students great oThe Korean government founded GIST in 1993 and it has since attracted world-class scholars and scientists. The GIST is Korea's first national university to establish a comprehensive and foundational science curriculum. GIST is ranked 1st in South Korea for professor citations and 4th globally by QS World University Rankings.
UWE Bristol International Scholarships
| | |
| --- | --- |
| University | Gwangju Institute of Science and Technology |
| Country | South Korea |
| Degree Level | MS., PhD, integrated MS, & PhD |
| Deadline | 15 April 2022 |
Scholarship Description
3,415,000 won tuition fee waiver per semester
Monthly stipends are paid.
M.S. students get 140,000 won per month.
295k won/month for Ph.D. students
Health Insurance
Flight reimbursement
Participating students will be given research assistantships.
Study Area
School of Electrical Engineering and Computer Science
School of Earth Sciences and Environmental Engineering
School of Mechanical Engineering
School of Integrated Technology
School of Life Science
Artificial Intelligence Graduate School
Department of Physics and Photon Science
Department of Chemistry
Department of Biomedical Science and Engineering
School of Materials Science and Engineering
Eligibilty
The GIST Scholarship 2022-2023 is open to all international students.
For the Masters program, you need a Bachelor's degree or its equivalent.
Applicants must have a master's degree or equivalent.
Supporting Documents
Statement on the Submission of Application Materials (Form1)
Official transcripts and certifications must be sent in.
Two Letters of Recommendation
Candidates must send a copy of their passport to the test.
How to Apply:
The application process is straightforward and entirely online. Please visit the official w
The GIST Scholarship application for South Korea 2022 is simple and online.
GIST South Korea scholarship applications must be submitted online.
To be considered, all applicants must complete the GIST online application.
All required documents must be copied and attached.
Your application will be reviewed and validated by the International Admissions Coordinator.
After receiving notification, you must enroll by submitting the required documents in person and paying the Matriculation Fee. (Note: students in need may be exempt from the matriculation fee.)
Last Date for Apply– 15 April 2022
More Opportunities
Fully Funded University of New England Scholarship in University of New…
Griffith University International Postgraduate Research Scholarship in Australia
Fully Funded National Chiao Tung University Scholarships in Taiwan
Huayu Enrichment Scholarship (HES) for International Students in Taiwan
https://techstour.com/taiwan-international-graduate-scholarship-program/