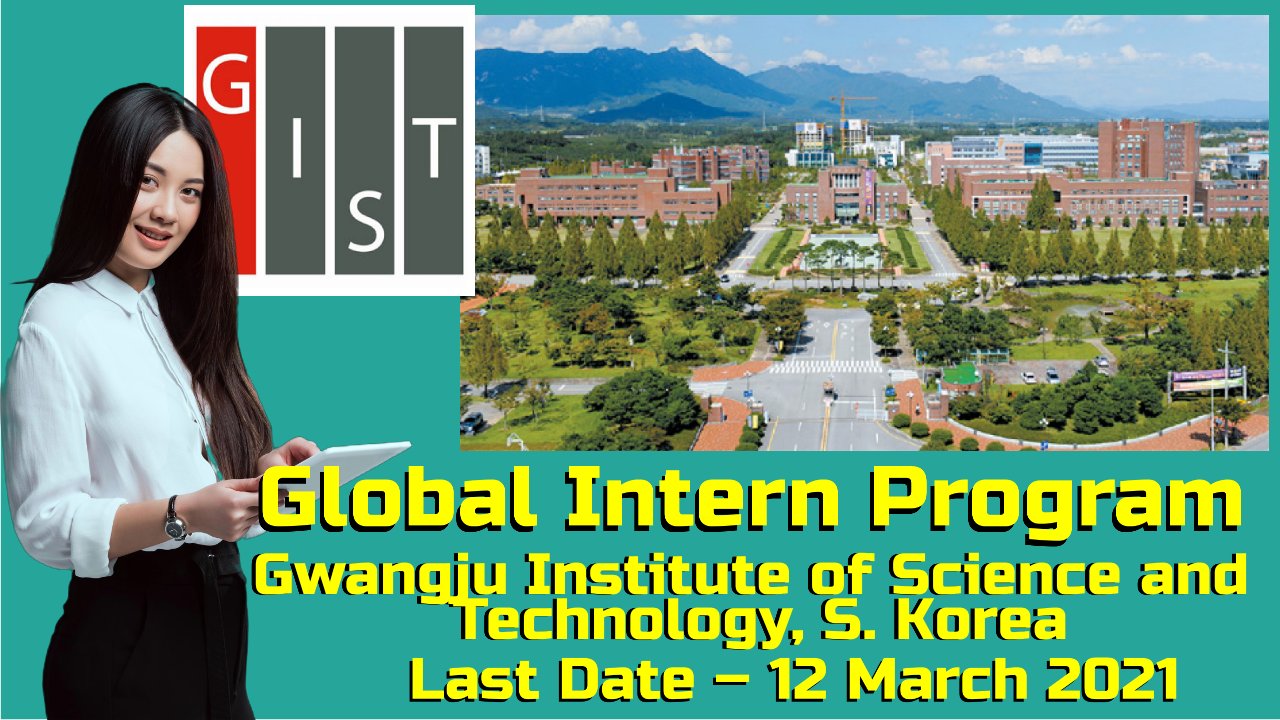 Designation/Position- Global Intern Program
Gwangju Institute of Science and Technology, Korea invites application for Global Intern Program for eligible and interested candidates
About- For those of you who would like to experience the unique research environment and opportunities available at the GIST, the Global Intern Program (GIP) offers a wonderful opportunity to experience research at GIST by having you join a research lab for eight-weeks during the summer to receive valuable training and mentoring from the lab's professor. It will be an opportunity to help you decide if pursuing an advanced degree at GIST is right for you while gaining valuable research experienc
Study level- Undergraduate Seniors or Master's Degree 
Location- Gwangju Institute of Science and Technology, Korea
Eligibility/Qualification–
International Undergraduate Seniors or Master's Degree students
A GPA of 3.0 or above
Check GIP eligibility requirements. GIP is only for undergraduate seniors or for master's degree students. Failure to meet the eligibility requirements application forms will not be considered.
Applicants should indicate two preferred laboratories in the application form and upload research plan. Incomplete applications will not be considered.
By applying for the GIP program, you are agreeing to abide by GIST regulations and Korean law. Failure to abide by GIST regulations or Korean law will result in immediate dismissal at your own expense.
Each individual School/Department has their own process to select interns, and the Section of International Cooperation (SAP) has no ability to influence that process or to alter the decision. Furthermore, SAP is not provided with any information regarding why an applicant may or may not have been selected.
Depending on the COVID-19 situation, this program can be altered including having online component.
[Financial Implications for foreigners diagnosed with COVID-19 in Korea] : Korea adheres to the principle of financial reciprocity regarding costs related to COVID-19 incurred by foreigners. Therefore, in Korea, you would be "FINANCIALLY RESPONSIBLE FOR COSTS" related to a COVID-19 diagnosis and treatment(Quarantine, Hospitalization, Medical Costs, etc.) that a Korean national would incur in your home country.
PCR(Negative) Test Result should be submitted taken within 72 hours before enter to Korea.
Job/Position Description- 
GIP offers
Half of Round-trip Airfare
Dormitory Accommodation
Korean Language Class
Cultural Class
Special Lectures
Stipend
Health Insurance
Culture Exploration
How to Apply- 
Create an account with your email address
Complete the online application form and upload the following required documents

Original(Official) Degree Certificates (ex. Diploma, Certificate of Enrollment/Graduation, etc.)
Original(Official) Transcripts; All in English
Letter of Recommendation
English Language Proficiency Test Result (or certificate stating the language/medium of instruction is English)
* Applicants must make sure to press the "Submit" button after completing their applications. (Application may not be revised once it is submitted)
https://service.gist.ac.kr/admission/graduate/foreigner?serviceType=2
Last Date for Apply– 12 March 2021
More Opportnities:-
UWGSS Graduate Studies Scholarship at the University of Winnipeg, Canada
Amsterdam Merit Scholarship at Universiteit van Amsterdam, Netherlands
Bangchak Master Scholarships 2021 at Asian Institute of Technology (AIT) in Thailand
Postgraduate Research Scholarship at The University of Sydney, Australia