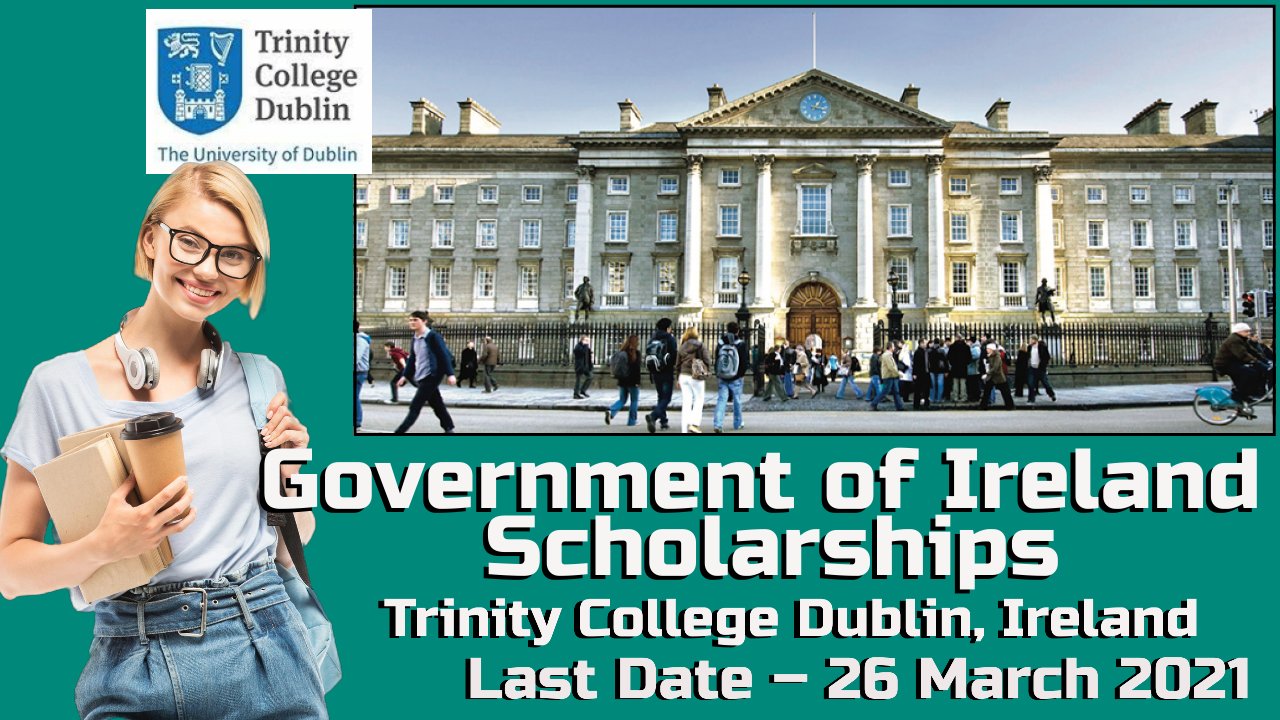 Designation/Position- Government of Ireland Scholarships
Trinity College Dublin, Ireland invites application for Government of Ireland Scholarships for eligible and interested candidates
About- Government of Ireland International Scholarships are awarded to high calibre students from non-EEA countries to study in Ireland for a period of one year.  Trinity ranks 92nd in the world for Graduate Employability 2 and is committed to preparing its students for the ever-changing challenges of the 21st century workplace.
Study level- Master's Degree
Location- Trinity College Dublin, Ireland
Eligibility/Qualification–
the final year of an undergraduate programme;
one year of a taught masters degree programme or;
one year of a research programme (i.e. one year of a 2-year research masters or a 3-4 year PhD programme).
Job/Position Description- 
The HEA will award a scholarship fund to the student (through the HEI that the student is attending) amounting to €10,000 for one study year. This fund is directed at supporting student costs and living expenses.
Trinity would provide a full tuition fee waiverto successful students for the specified scholarship year (i.e. tuition fee and registration charge are waived).
It is expected that a total of 60 scholarships will be funded by the Government of Ireland International Education Scholarships for the academic year 2021/2022 across all participating Irish Higher Education Institutions.
Successful Scholars are to commence studies in September/October 2021. Late enrolments will only be considered in relation to PhD awardees.
How to Apply- 
Applicants are required to be in possession of a conditional or final offer for admission to Trinity at the time of application for the scholarship and will be required to submit a copy of the same.
The application should be submitted via this link.
Any questions regarding the call for applications should be submitted to goiies@hea.ie no later than 26 March 2021. A FAQ document can be found here
Last Date for Apply–26 March 2021
More Opportnities:-
UWGSS Graduate Studies Scholarship at the University of Winnipeg, Canada
Amsterdam Merit Scholarship at Universiteit van Amsterdam, Netherlands
Bangchak Master Scholarships 2021 at Asian Institute of Technology (AIT) in Thailand
Postgraduate Research Scholarship at The University of Sydney, Australia