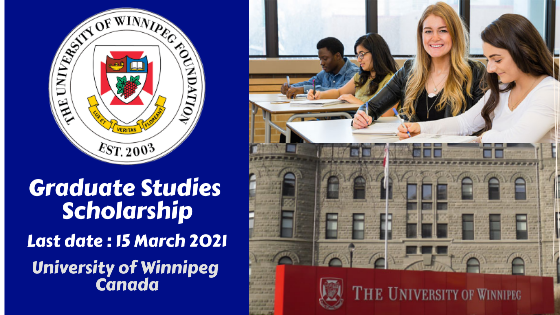 Designation/Position- Graduate Studies Scholarship
The University of Winnipeg, Canada invites application for Graduate Studies Scholarships for eligible and interested candidates
About- Welcome to Graduate Studies scholarship at The University of Winnipeg, a student-centred research institution. Under the leadership of Dr. Mavis Reimer, Dean of Graduate Studies, the Faculty of Graduate Studies takes its mission to be to support and promote graduate education and research, to foster excellence in graduate programs, and to attract top national and international graduate students.
There are many good reasons for students to choose The University of Winnipeg for their graduate studies because they offer diverse programs, award-winning professors, and unique research opportunities. They aim to help students excel but also to ensure that they have a superior student experience.
Research/Job Area- Graduate Studies
Location- University of Winnipeg, Canada
Eligibility/Qualification–
The offer of a UWGSS does not guarantee admission into a graduate program at the University of Winnipeg.
All students are eligible ,regardless of citizenship.
To be eligible all full-time graduate students in
thesis
course-based
practicum-based
or project-based programs
are eligible to apply, with the exception of students in the Theology, and Joint Masters Programs.
 To qualify to apply to this program, the candidate must fulfill the conditions like:-
Minimum GPA of 3.75 in the last 60 credits hours of study.
Be entering the first or second year of an eligible master's program as of May or September of the current year or January of the upcoming year.
Enrolled a full-time master's program.
 Notes:
Although students may be required to apply and students holding NSERC, SSHRC, CIHR, or PDGSS Awards are not eligible to hold this award.
Job/Position Description- 
The University of Winnipeg Graduate Student Scholarship (UWGSS) is valued at $15,000 for a period of 12 months and there are no automatic renewals for a second year.
How to Apply- 
A completed application package includes the following:
A completed UWGSS Application Form.
2 references: One from your graduate program committee chair or graduate advisor/supervisor and one from an individual who can speak to your academic excellence and community engagement. References can use the UWGSS Appraisal Form or their own letterhead. 
A Community Engagement and Academic Curriculum Vitae. This would include conference/paper presentations, funding history, relevant work/volunteer experience, etc. 
Transcripts (UWinnipeg Transcripts can be unofficial copies)
Last Date for Apply– 15 March 2021 (or next business day
Applications for the University of Winnipeg Graduate Student Scholarship should be submitted to the graduate studies office by no later than March 15 (or next business day). Applications can be submitted via email to gradstudies@uwinnipeg.ca
More Opportunities
MIEM Excellence Scholarship at Université de Paris, Paris
Master's Programs at United Arab Emirates University, United Arab Emirates
ANU Chancellor's International Scholarship at Australian National University
Amsterdam Excellence Scholarship (AES) at University of Amsterdam, Netherlands