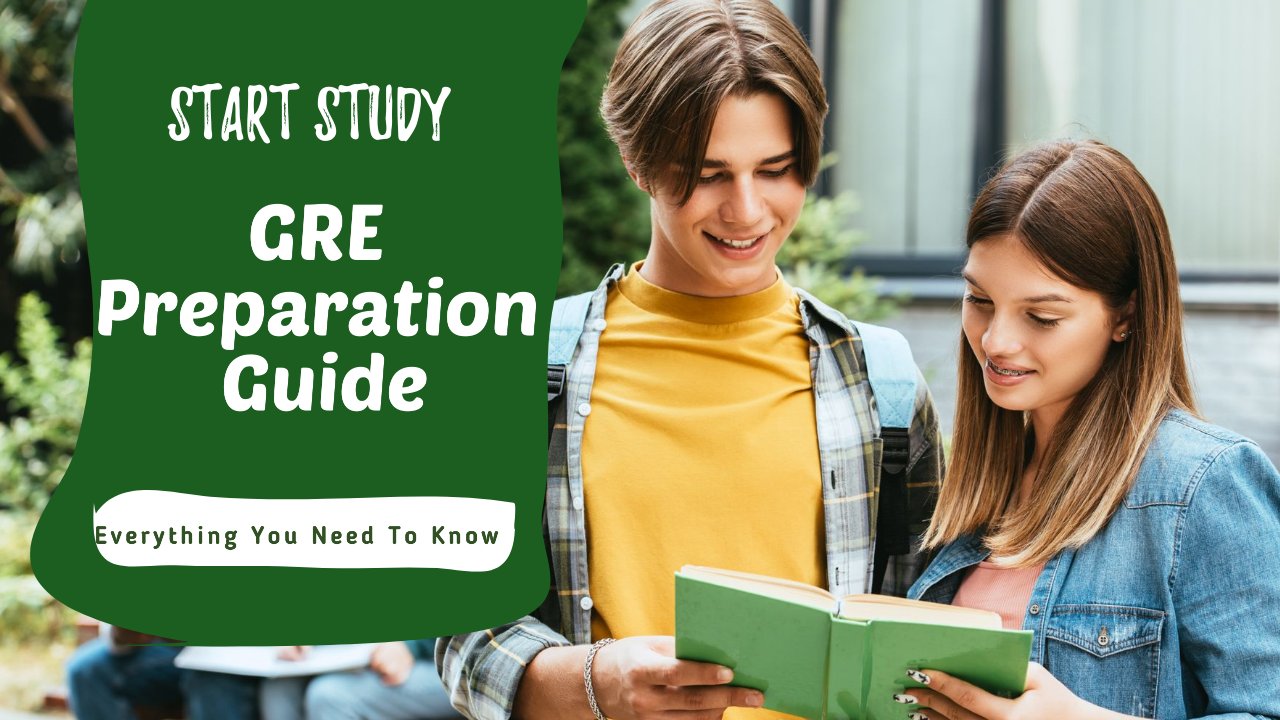 GRE Preparation Guide: The Graduate Record Examination, or GRE, is a standardized test used by many graduate schools to help them decide whom to admit.
It consists of verbal, quantitative, and writing sections. The GRE is a computer-based exam, and the writing section is optional. Some special test centers administer the GRE through paper-based exams.
The GRE has four sections that measure analytical writing skills, quantitative reasoning skills, verbal reasoning skills, and critical thinking skills. The test is offered year-round. The exam is typically two hours long and is administered by the Educational Testing Service, a private firm that also administers the SAT.
The GRE is an important test for many of those who wish to study at graduate school. The GRE was designed to predict success in graduate school, but it is used as a general admissions test for many graduate programs. Many graduate programs want to see that you can complete an undergraduate degree program before they allow you to commit to graduate school.
Educational Testing Services administer this exam. Most top graduate-level schools accepted ETS GRE scores for master's degree programs like the popular Master of Science degree.
Eligibility for GRE
A lot has changed over the years. ETS also offers GRE subject tests in various areas. In India, you are allowed to take the GRE only if you can prove your identity. You need a valid passport. Your original passport, which clearly shows your full name, photograph, and signature. No other documentation like a birth certificate or an international driving license can be used as an alternate identity proof.
Aside from this eligibility requirement, the policies are stringent. ETS does not set any age qualification or timing-related prerequisites. However, it is essential to note that each university's eligibility criteria that accept GRE scores will vary. They may have a minimum age experience and qualification-related filter, unlike many entrance exams.
Exam Date
There are no specific dates for the GRE. Schedule an appointment at the nearest GRE center any time of the year. It is also important to note that this flexibility creates a problem during the peak application period, typically from August to December. The exam center you prefer may be challenging to get an appointment with. You will be forced to book a day and time at another center that may not be close to your residence. This makes it essential to plan your GRE preparation schedule and test gates well in advance.
One GRE general test can be taken every 21 days, but you can take it up to five times in an uninterrupted 12-month period. You can find the test center locations. Once you select the country and city from the drop-down list, you will see the exact address of the test center and the seat availability on different dates. You also know if the center offers computer-delivered or paper-delivered tests. Once you've made a selection, you can register for the GRE test on the same site. But don't rush into this step till you have prepared well and a reasonably certain of being able to cross the minimum GRE score. You have set for yourself the registration fee to take the GRE is 205 dollars in most countries except for Australia, China, Nigeria, and Turkey. Changing your test center or rescheduling your appointment is possible. There's an extra charge of 50 dollars.
What is GRE?
The GRE is a generalized test that isn't related to any particular discipline or field. It has been designed to evaluate skills that you've already picked up over the years. This allows a wide range of universities to use it to benchmark applicants from diverse backgrounds applying to a large variety of degrees in the areas of business, Arts and Humanities, and social, physical life sciences.
GRE Test time
The structure of the computer-delivered tests is as follows. The total time for the test is around three hours and 45 minutes. You will get a 10-minute break after the third section. The unscored and research questions are experimental questions that are not considered in your final score.
The paper-delivered test is similar in format, but it doesn't have the experimental questions. The total time is around 15 minutes lesser.
GRE Pattern
If you want to look at the overall GRE pattern, it has three sections analytical writing, verbal reasoning, and quantitative reasoning.
Analytical writing – Analytical writing focuses on your ability to evaluate evidence, interpret facts, and present your arguments clearly and persuasively.
Verbal reasoning – The verbal reasoning section checks your capacity to understand the content author's perspectives and intentions, prioritize the points made, and connect the dots even if they may not necessarily be documented coherently. This is the most challenging section for non-native speakers of English.
Quantitative reasoning – The quantitative reasoning test measures how comfortable you are with numbers and quantitative data. You'll have to make sense of the problem and use mathematical formulas from geometry, algebra, and arithmetic in order to solve it. Whether you are taking the computer or paper-based test, you will have access to an online or physical calculator. So, there's no complex mental arithmetic to be done.
| | | |
| --- | --- | --- |
| Master Degree | Avg. Verbal | Avg. Quant |
| Buisness | 150 | 153 |
| Social Science | 153 | 151 |
| Physical Science | 151 | 158 |
| Life Science | 151 | 151 |
| Arts and Humanities | 157 | 150 |
Keep in mind that the score you'll need also depends on the area of specialization, and if you are targeting the top universities, you'll need to aim much higher than the savage.
The GRE is beneficial for college applications, and you may qualify for partial and complete scholarships when you achieve a high score. However, most international applicants will struggle to get there, but all is not lost if you aren't precisely a GRE topper. It may be possible for you to get into one of the most prestigious universities abroad after you have a high GRE score if you can manage your M.S. applications well.
Also Read- Important Tips on How to Write an Awesome Recommendation Letter for…
Why Study Abroad: 11 Decisive Reasons to Join International College
How to eliminate time wasters in the gre?
The GRE is a three-part test that tests your knowledge of the English language, math skills, and ability to think creatively and solve problems. To do well on the exam, you'll need to be prepared—that means studying in advance and avoiding time wasters. However, many myths surround the GRE, and many people believe them without ever actually researching for themselves.
Time management is also a huge component of test success. Over the years, students have developed time-saving tricks and techniques to help you get the most out of your studying. One of the most effective time savers is a technique called pre-reading. Before you begin reviewing your notes and studying for the actual test, you should take a few minutes to preview each question.
How do I start studying for the GRE?
If you are interested in graduate school, you have probably already heard of the graduate record exam or GRE. This test, which can be taken after you have earned your undergraduate degree, can be your ticket into a program you've always wanted to go to. But how do you get started? Well, the first thing you need to know is that you should register for the GRE at least 2 months before you intend to take the test. This should give you plenty of time to prepare yourself and to choose your desired test date.
The Graduate Record Examination (GRE) is the most widely used graduate school admissions test globally. Results of the test can be used for many purposes. For some programs, you may be requested to submit an admissions test score, while it may not be required for others. Some programs may ask you to submit scores from the GRE General Test and/or Subject Tests. It is up to the program or school to determine the admission test score that is required.
These tips help you improve your GRE study habits, so you feel more prepared on exam day. Start by taking a practice test, even if you have limited time. Then, when you get your score back, you can figure out what you need to fix and where you can improve. But don't just focus on what you got wrong: look for what you got right, too. What did you know? That's your starting point. After that, it's all about discipline: study consistently and take the time to work your way through the problem-solving techniques that most closely match the way you learn best.
How to increase your reading comprehension score?
Having a high reading comprehension score is a key to doing well in the GRE. And did you know that there are four different reading comprehension question formats in the test? There are the standard multiple-choice, single-answer questions. The other formats are the multiple answers, multiple answers, extended responses, and table format. By knowing how to tackle the different question formats, you'll be sure to do well in the GRE.
There are many ways to upscale your reading comprehension score. One is to take practice tests—and not just the ones that come with your textbooks! If you need practice tests, you can find a wide selection on the internet. Another way to up your score is to read more books in your chosen field.
How to increase your vocabulary score?
When you sit down to take the GRE, you may find yourself feeling as if you're in over your head. Not only do you have to know a lot of math and science, but you also have to know how to write an essay and take the multiple-choice portions of the exam. But if there's one thing you can do to best prepare yourself for the GRE, it's to build your vocabulary.
When you take the GRE test, your score on the vocabulary section can differentiate between getting your dream grad school or being rejected. In fact, it can be the difference between getting into a good grad school or not. How do you increase your vocabulary score? You can get better GRE scores on every section of the test, including vocabulary, by following these three tips:
Develop a habit of daily learning,
Read frequently,
Use GRE vocabulary flashcards.
How do I register for the GRE?
Registering for the GRE is a straightforward process. You provide some personal information and are given a registration code right away. After that, you will have to mail a check to the ETS (Educational Testing Service, the company that runs the test).
How long does it take to study for the GRE?
As the GRE study guide, we are often asked, "How long does it take to study for the GRE?" It varies from person to person, but there are some general guidelines. First, you will need to study approximately 3-4 hours per day for about 5-6 days a week. You will need to challenge yourself without becoming overwhelmed, and you will probably have to go over some of the basics of the test a few times, but if you dedicate yourself to your studies, you can ace the GRE.
Here's a quick look at the average GRE scores for Howard, Stanford, MIT, and other top universities. If you apply for an M.S., the GRE website offers plenty of free and paid GRE preparation material. This includes downloadable PDF files and software. You'll also find many independent test prep companies such as Kaplan parents, GRE edge, and Magoo SH. That provides GRE preparation help. The GRE study material can help you get an overview of the concepts, practice questions, and sample GREs.
Master's degree GRE scores in the USA
Average GRE Scores for MS in Engineering
| | University Name | Average Verbal | Average Quantitative |
| --- | --- | --- | --- |
| 1. | Massachusetts Institute of Technology (MIT) | 162 | 167 |
| 2. | Harvard | 160 | 167 |
| 3. | Stanford | 159 | 167 |
| 4. | University of California-Berkeley | 157 | 165 |
| 5. | University of Pennsylvania | 155 | 166 |
| 6. | Princeton | 162 | 166 |
| 7. | Yale | 155 | 170 |
| 8. | Carnegie Mellon University | 154 | 161 |
| 9. | University of South California | 151 | 163 |
| 10. | UCLA | 154 | 165 |
| 11. | Cornell | 154 | 166 |
| 12. | Columbia University | 155 | 166 |
| | GRE score range | Ratings |
| --- | --- | --- |
| 1. | 165-170 | Excellent |
| 2. | 155-164 | Very good |
| 3. | 150-154 | Good |
| 4. | 140-149 | Needs improvement |
| 5. | 130-139 | Poor |
Source- https://www.mbacrystalball.com/gre/gre-scores-ms-usa-universities/
Is the GRE difficult?
The GRE (Graduate Record Examination) is a standardized test required of most students applying to master's and doctoral degree programs in the United States. It is often required for admission to business and law school programs. The GRE is not an IQ test but involves verbal reasoning, quantitative reasoning, and analytical writing. Students who have taken the GRE say it is more difficult than the SAT (Scholastic Aptitude Test), which is required for admission by most colleges and universities.
The GRE is an emotionally charged topic for many people. On the one hand, many students can't wait to take the test and are convinced they will score at the top of the scale, while on the other hand, several students admit they've heard the GRE is difficult and want to know the potential challenges they may face. The truth is the GRE is difficult for many students, with some facing obstacles such as depression, test anxiety, and a general lack of confidence in their abilities. The good news is that all these issues are common and can be overcome with practice. The first thing you'll need to do is to be familiar with the GRE format.
When is the GRE offered?
The Graduate Record Examination (GRE) is a test that many students must take before entering a graduate program. It is often required for entrance into a law program, business school, or any other graduate program that requires a certain degree of intelligence and capability.
The GRE comprises six different sections: three that must be taken and three that are optional. The three mandatory sections are Analytical Writing, Verbal Reasoning, and Quantitative Reasoning. However, there are similar English tests like Language (TOEFL), Graduate Management Admission Test (GMAT), and Graduate Record Examination-International (GRE-International) that are not required but may be taken.
What are the cost of the GRE?
The GRE is an entrance exam required for admission to graduate school programs in the US and other countries. You can take the GRE as many times as you want, and there are no additional fees beyond the cost of the exam.
The cost of the GRE is $205. However, if you register by the end of December, you might be able to get a $20 fee reduction. There are also additional fees for late registration or for changing your test center location.
If you want to change your schedule or reschedule your tests, you'll have to pay an extra $50 if, for instance, there are deadlines for registration for a particular GRE test, so if you are past the deadline if you're doing a late registration then it's an extra $25.
Which Section Is More Important?
A common misconception is that the quantitative section of the GRE is the most important. While it is true that you need to score high on the quantitative section to get into a good school, you will need to score high on both sections to get the best score possible.
Is 2 months enough for GRE?
The GRE is an important, if not the most important, stepping stone to achieving your goals in graduate school. That said, the GRE is also widely known for being a tough and stressful test that requires a lot of studying and a good amount of time. For example, you're going to need at least 3 hours to take the GRE, while this also doesn't include the time you'll need to spend studying for it.
We all know the importance of the GRE in getting a good graduate degree. The GRE is a computer-based standardized test in the United States. The GRE has four sections: Verbal Reasoning, Quantitative Reasoning, Analytical Writing, and math. The total time for the 4 sections of your GRE is 3 hours. You will be given 2 hours for the Analytical Writing section and 1 hour for the other sections.
There are many resources available to help you prepare for the GRE—from free practice tests to courses to tutors. Many of these are available directly through the GRE website or from third-party websites. For students who aren't able to afford these services, there are still several options. This guide discusses some of them.
GRE preparation guide pdf
Print length- 608 pages
Language- English
Publisher- McGraw Hill Education
Dimensions- 20 x 14 x 4 cm
ISBN-10 9352607376
Edition- Third
Publisher- Manhattan Prep
Language- English
Dimensions- 21.27 x 5.08 x 27.62 cm
Print length- 1056 pages
Edition – Twenty second
Publisher – Barrons Educational Series
Language – English
Dimensions – 21.27 x 3.3 x 27.62 cm
Print length – 688 pages
Edition – Illustrated
Publisher – Princeton Review
Language – English
Dimensions – 21.16 x 4.11 x 27.48 cm
Print length – 672 pages
Language- English
Dimensions- 21.59 x 2.69 x 27.94 cm
Print length- 468 pages