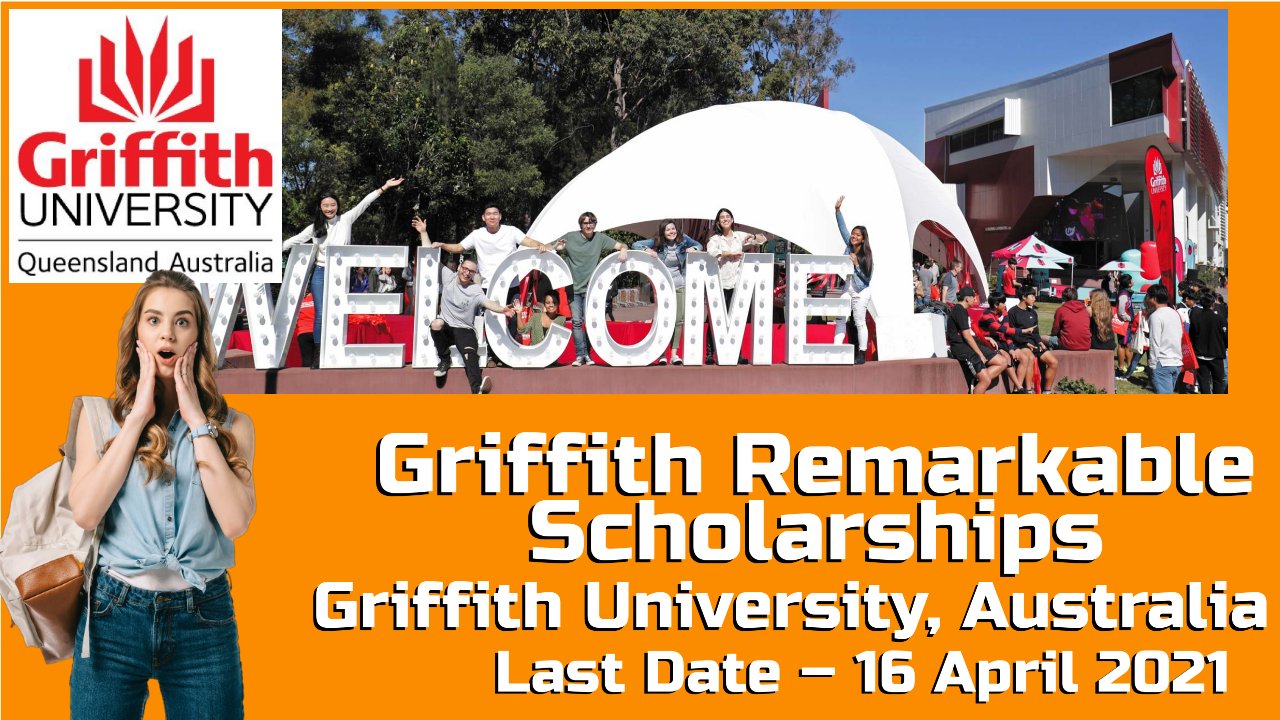 Designation/Position- Griffith Remarkable Scholarships
Griffith University, Australia  invites application for Griffith Remarkable Scholarships for eligible and interested candidates
About- Griffith Remarkable Scholarships rewards exceptional students applying for undergraduate and postgraduate coursework degree programs at Griffith University.
Since we started teaching over 40 years ago, we've been deeply connected to the Asian region, socially conscious and environmentally aware, an integral part of the community and heavily industry focused. We've also become a comprehensive, research-intensive university, ranking in the top 2% of universities worldwide.
Our teaching and research spans six campuses in South East Queensland and all disciplines, while our network of more than 200,000 graduates extends around the world.
Study level-Undergraduate and postgraduate coursework programs
Location- Griffith University, Australia
Eligibility/Qualification–
Be a citizen of a country other than Australia or New Zealand.
Have a minimum GPA in previous studies of 5.5 or above on a 7 point scale or equivalent. Check your suitability in the Minimum GPA criteria (PDF).
Have applied to study at Griffith by the scholarship application closing date.
Satisfy all academic and English language entry requirements for your chosen undergraduate or postgraduate coursework program.
Be a full-time student starting in Trimester 1, 2 or 3 2021.
Read the terms and conditions below to understand all the requirements of this scholarship.
Job/Position Description- 
Griffith University academic and English language entry requirements apply, including results of previous study and English language proficiency.
Scholarship applies to undergraduate or postgraduate coursework tuition fees only.
The scholarship covers 50% of undergraduate or postgraduate coursework tuition fees only for the duration of the program. The course duration is defined as the Program Length as stated in your Letter of Offer, less any credit received for previous study. Each deduction will be applied by the census date of each relevant trimester of the program.
Students must be International Fee Paying to qualify for the scholarship and each scholarship deduction. Any change from International Fee Paying student status will result in the scholarship being withdrawn.
Scholarship numbers are limited. When the limit for scholarship acceptances has been reached, the Griffith International Scholarship office will advise applicants that all available scholarships have been awarded and the scholarships are withdrawn.
Excludes students enrolling in Higher Degree Research, online programs (campus = online), non-award, Masters Qualifying Program, MBA (program code 5670), English language programs at the Griffith English Language Institute and programs delivered offshore in collaboration with a partner organisation.
Deferral of scholarships is not permitted.
How to Apply- 
Apply to study an undergraduate or postgraduate coursework program at Griffith University.
Apply for the scholarship by the closing date (see below). You will need to include academic records and a personal statement.
A University panel will review your application.
We will let you know the outcome of your application.
Last Date for Apply– 16 April 2021
Trimester 2 2021
Apply by: 16 April 2021
Receive outcome by: 30 April 2021
Trimester starts: 19 July 2021
Trimester 3 2021
Apply by: 6 August 2021
Receive outcome by: 20 August 2021
Trimester starts: 8 November 2021
More Opportnities:-
UWGSS Graduate Studies Scholarship at the University of Winnipeg, Canada
Amsterdam Merit Scholarship at Universiteit van Amsterdam, Netherlands
Bangchak Master Scholarships 2021 at Asian Institute of Technology (AIT) in Thailand
Postgraduate Research Scholarship at The University of Sydney, Australia