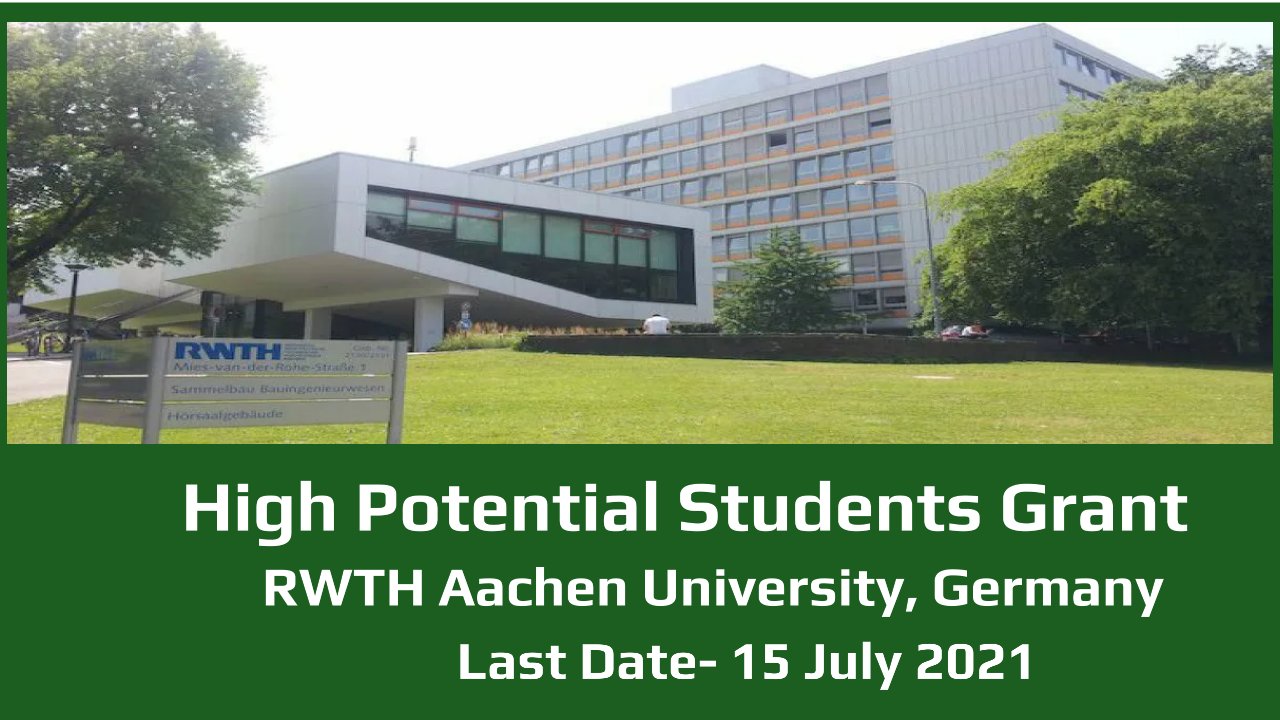 Designation/Position- High Potential Students Grant
RWTH Aachen University, Germany invites application for High Potential Students Grant for eligible and interested candidates
About- Tuition fees are charged for all programs organized by RWTH International Academy. In this section you can find High Potential Students Grant opportunities that might help you finance your studies. There are several scholarship opportunities available for international students. We highly recommend students to start searching for an appropriate scholarship as soon as possible. Please find some institutions that offer scholarships or search engines for scholarships listed below.
Study level- Master's Degree
Location- RWTH Aachen University, Germany
Eligibility/Qualification–
(1)Students must be admitted to one of the above-mentioned Master's degree program and must have performed excellently in their bachelor studies. Merit aspects (e.g. services to civil society) will be considered as decision-making factors.
(2) Students who already receive funding or a scholarship for the required tuition fees are not eligible.

Required Application Documents
A complete scholarship application consists of:
 Regular application for the Master's degree program submitted through the
RWTH online application portal
 Certificate stating that the applicant is among the best 10% bachelor degree
holders of their batch or if not applicable a cumulative grade point average of 1.7
or higher is required (converted to the German grading system)
 Letter of intent for the scholarship (500 words)
Job/Position Description-
This scholarship was created to enable high potential students to complete their Master's degree
program at RWTH Aachen University, offered by RWTH International Academy. This scholarship
grants a reduction of up to 50% of the tuition fees charged by RWTH International Academy to
admittees in one of the following Master's degree programs:
(1) M. Sc. Computer Aided Conception and Production in Mechanical Engineering
(2) M. Sc. Management and Engineering in Computer Aided Mechanical Engineering
(3) M. Sc. Management and Engineering in Structural Engineering and Risk Management of
Industrial Facilities
(4) M. Sc. Management and Engineering in Production Systems
(5) M. Sc. Networked Production Engineering
(6) M. Sc. Robotic Systems Engineering
(7) M. Sc. Textile Engineering
How to Apply-
High Potential Students Grant: Application Form
Last Date for Apply– 15 July 2021
More Opportunities:-
Dean's International Research Scholarship, University of Sydney, Australia
Rosa-Luxemburg-Stiftung Awards at Rosa-Luxemburg-Stiftung, Germany
Jönköping University Scholarships at Jönköping University, Sweden
Woods Hole Internship at Woods Hole Oceanographic Institution, U.S.A.