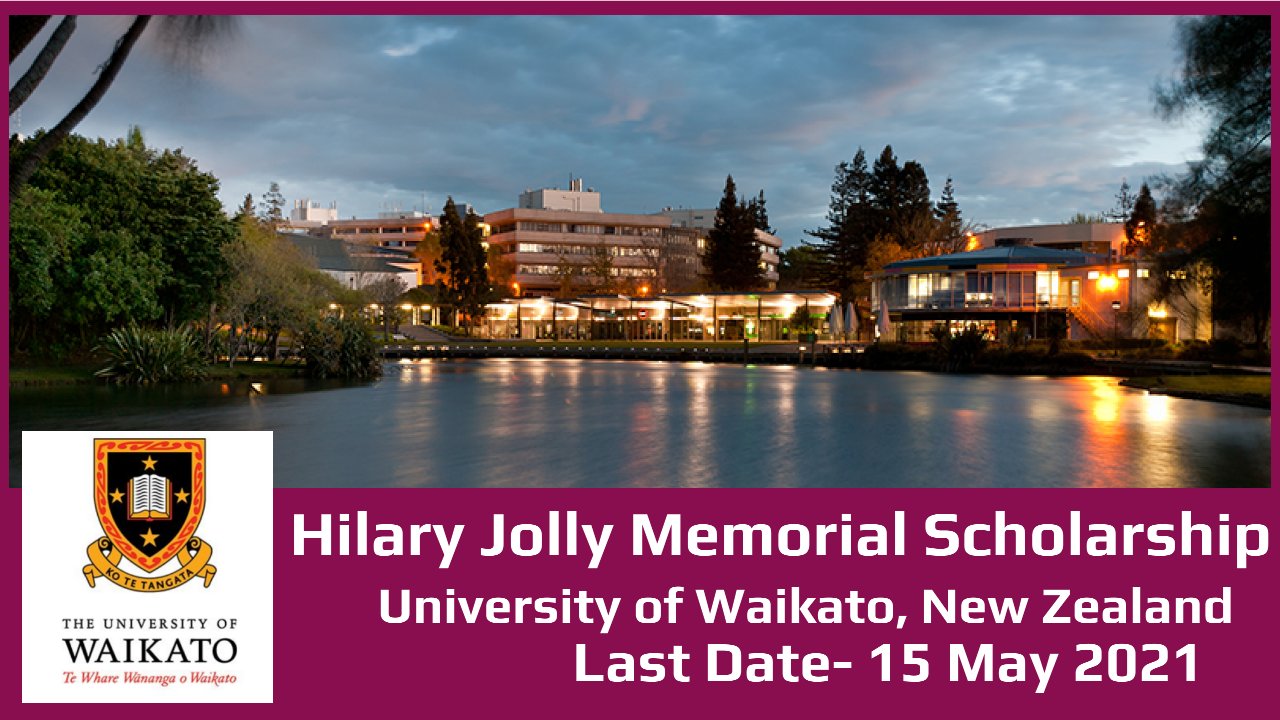 Designation/Position- Hilary Jolly Memorial Scholarship
University of Waikato, New Zealand invites application for Hilary Jolly Memorial Scholarship for eligible and interested candidates
About- The Hilary Jolly Memorial Scholarship was established in 1978 under the provisions of the will of the late Dr Violet Hilary Jolly (MSc, PhD) with funds held in trust by the University of Waikato Foundation. The Hilary Jolly Memorial Scholarship provides funding to assist University of Waikato students furthering their research in the field of Freshwater Ecology pertaining to New Zealand
Study level- MSc(Research) or an MSc
Location- University of Waikato, New Zealand
Eligibility/Qualification–
To be eligible, candidates must:
be enrolled or enrolling full time in an MSc(Research) or an MSc at the University of Waikato; and
be undertaking research in the field of freshwater ecology in New Zealand.
The Scholarship is open to New Zealand Citizens, Permanent Residents and international students.
Job/Position Description-
The value of the Scholarship will be up to $10,000 and will have a tenure of 1 year; The Scholarship will be paid in two equal instalments, the first upon confirmed enrolment
in the approved programme of study, and the second approximately six
months later (conditional on satisfactory academic performance).
Value: Up to $10,000
Study Level: Postgraduate (Taught), Postgraduate (Research)
Subject Area: Science
Closing Date: 15 May 2021
How to Apply-
Complete an Application to Enrol BEFORE you can have access to apply for Scholarships and Awards (This application is not a commitment to study here at the University of Waikato and can be withdrawn or updated at any time).
If you are a current student or already have a MyWaikato account you will be redirected to the MyWaikato screen:
Log in to MyWaikato
Click on the 'Scholarships' tab and select the scholarship you wish to apply for from the list of scholarships at the bottom of the page.
Once you are ready, click on the 'Apply Now' button below and continue with your application/s.
Last Date for Apply– 15 May 2021
More Opportunities:-
Dean's International Research Scholarship, University of Sydney, Australia
Rosa-Luxemburg-Stiftung Awards at Rosa-Luxemburg-Stiftung, Germany
Jönköping University Scholarships at Jönköping University, Sweden
Woods Hole Internship at Woods Hole Oceanographic Institution, U.S.A.