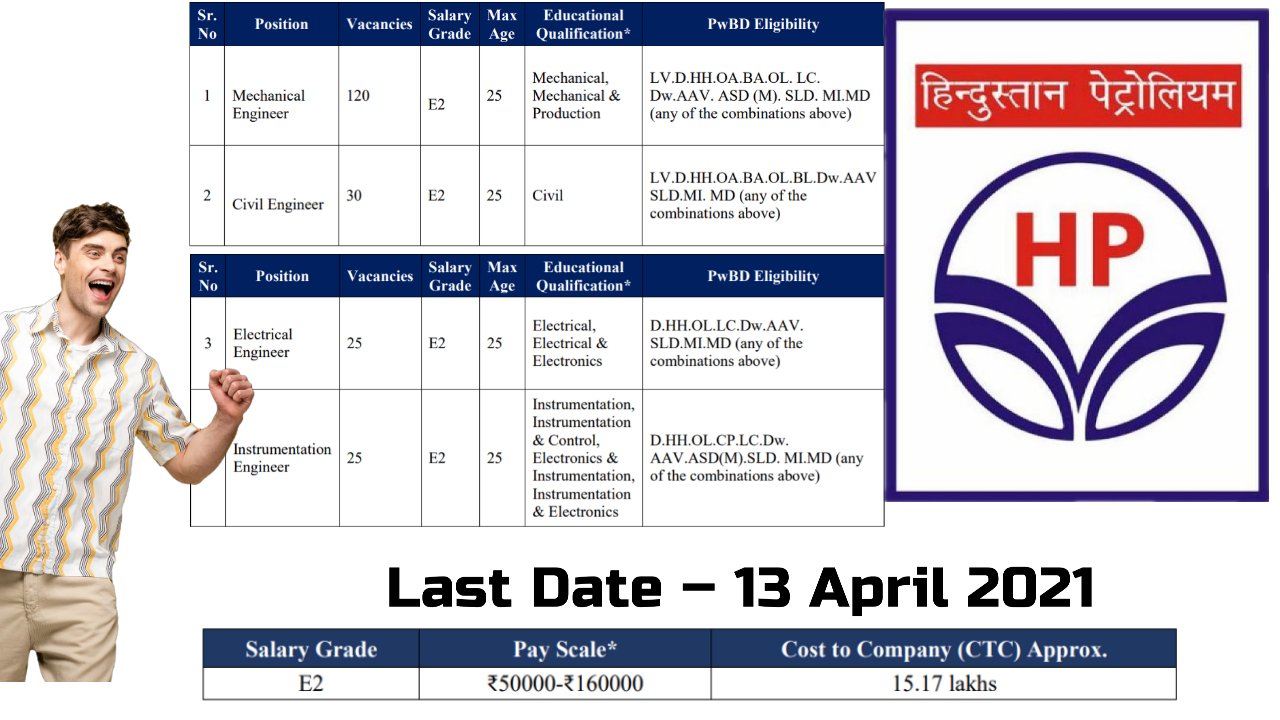 Designation/Position- HPCL Recruitment 2021 without Gate
Hindustan Petroleum Corporation Limited, India invites application for HPCL Recruitment 2021 without Gate for eligible and interested candidates
About- Hindustan Petroleum Corporation Limited (HPCL) is a Maharatna Central Public Sector Enterprise (CPSE) and a S&P Global Platts Top 250 Global Energy Company with a ranking of 54. HPCL has a strong presence in downstream hydrocarbon sector of the country with over 18% share in petroleum product marketing and also has business footprints across other energy verticals & various overseas geographies. During 2019 – 20, HPCL recorded Profit after Tax (PAT) of Rs. 2,637 Crore. Hindustan Petroleum Corporation Limited, India invites application for Energy Sector Opportunities for eligible and interested candidates
Study level- Engineering course
Location- Hindustan Petroleum Corporation Limited, India
Eligibility/Qualification–
a) Educational Criteria Details: Qualification must be 4-year full time regular engineering course from AICTE approved / UGC recognized University/Deemed University with minimum 60% marks for UR/OBCNC/EWS Candidates and 50% for SC/ST/PwBD candidates, under the relevant engineering stream as mentioned above only
b) Wherever CGPA/OGPA or letter grade in a qualifying degree is awarded, equivalent percentage of marks should be indicated in the application form as per norms adopted by University/Institute. A certificate to this effect from University / Institute which shall be required at the time of interview shortlisting stage.
c) Students in the final year/semester of the qualifying course are also eligible to apply. They will be allowed provisionally subject to submission of all the documentary proof at later stages. At the time of applying, the aggregate marks required will be same as mentioned above as per respective category.
| | | | | | | |
| --- | --- | --- | --- | --- | --- | --- |
| Sr. No | Position | Vacancies | Salary Grade | Max Age | Educational Qualification* | PwBD Eligibility |
| 1 | Mechanical Engineer | 120 | E2 | 25 | Mechanical, Mechanical & Production | LV.D.HH.OA.BA.OL. LC. Dw.AAV. ASD (M). SLD. MI.MD (any of the combinations above) |
| 2 | Civil Engineer | 30 | E2 | 25 | Civil | LV.D.HH.OA.BA.OL.BL.Dw.AAV SLD.MI. MD (any of the combinations above) |
| | | | | | | |
| --- | --- | --- | --- | --- | --- | --- |
| 3 | Electrical Engineer | 25 | E2 | 25 | Electrical, Electrical & Electronics | D.HH.OL.LC.Dw.AAV. SLD.MI.MD (any of the combinations above) |
| 4 | Instrumentation Engineer | 25 | E2 | 25 | Instrumentation, Instrumentation & Control, Electronics & Instrumentation, Instrumentation & Electronics | D.HH.OL.CP.LC.Dw. AAV.ASD(M).SLD. MI.MD (any of the combinations above) |
Job/Position Description-
HPCL invites talented & motivated Indian nationals looking for exciting career opportunities in energy sector and willing to contribute towards India's energy future by being part of our growth journey. Interested and eligible candidates can apply for the following vacancies ONLINE.
a. The selection process may comprise of various shortlisting tools like Computer Based test, Group Task, Personal Interview etc.
b. All the candidates claiming to fulfil all the eligibility criteria will be called for Computer Based Test.
c. Computer Based Test will be of objective questions with no negative marking and will comprise of 2 parts.
I. General Aptitude consisting of English Language, Quantitative Aptitude Test & Intellectual Potential test.
II. Technical / Professional Knowledge comprising of questions related to Qualifying degree /Educational background required for the applied position.
d. Candidates qualifying in the Computer Based Test in order of merit & predetermined ratio will be advised to upload the supporting documents.
e. Basis scrutiny of the application, uploaded documents and category-wise and discipline-wise merit list in Computer Based Test, eligible candidates will be called for Group Task & Personal Interview.
f. Candidates must secure minimum qualifying marks in each of the stages i.e. Computer Based Test, Group Task and Personal Interview to be considered for further selection process.
g. A category & discipline-wise merit list will be drawn for all the candidates who qualify in all the stages. Computer Based Test + Group Task + Personal Interviews & offer of appointment would be as per the category & discipline-wise vacancies available.
How to Apply-
a. Online Application will be accepted from 1200 hrs on 3rd March 2021 till 2359 hrs on 15th April 2021.
b. Candidates are requested to apply online only on www.hindustanpetroleum.com Careers Current Openings, after reading a detailed advertisement. No other means/mode of the application shall be accepted.
c. Applications with incomplete/wrong particulars or not in the prescribed format will not be considered.
d. The email id and mobile number provided in the online application should remain valid for at least one year. Candidates must use proper e-mail ids created in their names. Applications with pseudo / fake email ids will attract appropriate action under the law.
e. All the details given in the online form will be treated as final and no changes will be entertained.
f. In the event of non-submission of completed application along with application fees (wherever applicable) from candidates for reasons whatsoever, his / her candidature will stand canceled and no further communication/consideration on the same will be entertained.
g. Candidates will be required to submit documentary evidence of eligibility during the course of the shortlisting/selection process within the stipulated time as advised by HPCL. Any mismatch in name, qualification, other criteria of documents from the data given in the application form will lead to disqualification at any stage.
Last Date for Apply– 15 April 2021
UWGSS Graduate Studies Scholarship at the University of Winnipeg, Canada
Amsterdam Merit Scholarship at Universiteit van Amsterdam, Netherlands
Bangchak Master Scholarships 2021 at Asian Institute of Technology (AIT) in Thailand
Postgraduate Research Scholarship at The University of Sydney, Australia