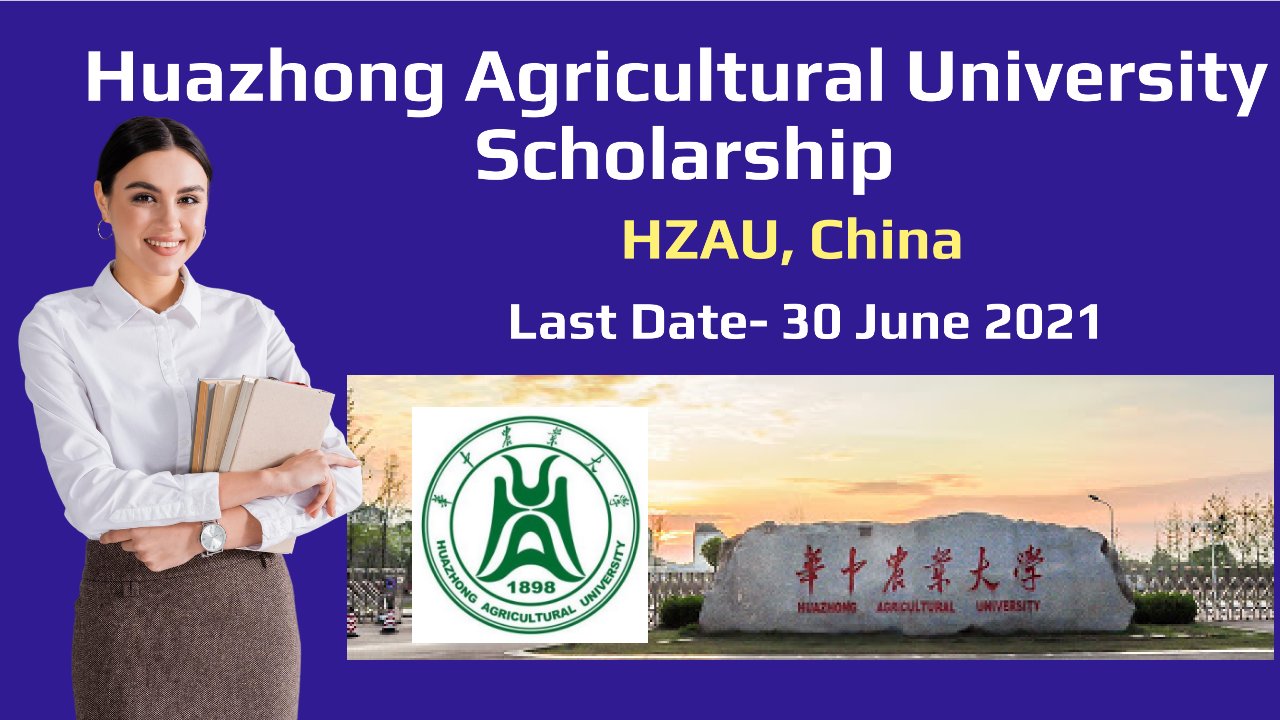 Designation/Position- Huazhong Agricultural University Scholarship
Huazhong Agricultural University, China invites application for Huazhong Agricultural University Scholarship for eligible candidates
About- Huazhong Agricultural University Scholarship (HZAUS) is established by Huazhong Agricultural University (HZAU) to encourage and support some excellent Bachelor's or Master's foreign students of HZAU to continue studying at HZAU as Master's or Doctoral students.
Study level- Bachelor's or Master's
Location- Huazhong Agricultural University, China
Eligibility/Qualification–
①Applicants must be non-Chinese citizens in good health.
②Applicants for master's degree studies must have bachelor's degree and be under the age of 40.
③Applicants for doctoral degree studies must have master's degree and be under the age of 45.
Language Proficiency:
① Chinese Medium Program: Applicants should submit a score report of a recognized Chinese Proficiency Test. HSK level 5 or above (Note: HSK refers to Chinese Proficiency Test. You can find information on the website: www.chinesetest.cn) is required. If the applicant has no elementary Chinese study experience, he or she can pass HSK level 5 by attending Chinese Language Program for one academic year before the start of Academic study.
② English Medium Program: It is better if applicants can submit a score report of a recognized English Proficiency Test such as TOEFL (IBT 80), IELTS 6.0 or higher; or other official English test recognized by HZAU. Failing to demonstrate one's English proficiency may adversely affect one's candidacy for acceptance.
③ Every applicant should discreetly choose medium program. HZAU will respect every applicant's choice during the application time, while it is forbidden to change the medium program once anyone gets admission.
Job/Position Description-
①Tuition waiver.
②Accommodation: Free university dormitory
HZAU requires students to live on campus in principle. HZAU will provide each Doctoral student a single room, while provide a twin room shared by two Master's students.
③Stipend:
Master's students: 2,100 RMB/month;
Doctoral students: 2,500 RMB/month.
Within the scholarship duration, registered scholarship students will receive a stipend from HZAU each month. Students registering on or before the 15th of the month will receive a full stipend of that month. Those who register after the 15th of the month will receive a half stipend of that month. Graduating students will receive stipend until half month after the graduation date. If registered student stays out of China for more than 15 days due to a personal reason (school holidays excluded), his stipend will be stopped during his leaving.
④Comprehensive medical insurance. (Please visit http://www.campuschina.org and refer to Comprehensive Insurance & Protection Scheme for Foreigners staying in Chinafor insurance policy.)
 How to Apply- 
Please visit the website: http://studyin.hzau.edu.cn/and apply online.
Last Date for Apply– 30 June 2021
More Opportunities:-
High Potential Students Grant by RWTH Aachen University, Germany
Global Graduate Scholarship by University of Michigan Flint, United States
AIAS Foundation Scholarships by Academy Foundation's, Los Angeles, USA
IOE-ISH Taught Master's Scholarships, University College London, England