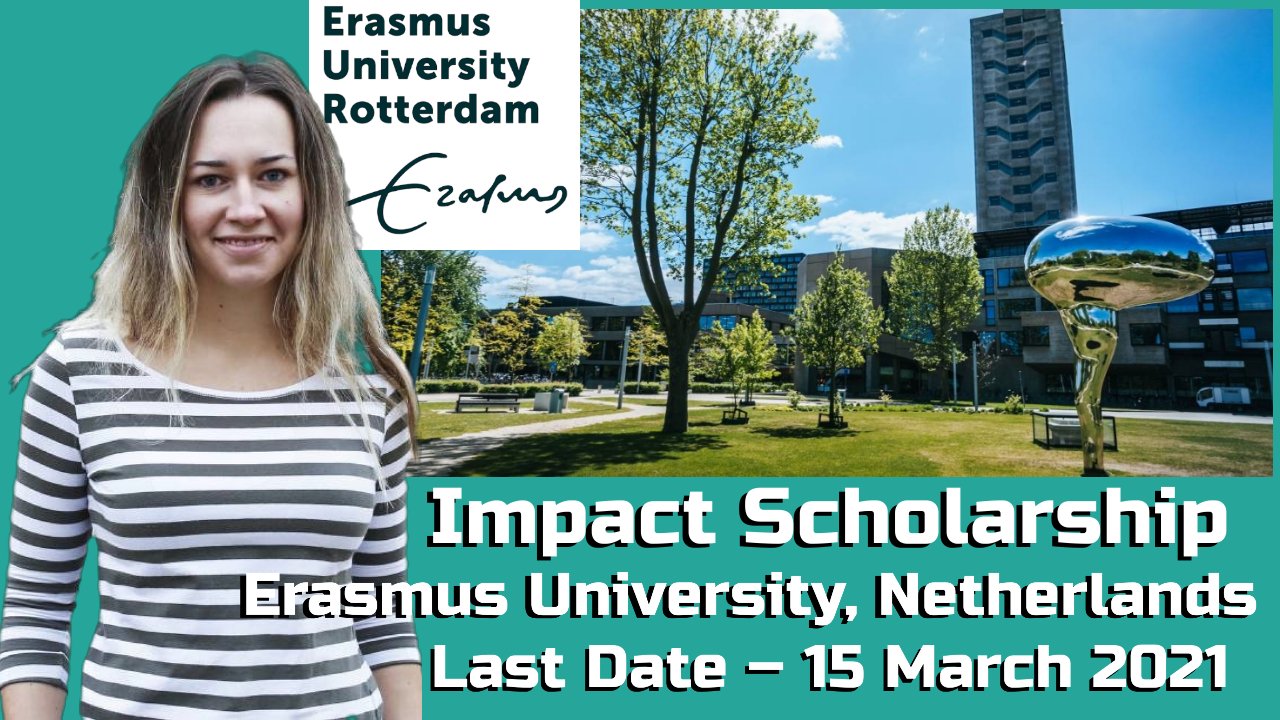 Designation/Position- Impact Scholarship
Erasmus University, Netherlands invites application for L-EARN for Impact Scholarship for eligible and interested candidates
About- The L-EARN for Impact Scholarship is open to students from developing countries as listed in the World Bank overview. The Erasmus MC is the largest and most versatile of all eight university medical centres in the Netherlands. In the upcoming decade, Erasmus MC seeks to leverage her international reputation. The aim is to belong to the top twenty medical institutes worldwide by the year of 2030.
Study level- Master's Degree
Location- Erasmus University, Netherlands
Eligibility/Qualification–
Your home country is one of the Developing Countries on the World Bank's list;
You are an excellent student according to Erasmus MC standards. The average grade should be the equivalent to the Dutch grade of 8.0 on the Dutch grading scale of 1 to 10;
You have recent relevant work experience after earning a Bachelor's degree;
You are applying for a full-time master at Erasmus University Rotterdam;
Second-year master students are also eligible for this scholarship.
Your home country is a Developing Country according to the World Bank list.
Job/Position Description- 
The scholarship (max 22,000 euro) is open to individuals from developing countries with relevant professional experience and a history of supporting their countries' development efforts applying to a Master's degree program. Upon completing the master program the awardees commit to return to their home country to use their new skills and contribute to their countries' social and economic development.
Between € 10,000 and € 22,000 (including statutory fee)
Students who have to pay the institutional tuition fee will receive an additional fee waiver of their faculty
How to Apply- 
Interested candidates can apply by sending the following in one Pdf file:
a letter of motivation (including how you think you answer to the requirements for this scholarship);
your CV;
a most recent grades list; 
and a budget plan.
to Ms. Gonny Pasaribu, e-mail: internationaloffice@erasmusmc.nl. Please use the following file name: <Last Name, First Name (name of research master).pdf>.
Last Date for Apply– 15 March 2021
More Opportnities:-
UWGSS Graduate Studies Scholarship at the University of Winnipeg, Canada
Amsterdam Merit Scholarship at Universiteit van Amsterdam, Netherlands
Bangchak Master Scholarships 2021 at Asian Institute of Technology (AIT) in Thailand
Postgraduate Research Scholarship at The University of Sydney, Australia