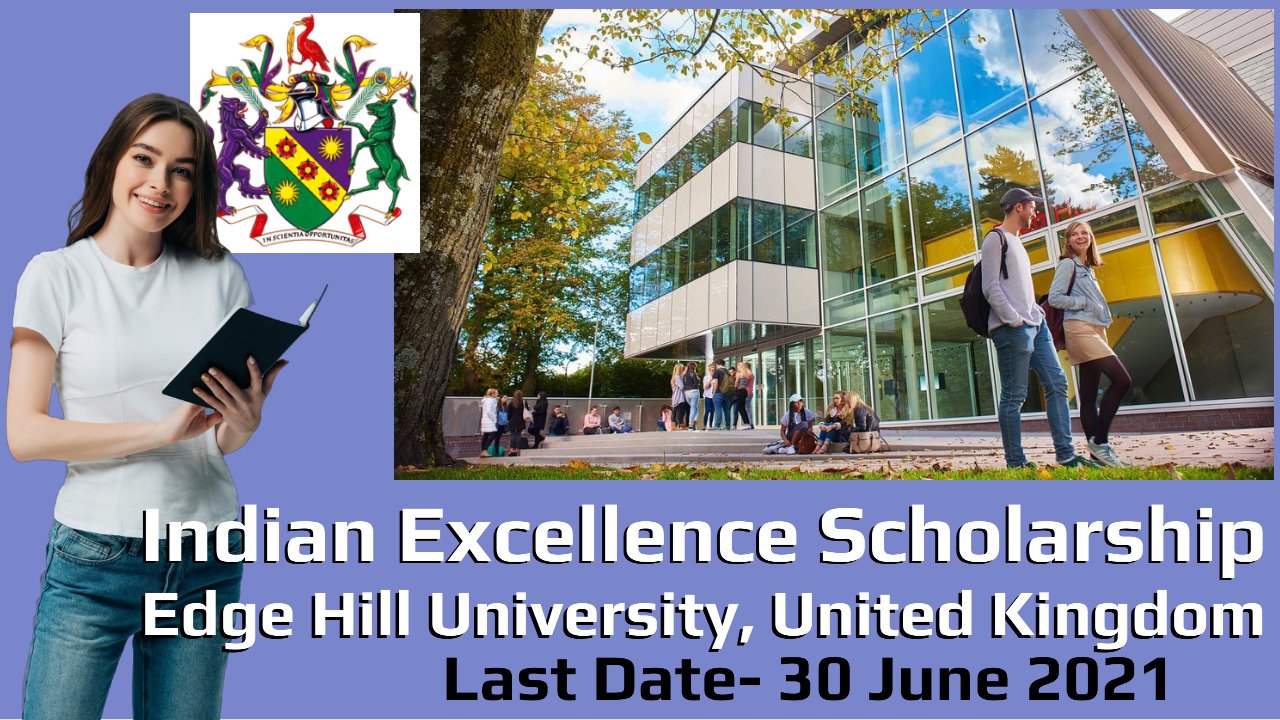 Designation/Position- Indian Excellence Scholarship
Edge Hill University, United Kingdom invites application for Indian Excellence Scholarship for eligible and interested candidates
About- Edge Hill University has a competitive range of International Scholarships. All full-time, overseas fee paying students will be automatically considered for the award of a scholarship when applying for a programme of studies. Edge Hill University, United Kingdom invites application for Indian Excellence Scholarship for eligible and interested candidates
Study level- Undergraduate and Postgraduate
Location- Edge Hill University, United Kingdom
Eligibility/Qualification–
The students receiving the Indian Excellence Scholarship will agree to:
– Have a profile on the Edge Hill website including image.
– Provide weekly content for the International Office in the form of a vlog, blog, webinar, live chat and/or social media.
– Take part in promotional & marketing activities.
– Allow Edge Hill to pass on an active email address to prospective students for the duration of their studies and up to two years after graduation. This will allow prospective students to communicate with current students and recent alumni.
This scholarship is open to Undergraduate and Postgraduate applications. This scholarship is unfortunately not available to Foundation Year students.
Job/Position Description-
The Indian Excellence Scholarship is a £2000 tuition fee discount applied to one year of study and is available to three students from India per year. The first scholarships will be awarded to students beginning study at Edge Hill University from September 2021.
How to Apply-
There is a separate application form to apply for this scholarship. The application form for the Indian Excellence Scholarship will be sent to eligible students at the same time as they receive their academic offer letter. You must have already applied for a course of study at Edge Hill University and you must have already received an offer letter from us.
The deadline for applying for the scholarship will be the 30th June 2021, with the recipients notified within 2 weeks after this date.
If you have already received an offer letter from us to study on one of our programmes, please email Dan Flanagan, country manager (flanagad@edgehill.ac.uk) who will send you an application form for the scholarship.
The decision for which student is awarded the scholarship will be made by the relevant Recruitment Manager and the Senior Recruitment Manager. Criteria to be successful include suitability to represent Edge Hill University as an ambassador as well as exceptional extra-curricular activities undertaken prior to studying at Edge Hill university.
Edge Hill University reserves the right to withdraw the scholarship in any given year if no suitable candidates are identified.
Last Date for Apply– 30 June 2021
More Opportunities:-
Dean's International Research Scholarship, University of Sydney, Australia
Rosa-Luxemburg-Stiftung Awards at Rosa-Luxemburg-Stiftung, Germany
Jönköping University Scholarships at Jönköping University, Sweden
Woods Hole Internship at Woods Hole Oceanographic Institution, U.S.A.