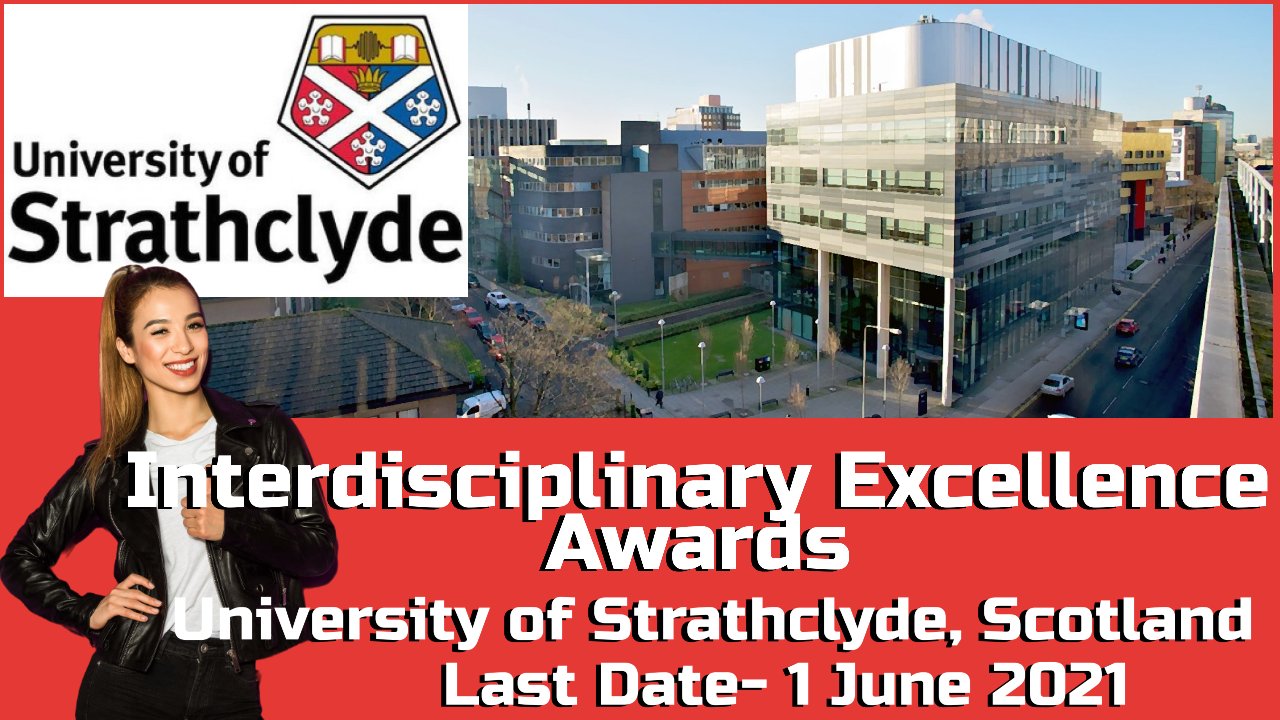 Designation/Position- Interdisciplinary Excellence Awards
The University of Strathclyde, Scotland invites application for MRes/MPhil Interdisciplinary Excellence Awards for eligible candidates
About- These master's-level (MRes or MPhil) Interdisciplinary Excellence Awards are being funded by Research and Knowledge Exchange Services, to facilitate applications to the Arts and Humanities Research Council (AHRC)'s Doctoral Training Partnership Scotland, the Scottish Graduate School for Arts and Humanities (SGSAH).
The awards are also intended to promote interdisciplinary collaboration: preference will normally be given to research projects with two supervisors from different disciplines.
Study level– Postgraduate Research
Location- University of Strathclyde, Scotland
Eligibility/Qualification–
To be eligible for an MRes/MPhil Excellence Award, a student should hold a First Class undergraduate degree (or equivalent).
This competition is open for both student and supervisor-led projects:
For student-led awards, a primary supervisor should be named on the application. Therefore, students are advised to consult with prospective supervisors before applying
For supervisor-led awards, a student who already holds a First Class degree may be attached to the project at the point of application.
Job/Position Description- 
This competition provides the Home postgraduate research student fee for 1 year (Full-time) or 2 years (Part-time). International candidates are welcome to apply but they must be able to demonstrate that they can fund the difference between the Home fee and the International fee (approximately £11,000 for 2021/22 entry).
Students undertaking an MRes must start their studies on 1st October 2021. This start date cannot be deferred.
Number of scholarships 4
Value £4,500
Opens 9 February 2021
Deadline 1 June 2021
Help with Tuition fees
Duration 1 Year (Full Time) or 2 Years (Part Time)
Mode of Study Full Time, Part Time
How to apply
Please download and complete the application form (Student-led or Supervisor-led) below and return it as a PDF document by email to rkes-res@strath.ac.uk with the following subject line: MRes/MPhil Interdisciplinary Excellence Awards.
Last Date for Apply– 1 June 2021
More Opportnities:-
UWGSS Graduate Studies Scholarship at the University of Winnipeg, Canada
Amsterdam Merit Scholarship at Universiteit van Amsterdam, Netherlands
Bangchak Master Scholarships 2021 at Asian Institute of Technology (AIT) in Thailand
Postgraduate Research Scholarship at The University of Sydney, Australia