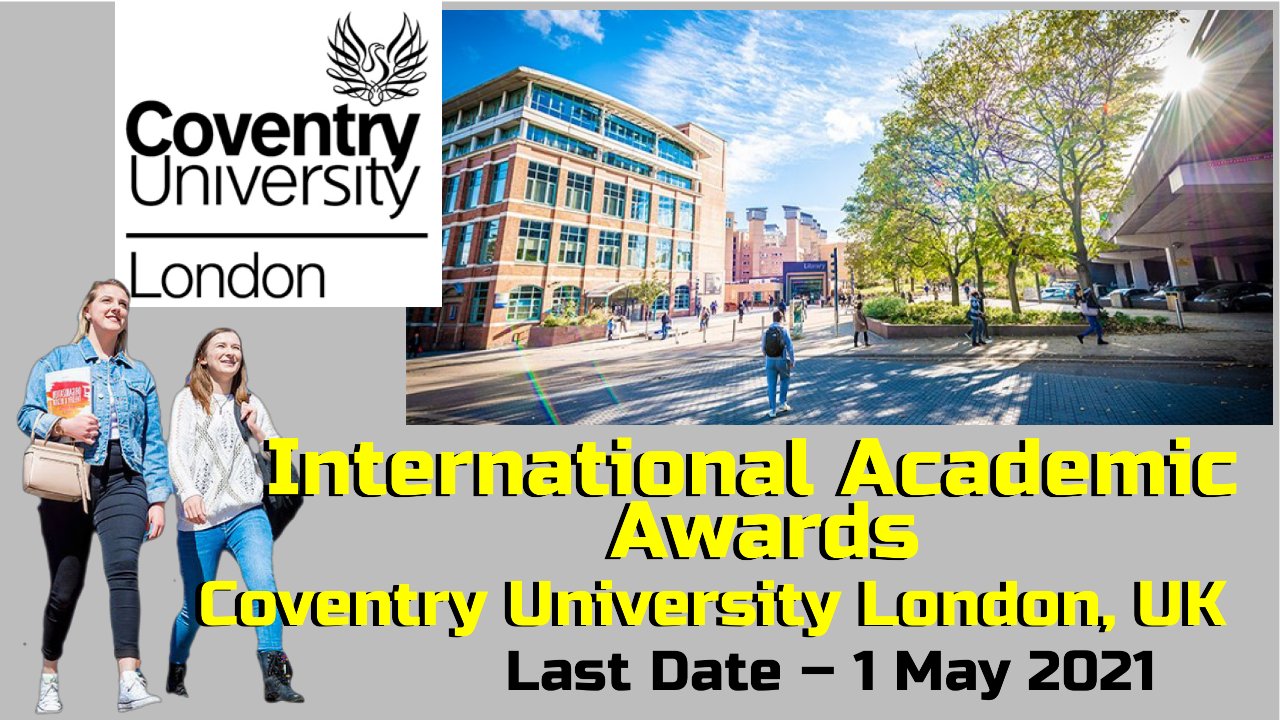 Designation/Position- International Academic Awards
Coventry University London, England invites application for International Academic Awards for eligible and interested candidates
About- Coventry University London is proud to offer International Academic Excellence Awards to students who show exceptional academic achievement. We intend to award £1,500 to successful applicants for this scholarship and who enrol in the May 2021 intake.
Study level- Bachelor's or postgraduate master's degree course
Location- Coventry University London, England
Eligibility/Qualification–
To be considered for the International Academic Excellence Awards you must:
Be self-funded and paying international overseas tuition fees.
Have made a total cleared payment of £8,000 by Saturday 01 May 17:00 (GMT) against your first year of tuition fees.
Hold a conditional offer for a qualifying course before the deadline.
Be a national of, and living in, India.
Have at least 70% or equivalent in the academic qualification that is the basis of admission for your applied course. For example, have 70% in your 12th grade High School studies if you are applying for an undergraduate bachelor's course, or 70% in your bachelor's degree if you are applying for a postgraduate master's.
If you are successfully awarded for this scholarship, you will be notified by e-mail.
You should be prepared to represent Coventry University as a student advocate alongside your studies. You may be asked to help us by providing promotional information, which may include contributing to a blog, videos and interviews.
Job/Position Description-
The International Academic Excellence Awards will be awarded to international students who hold a conditional offer for an undergraduate bachelor's or postgraduate master's degree course, before the deadline. You must successfully enrol for the May 2021 intake to receive the award. This award is also applicable to pathway students who are studying a collaborative programme at one of our partner institutions. You do not need to fill out a separate application form for this award.
Further Information
You cannot combine this award with any other Coventry University scholarship or discount. If you were eligible for two scholarships or discounts, we will award you the one that has the greatest benefit to you.
Coventry University has sole discretion to assign, vary or withdraw this award.
This award excludes sponsorship students and those returning students on the second or third year of the same course.
How to Apply-
You do not need to fill out a separate application form for this award.
Last Date for Apply– 1 May 2021
More Opportnities:-
UWGSS Graduate Studies Scholarship at the University of Winnipeg, Canada
Amsterdam Merit Scholarship at Universiteit van Amsterdam, Netherlands
Bangchak Master Scholarships 2021 at Asian Institute of Technology (AIT) in Thailand
Postgraduate Research Scholarship at The University of Sydney, Australia