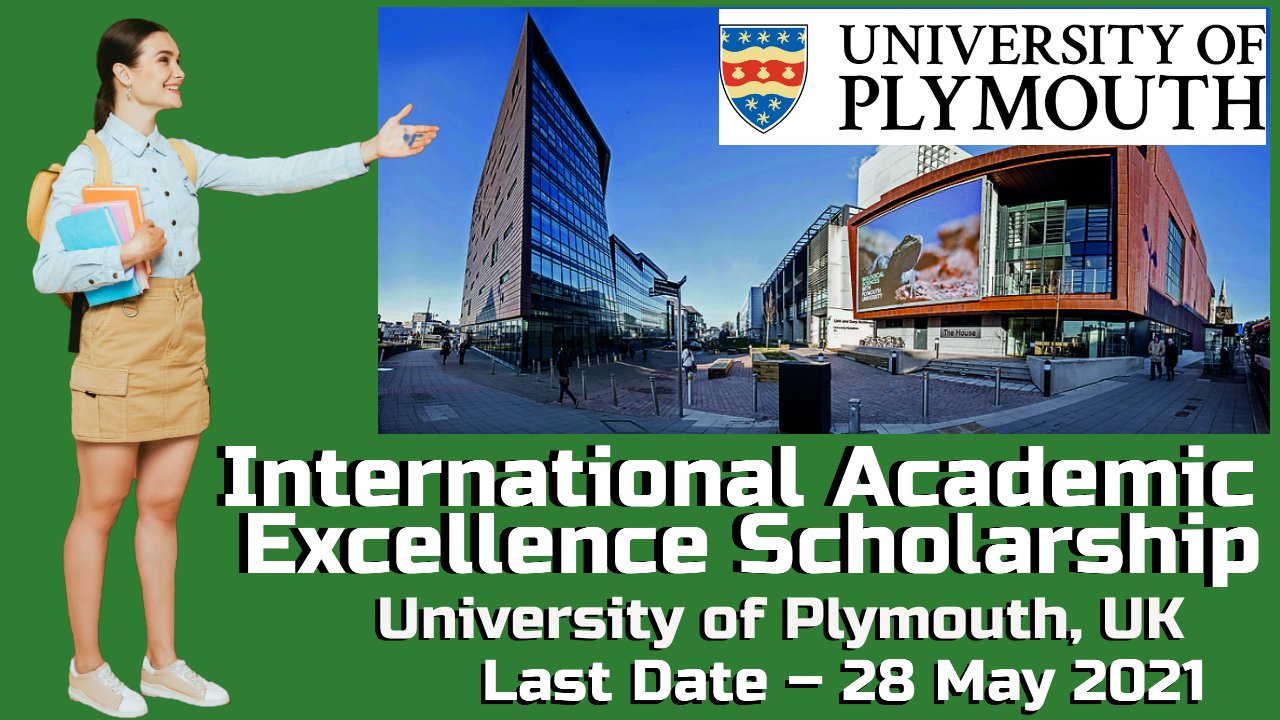 Designation/Position- International Academic Excellence Scholarship
University of Plymouth, England invites application for International Academic Excellence Scholarship for eligible and interested candidates
About- To reward outstanding achievement the University of Plymouth offer International Academic Excellence Scholarship schemes to help towards funding your studies. Students are only entitled to be awarded ONE scholarship of the highest value in any given academic year. These scholarship schemes are for students commencing in the 2021/2022 academic year.
Study level- postgraduate
Location- University of Plymouth, England
Eligibility/Qualification–
be an international student and / or have been classified as an international student for fee purposes
hold a conditional or unconditional offer from the University of Plymouth
be a full-time, University of Plymouth campus-based student.
be self-funded.
you will not be eligible to apply if:
you are studying at a partner institution, by distance learning, TNE or part-time  
you are sponsored by an official government or company scheme
you are a University of Plymouth International College (UPIC) preparatory programme student (you will be eligible to apply for scholarships for your University of Plymouth degree)
you are an Integrated Masters Student (MEng; MChem etc) you are not eligible for postgraduate scholarships.
Job/Position Description- 
Scholarship value: 50% off your tuition fees in year one.
If you are studying a full-time two-year postgraduate taught degree, to recognise continual academic achievement, you may also receive:
50% off the successive year's tuition fee if an overall grade of 70% or above is maintained.
Exceptions:
Please be aware that programmes offered by the following schools are not included in the International Academic Excellence Scholarship scheme: Peninsula Dental School; Peninsula Medical School; School of Art, Design and Architecture; School of Biomedical Sciences; School of Health Professions; School of Nursing and Midwifery.
How to Apply- 
Step 1: Download International Academic Excellence Scholarship application form.
Step 2. Complete the application form and prepare the following documents: a copy of your offer letter a copy of your final academic transcriptome or two reference letters from a suitable source to support your application (this must be a separate reference letter that you submitted with your main application of study).
Step 3: Submit your application and supporting documents by emailing as attachments to internationalscholarships@plymouth.ac.uk
https://www.plymouth.ac.uk/study/fees/scholarships-bursaries-and-funding/international-students/international-scholarships-how-to-apply
Last Date for Apply– 30 June 2021
More Opportnities:-
UWGSS Graduate Studies Scholarship at the University of Winnipeg, Canada
Amsterdam Merit Scholarship at Universiteit van Amsterdam, Netherlands
Bangchak Master Scholarships 2021 at Asian Institute of Technology (AIT) in Thailand
Postgraduate Research Scholarship at The University of Sydney, Australia