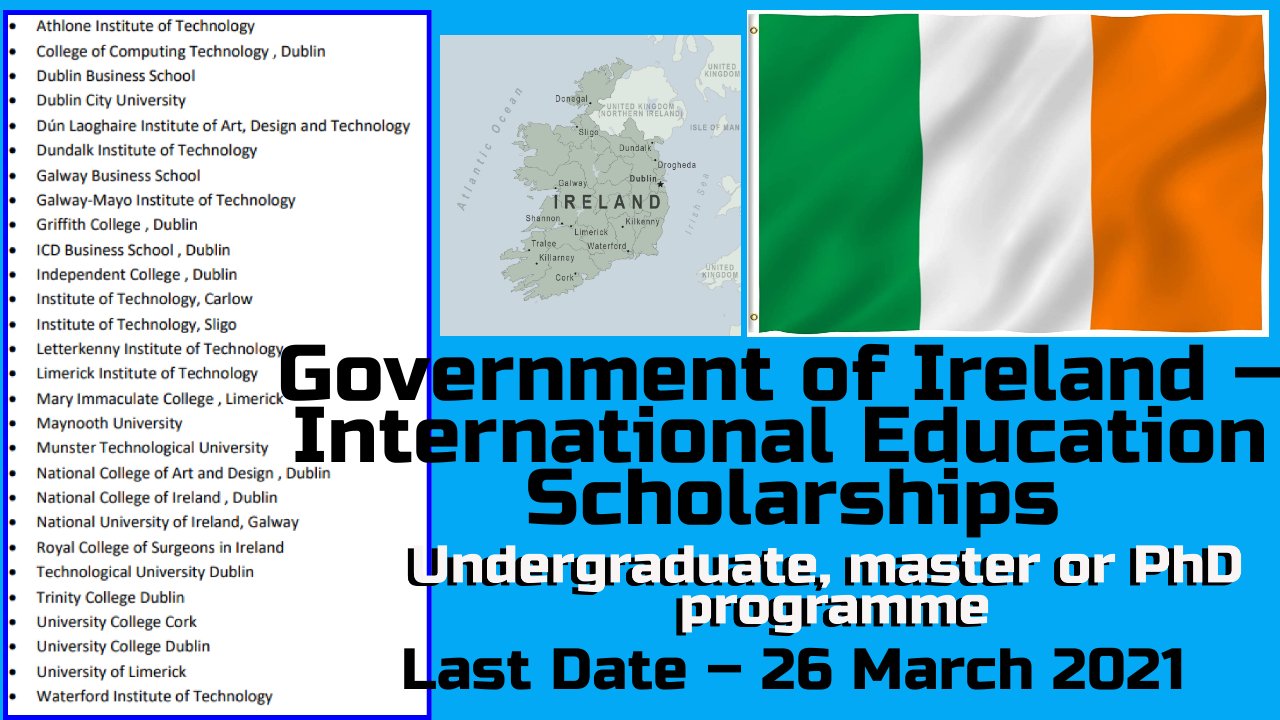 Designation/Position- International Education Scholarships
EU Ireland, Europe invites application for International Education Scholarships for eligible and interested candidates
About- The Higher Education Authority (HEA) is pleased to issue the 2021 Call under the Government of Ireland International Education Scholarships Programme. Under the initiative 60 scholarships will be provided for one year study at Bachelor, Masters or PhD levels to successful candidates who have an offer of a place at an eligible Irish higher education institution.
Study level- Undergraduate, master or PhD programme
Location- Ireland, Europe
Eligibility/Qualification–
the final year of an undergraduate programme;
▪ one year of a taught master's degree programme or;
▪ one year of a research programme (i.e. one year of a 2-year research masters or a 3-4-year PhD programme).
➢ Scholarships may be approved for study across all disciplines, subject to
the availability of places.
➢ Possess excellence (academically, personally, professionally, creatively);
➢ Excellent communication skills;
➢ Extra curriculum activities (for example: humanitarian work; politicslocal, national, international; arts; sports);
➢ Possess strong rationale for pursuing their study in Ireland that indicates
how a GOI-IES fits into their longer-term goals.
Job/Position Description- 
The internationalisation of Irish higher education is a key element in the delivery of a
quality teaching, learning and research experience for students and staff and for
building international engagement for the sector. The Government of Ireland –
International Education Scholarship (GOI-IES) scheme was established under the
provisions of the Government's International Education Strategy, 2010–2015 and
expanded under the successor strategy "Irish Educated, Globally Connected (2016-
2020). Attention is also drawn to the Department of Foreign Affairs and Trade's Global
Ireland: Delivering in the Asia Pacific Region to 2025 strategy.

The aim of the 2021 GOI-IES scheme is to reflect Ireland's engagement in target
partner countries. The scheme is operated in the higher education sector and funded
in partnership between the Government and the higher education institutions (HEIs).
Scholarships will be branded as prestigious awardsreflecting the core messages about
Ireland as a centre of international education. It is expected that for every scholarship
winner, awareness of Ireland will be raised among many more potential students.
Benefits for students: Scholarships must be regarded as highly desirable and valueadding to individuals' subsequent lives and careers. In view of this, the GOI-IES will be
awarded:
• to high calibre higher education students from non-EU/EEA countries;
• to study in Ireland for a period of one year
How to Apply- 
Applications can be submitted via the online portal here.
Enquiries only by email – goi-ies@hea.ie
Last Date for Apply– 26 March 2021
More Opportnities:-
UWGSS Graduate Studies Scholarship at the University of Winnipeg, Canada
Amsterdam Merit Scholarship at Universiteit van Amsterdam, Netherlands
Bangchak Master Scholarships 2021 at Asian Institute of Technology (AIT) in Thailand
Postgraduate Research Scholarship at The University of Sydney, Australia