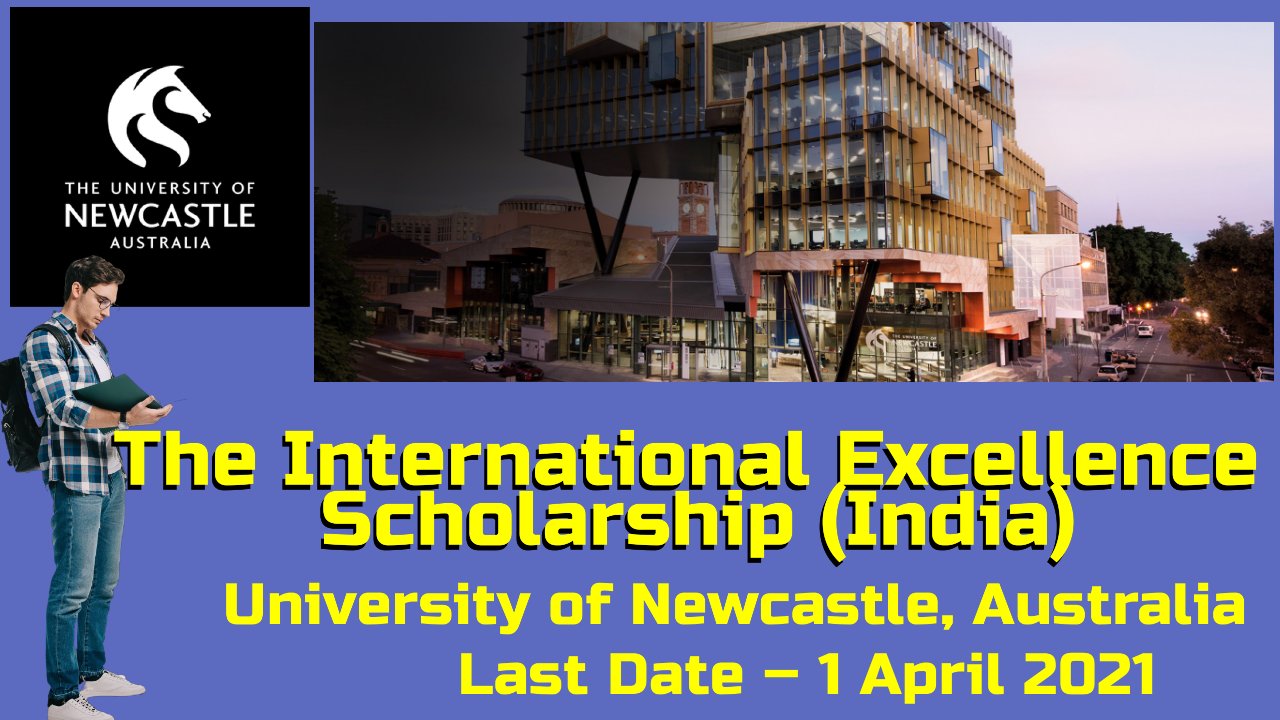 Designation/Position- The International Excellence Scholarship (India)
University of Newcastle, Australia invites application for The International Excellence Scholarship (India) for eligible candidates
About- The International Excellence Scholarship (India) has been established to attract high-performing students to the University of Newcastle. This will be a merit-based scholarship that recognises Indian students with a strong academic background, and incentivises them to continue striving to be the best that they can be.
Study level– undergraduate or postgraduate
Location- University of Newcastle, Australia
Eligibility/Qualification–
To be eligible to apply for this scholarship you must meet the following criteria:
Be the holder of an Indian passport.
Be an International full-fee paying student.
Be commencing in an eligible undergraduate or postgraduate coursework program with the University in 2020 or 2021, excluding quota programs.
Be enrolled on-campus at any University of Newcastle campus in Australia.
Be enrolled full-time.
Not hold another scholarship for the same program of study.
Meet other criteria as outlined in the full Terms and Conditions document.
Job/Position Description- 
The scholarship benefit will be based on academic merit and pay up to $60,000 for the duration of a 4 year program. The annual benefit will range from AUD$5,000 – AUD$15,000 depending on your minimum ATAR equivalent assessed at Admission.
The scholarship payment will be made in the form of a tuition fee waiver directly into the scholar's tuition fee account thereby reducing the tuition fee liability by the scholarship amount for each term during the program of study. The tuition fee waiver may not be reflected on the tuition fee account until the census date has passed. Any overpayments by the scholar will be left on the tuition fee account to allocate to the next term's fees.
For more information, please read the full Terms and Conditions and enquire via the contact details below.
Faculties
How to Apply- 
No application is required for this scholarship.
Your eligibility will be assessed at time of admission and an offer made to eligible students along with the offer to study at University of Newcastle.
Last Date for Apply– 1 April 2021
More Opportnities:-
UWGSS Graduate Studies Scholarship at the University of Winnipeg, Canada
Amsterdam Merit Scholarship at Universiteit van Amsterdam, Netherlands
Bangchak Master Scholarships 2021 at Asian Institute of Technology (AIT) in Thailand
Postgraduate Research Scholarship at The University of Sydney, Australia