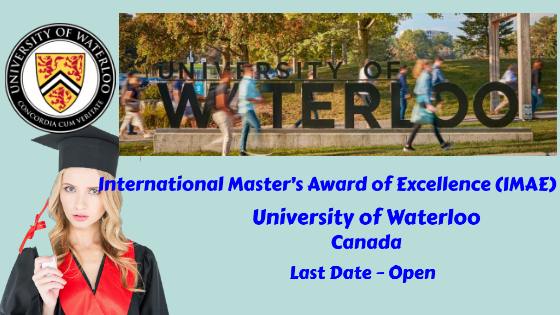 Designation/Position- The University of Waterloo, Ontario International Master's Award
The University of Waterloo, Ontario invites application for International Master's Award for eligible and interested candidates
About- Waterloo goes beyond the classroom, to a place where experience is the teacher. Beyond problems to solutions that address social, technical and economic needs. Beyond the laboratory, to the research that propels industries, organizations and society.
Waterloo is at the forefront of innovation and is home to transformational research and inspired learning. Located in the heart of Canada's technology hub, we are growing a network of global partnerships that will shape the future by working beyond disciplines and building bridges with industry, institutions and communities.
Our incredible people and partners take us beyond the lives we're living today, to find solutions to the global challenges that lie ahead. Creating change that goes beyond the status quo and is felt around the world.
Research/Job Area-  Open to any program
Location- Ontario
Eligibility/Qualification–
International students with a valid Canadian study permit who are registered full time and assessed international tuition fees. 
Normally given to students in research-based programs (thesis or major research paper). 
Will normally only be given to students entering the first term of their program (term 1.0).
Students must demonstrate academic excellence through criteria established by the Faculty.
Students must meet the academic progress requirements of their program and not have outstanding probationary admission requirements. 
This award could be in addition to other internal or external scholarships (e.g., UW Graduate Scholarship, OGS,  etc). Note: scholarships are different than sponsorships – see next bullet.
Normally, students should not be concurrently receiving foreign government or agency sponsorship (e.g., China Scholarship Council, Libyan sponsorship, etc) or be fully or partially self-funded in excess of the Faculty minimum levels of support.  
Students grandparented under the existing IMSA program cannot be nominated for an IMAE; however, a student previously awarded an IMSA for a previously completed master's degree can be nominated for an IMAE.
Students will be automatically considered for this award based on their application for admission. Departments and/or Faculty will define their own internal process by which they select recipients based on the eligibility criteria and allocation.
Faculties may impose stricter eligibility criteria as appropriate.
Job/Position Description- 
Effective May 1, 2019 (spring 2019 admissions cycle), the International Master's Award of Excellence, valued at $2,500 per term for a maximum of five full-time terms within the allowable program time limits (6 terms), will be awarded to eligible international master's students normally entering a research-based graduate program at the University of Waterloo. Faculties will nominate eligible students based on the Faculty's award allocation. Students will be selected based on academic excellence as demonstrated through their application for admission to the graduate program.
Value: $2,500Value description: 
Award valued at $2,500 per term for a maximum of five ter
How to Apply- 
Student selected automatically by Faculty/Department
Last Date for Apply–  Open
More Opportunities
Education Future International Awards by The Education Future, India
Bangchak Master Scholarships 2021 at Asian Institute of Technology (AIT) in…