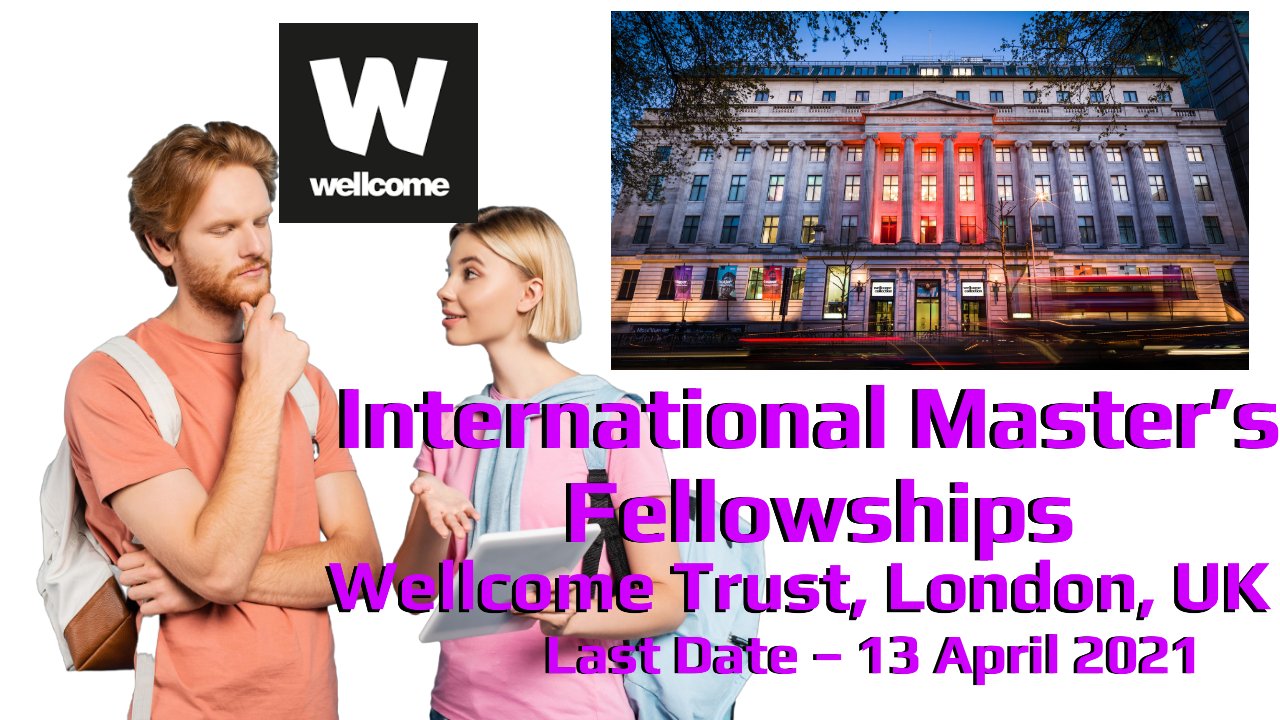 Designation/Position- International Master's Fellowships
Wellcome Trust, London invites application for International Master's Fellowships for eligible and interested candidates
About- International Master's Fellowships scheme offers nationals of low- and middle-income countries the opportunity to receive training at Master's degree level.
Study level- Master of Science (MSc)
Location- Wellcome Trust, London
Eligibility/Qualification–
You can apply for an International Master's Fellowship if:
You must:
hold a clinical or non-clinical undergraduate degree in a relevant subject 
be at an early stage in your career with limited research experience (but you must have demonstrated interest in, or aptitude for, research).
Your research proposal
Your research proposal should be within our science remit and focus on a health priority in a low- or middle-income country.
When we consider your application, we'll look at the:
quality and importance of your research question(s)
feasibility of your approach to solving these problems
suitability of your choice of research environments
suitability of the taught Master of Science (MSc) course you select – it should take place at a recognised centre of excellence and provide you with training that will complement your research project.
Who can't apply
You can't apply if you're:
We wouldn't usually expect you to apply if you already have a Master's. Please contact us before you apply.
If you've already been unsuccessful with a full application for this scheme, please contact us before you apply again.
You can't apply to carry out activities that involve the transfer of grant funds into mainland China.
Job/Position Description- 
Career stage:Postgraduate training
Type of researcher: Basic, Clinical, Public health
Where your host organisation is based: Low- or middle-income countries (apart from India and mainland China)
Level of funding: £120,000 including salary, studentship stipend, fees and research expenses
Duration of funding:- 30 months (12 months taught Master's course and 18 months research project)
How to Apply- 
You must submit your application through the Wellcome Trust Grant Tracker (WTGT).Start your application
You must submit your application by 17:00 (GMT/BST) on the deadline day. We don't accept late applications.
April 2021 round
Application deadline 13 April 2021, 17:00 BST
DecisionJune 2021
August 2021 round
This is the final round.
Application deadline24 August 2021, 17:00 BST
DecisionNovember 2021
Last Date for Apply– 13 April 2021
More Opportnities:-
UWGSS Graduate Studies Scholarship at the University of Winnipeg, Canada
Amsterdam Merit Scholarship at Universiteit van Amsterdam, Netherlands
Bangchak Master Scholarships 2021 at Asian Institute of Technology (AIT) in Thailand
Postgraduate Research Scholarship at The University of Sydney, Australia