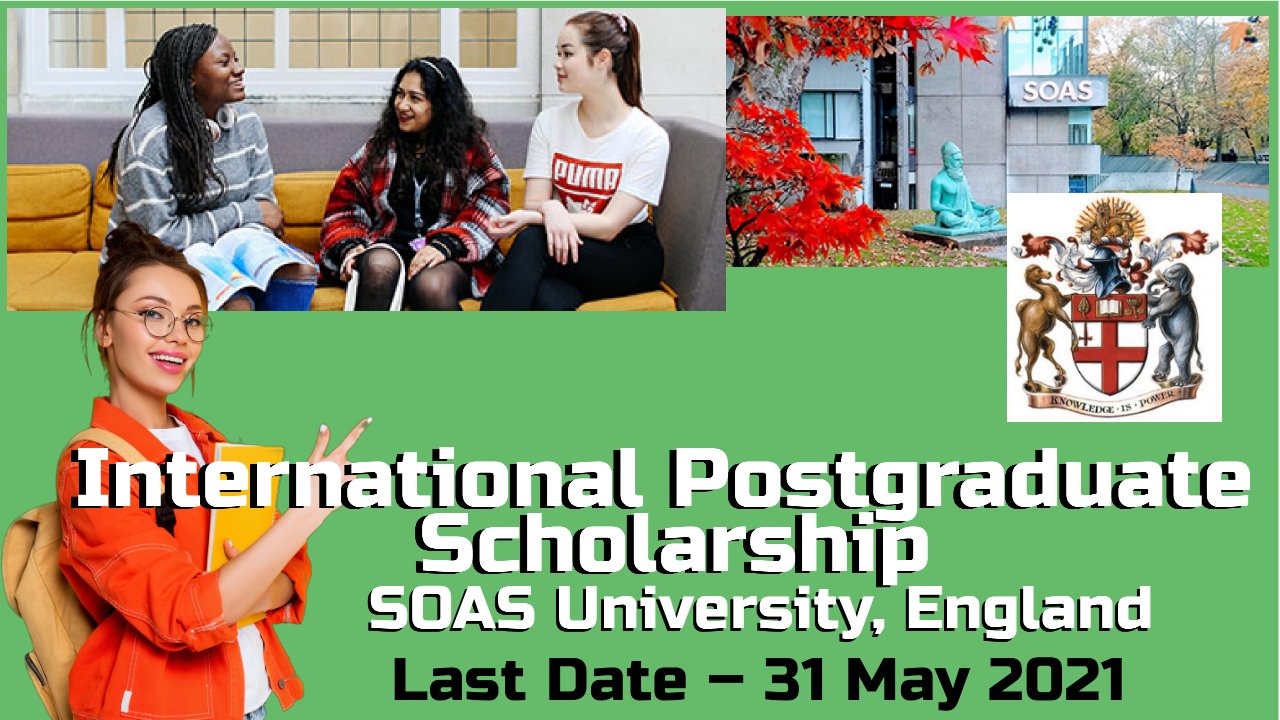 Designation/Position- International Postgraduate Scholarship
SOAS University of London, England invites application for International Postgraduate Scholarship for eligible and interested candidates
About- SOAS University of London is the leading Higher Education institution in Europe specialising in the study of Asia, Africa and the Near and Middle East. SOAS University of London, England invites application for International Postgraduate Scholarship for eligible and interested candidates
SOAS is a remarkable institution. With our vast repository of knowledge and expertise on our specialist regions, we are uniquely placed to inform and shape current thinking about the economic, political, cultural, security and religious challenges of our world. Our programmes are taught by respected academics engaged in fieldwork and research which influences government policy and the lives of individuals across the globe. SOAS scholars grapple with the pressing issues confronting two-thirds of humankind today: democracy, development, economy, finance, public and corporate policy, human rights, migration, identity, legal systems, poverty, religion, and social change.
Study level- Postgraduate
Location- SOAS University of London, England
Eligibility/Qualification–
• Accepted an offer to study a Postgraduate taught (on-campus) degree for September 2021
• Classified as an Overseas fee-paying student
• From one of the EU or EEA countries
• Minimum UK upper second-class (2:1) or international equivalent
Job/Position Description- 
The International Postgraduate Scholarship is designed to award new entry 2021 Postgraduate students with outstanding academic performance.
• Value: £3,000 (fee waiver)
• Number of scholarships available: 14
• Selection criteria: academic merit and a 250-word statement
How to Apply- 
Apply for the International Postgraduate Scholarship via the online form. You should save a copy of your application form for your records. If you wish to print a copy of the application then please do so before clicking SUBMIT.
Successful applicants with an offer to study at SOAS will be notified by 31 June 2021. The offer will outline the conditions required to be met If you have not heard from us by the end of June, you should assume your application was unsuccessful.
Last Date for Apply– 31 May 2021
More Opportnities:-
UWGSS Graduate Studies Scholarship at the University of Winnipeg, Canada
Amsterdam Merit Scholarship at Universiteit van Amsterdam, Netherlands
Bangchak Master Scholarships 2021 at Asian Institute of Technology (AIT) in Thailand
Postgraduate Research Scholarship at The University of Sydney, Australia