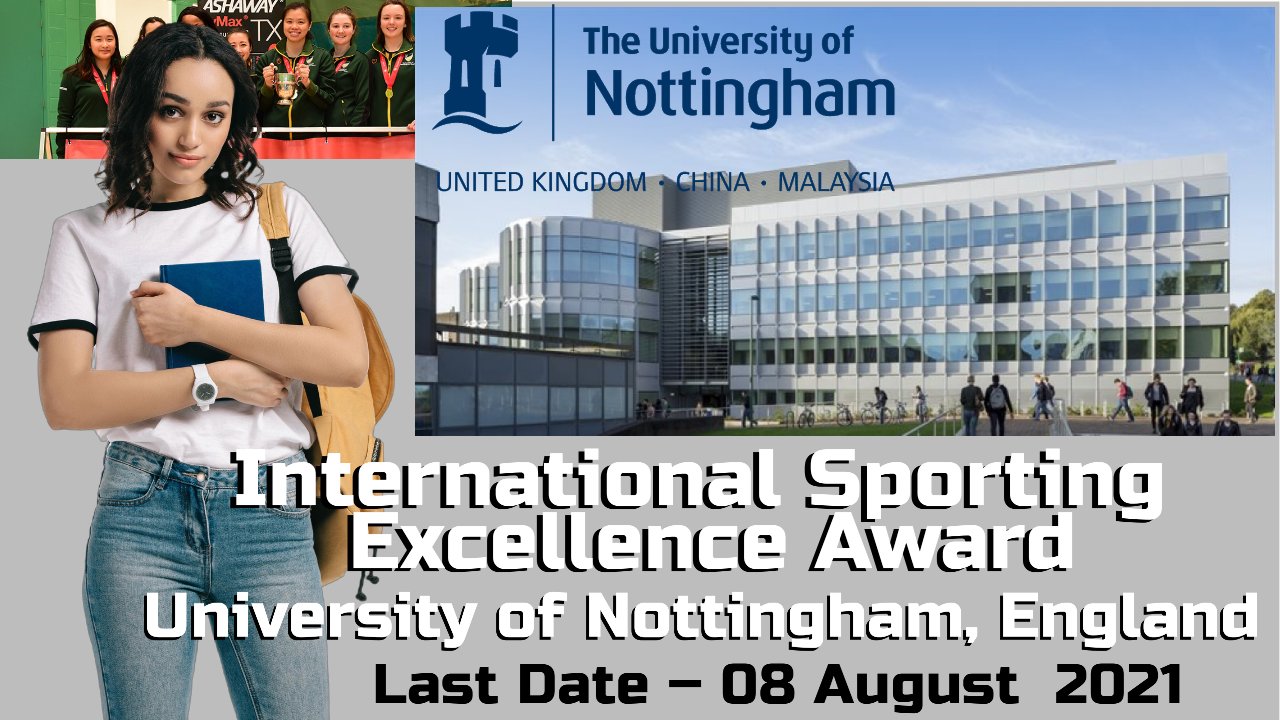 Designation/Position- International Sporting Excellence Award
University of Nottingham, England invites application for International Sporting Excellence Award for eligible and interested candidates
About- We're offering International Sporting Excellence Award of £5,000 towards full-time tuition fees for international students at any study level with outstanding sporting ability. These International Sporting Excellence Awards are separate from our package of sports scholarships at foundation, bronze, silver and gold level.
Study level- Master's Degree
Location- University of Nottingham, England
Eligibility/Qualification–
To apply for this scholarship, you must:
be of academy, national or international standard in any sport or show strong evidence of future outstanding potential
be classed as an 'overseas' student for fee purposes
hold an offer to start a full-time academic course in any subject area at the University of Nottingham UK in September 2021
Job/Position Description-
Unlock your academic and sporting potential with a £5,000 tuition fee scholarship.
This award cannot be combined with another University of Nottingham regional or sports scholarship. However, you may also be able to receive a subject scholarship from your academic school or an external scholarships, where the combined total does not exceed 100% of tuition fees. This could include, for example, an award from Nottingham University Business School and/or the government or other funding body in your country.
If you are awarded this scholarship, it will be deducted from the tuition fees charged to you as a student at the University of Nottingham. We will not pay tuition fee scholarships to you directly.
How to Apply-
Apply online through the sports scholarship application form.
Applications will remain open until 8 August but these scholarships will be awarded on an ongoing basis so we recommend applying as early as possible.
You do not need to receive an offer of study before applying for this scholarship, but we recommend applying for an academic course as soon as possible Search for courses and find out how to apply.
You may be shortlisted for a scholarship after your initial application but you must receive and firmly accept an offer before a scholarship can be awarded to you. You may be offered either an International Sporting Excellence Award or another sports scholarships package.
Last Date for Apply– 8 August 2021
More Opportunities:-
UWGSS Graduate Studies Scholarship at the University of Winnipeg, Canada
Amsterdam Merit Scholarship at Universiteit van Amsterdam, Netherlands
Bangchak Master Scholarships 2021 at Asian Institute of Technology (AIT) in Thailand
Postgraduate Research Scholarship at The University of Sydney, Australia