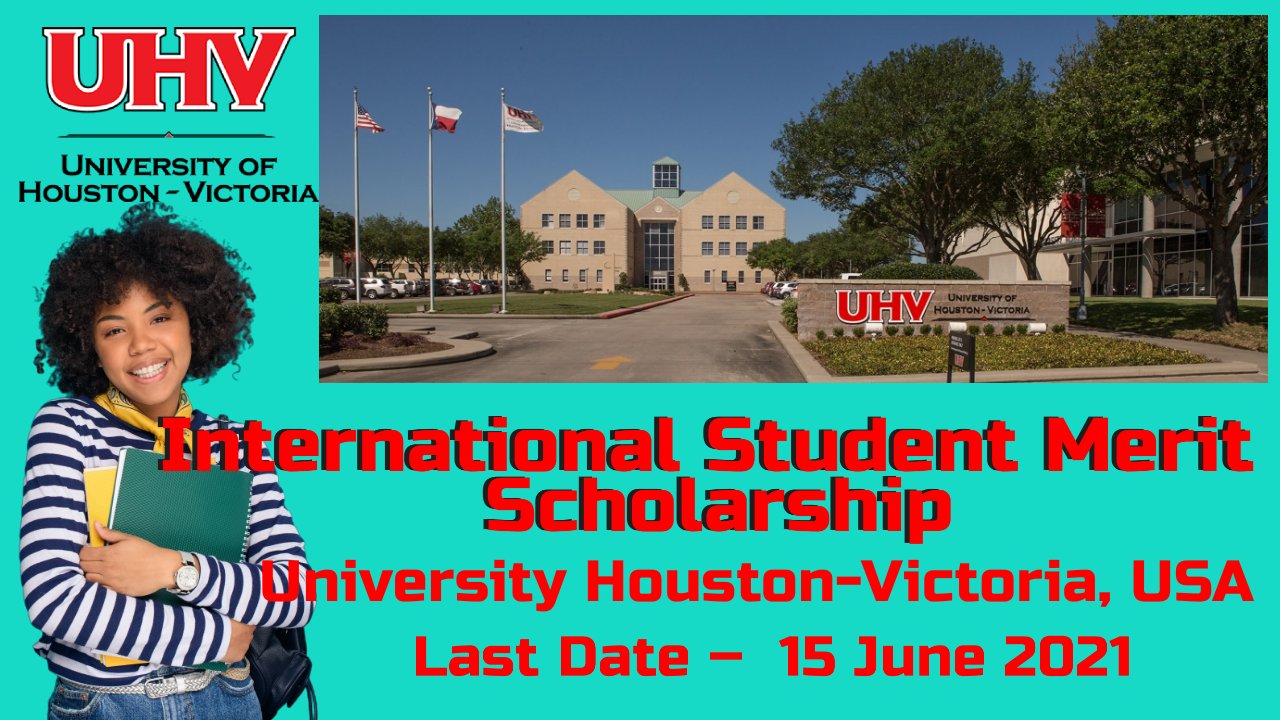 Designation/Position- International Student Merit Scholarship
University of Houston-Victoria, USA invites application for International Student Merit Scholarship for eligible and interested candidates
About- The University of Houston-Victoria in Victoria, Texas, offers a unique combination of excellent, affordable, and personalized academic and leadership opportunities to empower students to become successful 21st-century citizens in an increasingly complex world. We offer accredited and nationally ranked programs at an affordable price with automatic scholarship opportunities for international students. UHV makes sure that its graduates are given the tools they need to make their mark in society and the world. Applications are open for International Student Merit Scholarship.
At the University of Houston-Victoria, the International Programs Office functions as a catalyst for internationalization and a hub for all things international for our International Students and Scholars as well as our domestic students seeking to expand their horizons.
Study level- Undergraduate, graduate students
Location- University of Houston-Victoria, USA
Eligibility/Qualification–
Applicants Must:
Admitted student to UHV
At the time of award the student must be registered for a minimum of 12 credits at UHV for undergraduate students, 9 credits for graduate students.
Returning/or current students must have two semesters remaining to graduate (semester receiving the scholarship cannot be the final semester)
Returning/Current students must have a cumulative GPA of 2.5 or above for undergraduate students and cumulative GPA of 3.0 or above for graduate students.
Spring semester scholarship recipients will receive the scholarship only for the spring and summer semesters. In order to maximize the scholarship opportunity all spring scholarship recipients are required to register for a full-time course load online (summer only) or face-to-face. If applicable all spring scholarship recipients must re-apply for the fall merit scholarship before the deadline (see below).
International students or students on other non-immigrant visa status

F-1 and J-1 students must be on the relevant visa status on or before the state date of their immigration document
F-1 and J-1 students must attend mandatory International Student orientation at Victoria or Katy
All non-immigrant status students must be on good academic and immigration status

Have a demonstrated record of academic achievement.
Students who are NOT eligible:
Graduate students receiving a graduate assistantship or tuition scholarship
UHV Athletes receiving Athletics Scholarships
International Students receiving International Student Cultural Scholarship
Students receiving any other UHV tuition scholarship waivers
Students receiving any other UHV competitive scholarships
Students receiving Texas resident tuition fees
Students enrolled part time at UHV and part time at another institution in Texas
Job/Position Description-
All undergraduate and graduate students are eligible to apply for the International Merit Scholarship. The award can reduce the total cost of attendance between $3000-$10,000 (two semesters), if the recipient is a spring semester recipient, the award is for spring and summer only. For international students on F-1 and J-1 visa the scholarship will reflect the residency tuition rate. The award only applies to tuition and fees. All other costs such as housing, meals, transportation, personal expenses, books, supplies, and health insurance are not included in this scholarship. The scholarship award can only be used to study at UHV. The awards and waivers are available for fall recipients for the fall, spring, and summer semesters, and for spring recipients this scholarship and waivers will be awarded for spring and summer semesters for undergraduate and graduate full-time study at UHV. This award includes the $1000 guaranteed scholarship for students living on-campus.
Maintaining the International Merit Scholarship
Recipients must maintain full-time status.
Scholarship recipients must maintain a cumulative GPA of 2.5 for undergraduate students and a cumulative GPA of 3.0 for graduate students throughout the duration of the scholarship.
Contribute 10 volunteer hours assisting International Programs Office in hosting events such as International Education Week, International Sash Ceremony and International Festival during fall, spring and summer semesters.
International students on F-1 and J-1 status

New international students must attend mandatory orientation

Scholarship recipient must pay all outstanding university bills on or before the due dates.
Recipients continuing from a bachelor's to a master's degree program must reapply for the scholarship.
International Merit Scholarship is not guaranteed every year/semester. Students must reapply on or before the deadline.
How to Apply-
Complete BOTH the scholarship application forms
First submit the online UHV General Scholarship Application. (When you complete this application, it may say the deadline passed. Do not worry about this, just keep completing the application. We need you to complete this application as well regardless of the deadline). When applying for the spring merit scholarship, the General Application may say that the application deadline expired (October 15) disregard this deadline and go ahead and apply anyway. Intl student deadline is November 15th.

Sign in using your UHV username and password.

Second submit International Student Merit Scholarship Application. Please note, you will need to attach the necessary application requirements. Once you hit submit the application, along with the uploaded attachments will be sent to the International Programs Office automatically.
Both the above mentioned applications MUST be completed in order for your scholarship application to be eligible for review .
Last Date for Apply– 15 June 2021
More Opportnities:-
UWGSS Graduate Studies Scholarship at the University of Winnipeg, Canada
Amsterdam Merit Scholarship at Universiteit van Amsterdam, Netherlands
Bangchak Master Scholarships 2021 at Asian Institute of Technology (AIT) in Thailand
Postgraduate Research Scholarship at The University of Sydney, Australia