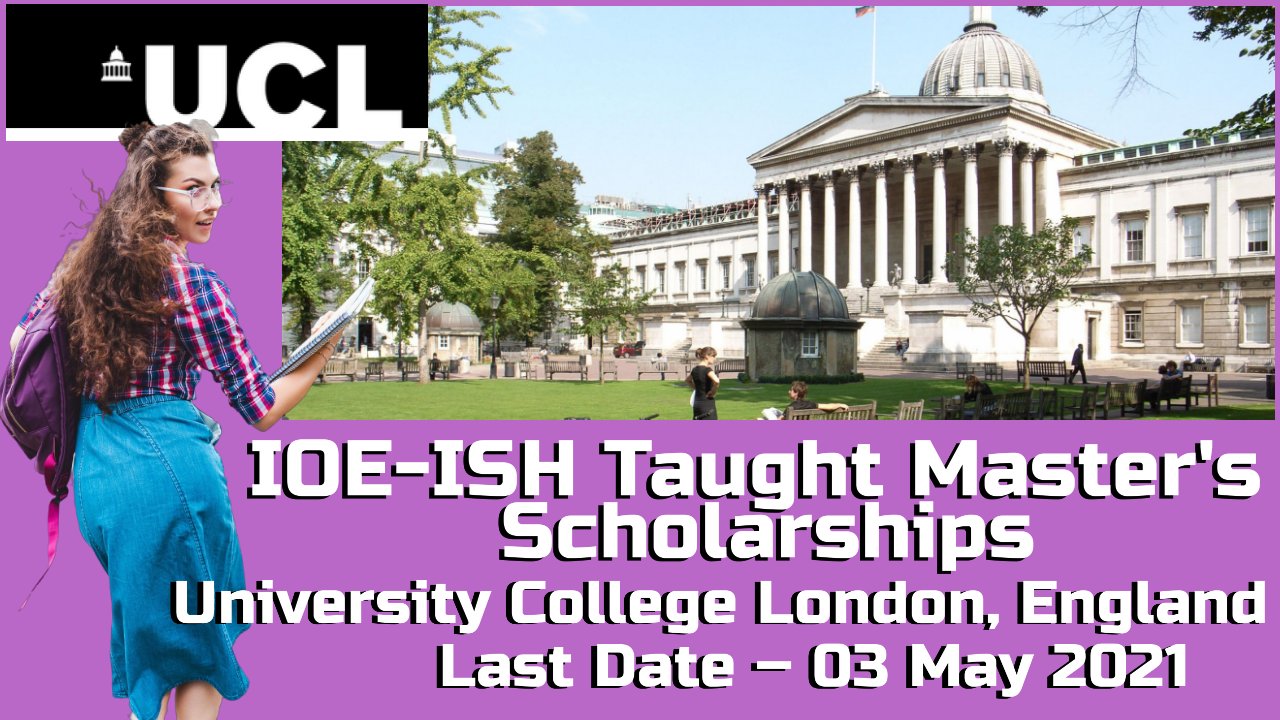 Designation/Position- IOE-ISH Taught Master's Scholarships
University College London, England invites application for IOE-ISH Taught Master's Scholarships for eligible and interested candidates
About- We are delighted to be partners with International Students House (ISH) in these awards: the UCL Institute of Education (IOE) IOE-ISH Taught Master's Scholarships, – International Students House Centenary Scholarship, and the Mary Trevelyan Centenary Scholarship (in honor of the founder of ISH)
Study level- Master's Degree
Location-University College London, England
Eligibility/Qualification–
Candidates should be:
citizens and residents of a low or lower-middle income country with a GNI not higher than $8000 per capita (as per the World Bank GNI per capita classification – see full list of eligible countries)
have an unconditional offer to study a full time master's degree at the UCL Institute of Education
not have studied or lived in the UK before.
Please note that these scholarships are not available for online courses.
Job/Position Description-
The scholarships cover full tuition fees and accommodation for one academic year at ISH. Please note that these scholarships do not cover subsistence in London, travel or any other expenses. The scholarships are tenable for one academic year, subject to satisfactory progress
How to Apply-
If you fulfil all the criteria, please email IOEinternational@ucl.ac.uk to request a scholarship application form. Please include in your email your student ID number (you can find this number in your unconditional offer letter).
Last Date for Apply– 03 May 2021
More Opportnities:-
UWGSS Graduate Studies Scholarship at the University of Winnipeg, Canada
Amsterdam Merit Scholarship at Universiteit van Amsterdam, Netherlands
Bangchak Master Scholarships 2021 at Asian Institute of Technology (AIT) in Thailand
Postgraduate Research Scholarship at The University of Sydney, Australia