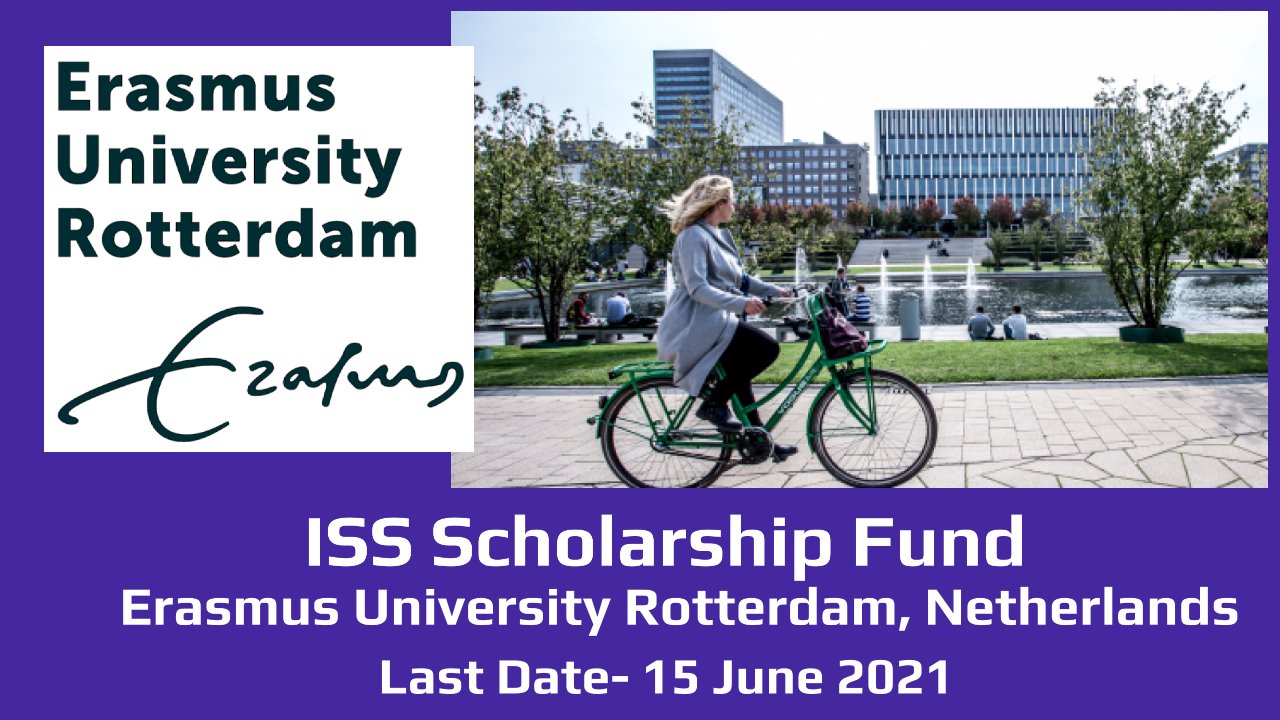 Designation/Position- ISS Scholarship Fund
University Rotterdam, Netherlands invites application for ISS Scholarship Fund (Fully Funded) for eligible and interested candidates
About- International Institute of Social Studies (ISS) established this fund to support excellent students without any other form of scholarship. Holland, higher education is subsidized, which means that tuition fees can be kept relatively low, especially compared with the United Kingdom and the United States. Because of this, we do not have an extensive scholarship programme. This doesn't mean we don't have them at all though, so make sure to have a closer look.
Study level- Master of Arts
Location- University Rotterdam, Netherlands
Eligibility/Qualification–
You wish to enroll in the Master of Arts in Development Studies at ISS;
You have a letter of admission from ISS;
You have relevant work experience, a degree in one of the social sciences (upper second or first class) and a strong motivation to study at ISS, or;
You are a recent graduate with a first class degree in one of the social sciences and a strong motivation to study at ISS.
Please make sure to check the faculty's websiteOpens external for the most up to date information on this scholarship.
Job/Position Description- 
How to Apply- 
n order to filter out the scholarships you might be able to apply for, take the following steps:
Select on this page your current situation.
By clicking on one of the situations, the scholarship overview that applies to you will be shown;
All the basic requirements of the scholarship are mentioned in the table of the scholarship overview page. Check for country and region eligibility, study level and faculty specific information;
Click on one of the scholarships for more details;
To apply, follow the given application instructions.
To apply, please email your request to the ISS student office as soon as possible (but before 15 June at the latest). Make sure to include the following information:
Requests should explain shortly the reason why a fee reduction will enlarge your opportunity to study at ISS;

Add detailed financial information (including supporting bank statements) to prove your ability to support yourself for the remaining tuition fee, the living expenses and health insurance.
The decisions on allocation of the scholarship are taken on an ongoing basis. Students selected for the scholarship bursaries will be informed by the student office. 
Last Date for Apply– 15 June 2021
More Opportunities:-
Dean's International Research Scholarship, University of Sydney, Australia
Rosa-Luxemburg-Stiftung Awards at Rosa-Luxemburg-Stiftung, Germany
Jönköping University Scholarships at Jönköping University, Sweden
Woods Hole Internship at Woods Hole Oceanographic Institution, U.S.A.