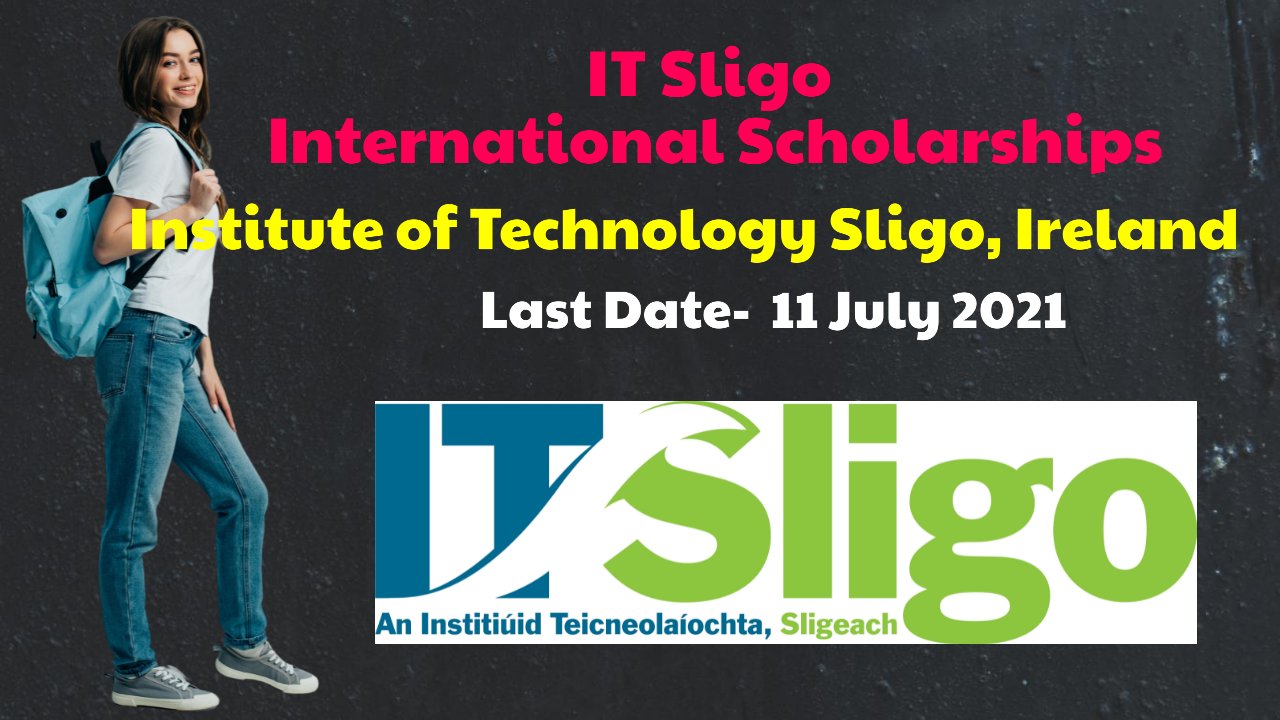 Designation/Position- IT Sligo International Scholarships
Institute of Technology Sligo, Ireland invites application for IT Sligo International Scholarships from eligible and interested candidates
About- This information is for International (Non-EU) applicants who are applying to a full time, on-campus programme at IT Sligo. Institute of Technology Sligo, Ireland invites application for IT Sligo International Scholarships for eligible and interested candidates
For the academic year 2021/22 the following full time tuition fees will apply for new International (Non-EU) students:
Foundation / Undergraduate: €10,500
Postgraduate: €11,500
Study level- Undergraduate and postgraduate
Location- Institute of Technology Sligo, Ireland 
Eligibility/Qualification–
This scholarship is open to all new Non-EU International students who have received an offer to study on a full time, on-campus programme at IT Sligo and who are subject to Non-EU International Tuition Fees. The scholarship is available to students studying on foundation, undergraduate and postgraduate programmes. The scholarship is subject to applicants meeting all admissions requirements for their programme.
Application Process: There is not a separate application process for the scholarship. Eligibility for the scholarship will be reviewed as part of the Non-EU International application.
Continuation of Country of Origin Scholarships
Once a student has been awarded a country of origin scholarship, they can continue to avail of the scholarship during their studies time at IT Sligo, subject to the following condition(s):
The scholarship will be awarded every year provided that the student successfully progresses in their programme of study with at least a 60% average in yearly examinations.
If the student must repeat attend OR repeat exams only, they will not qualify for a scholarship for that academic year.
If the student successfully completes their repeat year, they can qualify for the scholarship again in subsequent years, provided their average is over 60%.
Job/Position Description- 
IT Sligo offers partial tuition fee scholarships to Non-EU International students depending on their country of origin.
Countries with a GDP (per capita) of $10,000 (or less): 15% tuition fee scholarship
Countries with a GDP (per capita) of less than $20,000 but greater than $10,000: 20% tuition fee scholarship
How to Apply- 
You can pay fees through our TransferMate (formerly Pay to Study) web portal: https://itsligo.paytostudy.com/.
Once payment has been received, you can download a receipt from your TransferMate account. This receipt is accepted for visa and immigration purposes.
Last Date for Apply– 11 July 2021
More Opportunities:-
International Master Merit Scholarships by Lincoln University, New Zealand
100 International Ambassador Scholarship, University of West London, UK
International Student Merit Scholarship, University Houston-Victoria, USA
Global Wales Scholarships by Aberystwyth University, Wales, UKhttps://pbs.twimg.com/media/E34-4FmVIAAbtmY?format=jpg&name=large