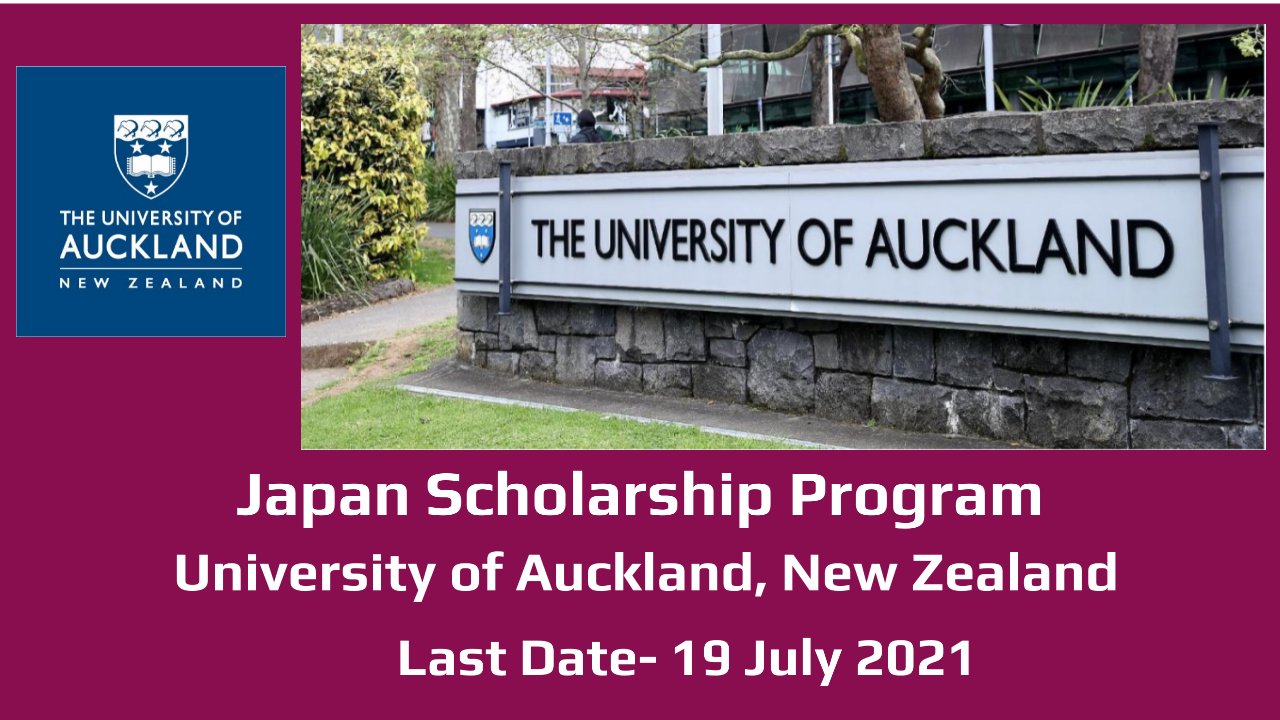 Designation/Position- Japan Scholarship Program
University of Auckland, New Zealand invites application for Japan Scholarship Program (Fully Funded) for eligible and interested candidates
About- The Asian Development Bank – Japan Scholarship Program (ADB – JSP) was established in April 1988 with financing from the Japanese government. The aim is to provide an opportunity for well-qualified citizens of ADB's developing member countries to undertake postgraduate studies in economics, management, science and technology, and other development-related fields at participating academic institutions in the Asia-Pacific region
Study level- Master's Degree
Location- University of Auckland, New Zealand
Eligibility/Qualification–
You must:
Be a national of an ADB borrowing member. For a list of current developing member countries, visit ADB – Japan Scholarship Programme.
Have gained admission to an approved master's at an approved academic institution.
Have a bachelor's degree or its equivalent with a superior academic record.
Have at least two years of full-time professional work experience (acquired after a university degree) at the time of application.
Be proficient in oral and written English communication skills to be able to pursue studies.
Be under 35 years old at the time of application. In exceptional cases, for programs that are appropriate for senior officials and managers, the age limit is 45 years.
Be in good health.
Agree to return to your home country after completing the program.
Ineligible:
Executive Directors, Alternate Directors, management and staff of ADB, consultants, and relatives of the aforementioned.
Staff of JSP-designated institutions can't apply to their own institution.
Applicants living or working in a country other than his/her home country.
Applicants who are already enrolled in graduate degree programmes or who have already completed graduate degree programmes.
Undergraduate studies, distance learning programmes, short-term training, conferences, seminars, thesis writing, and research projects.
For more information, see Japan Scholarship Program Frequently asked questions
Job/Position Description-
Tuition fees at the University of Auckland.
Airfare from the scholar's home country to Auckland, New Zealand.
Basic cost of living in Auckland.
Health and medical insurance in New Zealand.
Airfare from Auckland, New Zealand, to the scholar's home country at the conclusion of his or her course of study.
For scholars engaged in research, a special grant may be available for thesis preparation.
Note: The ADB-JSP does not cover dependents.
The following institutions participate in the Program:
Institution
Location
University of Hong Kong
Hong Kong, China
Indian Institute of Technology Delhi
New Delhi, India
Hitotsubashi University
School of International and Public Policy
Tokyo, Japan
International University of Japan
Niigata, Japan
Keio University
International Graduate Programs on Advanced Science and Technology
Graduate School of Economics
Graduate School of System Design and Management
Yokohama, Japan
Kobe University
Graduate School of International Cooperation Studies
Kobe, Japan
Kyoto University
Kyoto, Japan
Kyushu University
Graduate School of Bioresource and Bioenvironmental Sciences
Graduate School of Law
Fukuoka, Japan
Nagoya University
Graduate School of International Development
Nagoya, Japan
National Graduate Institute for Policy Studies
(formerly Graduate School of Policy Science, Saitama University)
Tokyo, Japan
Ritsumeikan Asia Pacific University
Graduate School of Asia Pacific Studies
Oita, Japan
Ritsumeikan University
Graduate School of Economics
Kyoto, Japan
Saitama University
Department of Civil & Environmental Engineering
Saitama, Japan
Tokyo Institute of Technology
Tokyo, Japan
United Nations University Institute for the Advanced Study of Sustainability
Tokyo, Japan
The University of Tokyo
Department of Civil Engineering
Department of Urban Engineering
Graduate School of Public Policy
Division of Environmental Studies
School of International Health
Tokyo, Japan
Tsukuba University
Graduate School of Humanities and Social Sciences
Ibaraki, Japan
University of Auckland
Auckland, New Zealand
Lahore University of Management Sciences
Lahore, Pakistan
Asian Institute of Management
Manila, Philippines
International Rice Research Institute
University of the Philippines, Los Banos
Laguna, Philippines
National University of Singapore
Singapore
Asian Institute of Thailand
Bangkok, Thailand
Thammasat University
Bangkok, Thailand
East-West Center, University of Hawaii
Hawaii, USA
How to Apply-
To be considered for the scholarship, you must submit the following documentation in full prior to the closing date:
Completed ADB-JSP Information Sheet
Completed ADB-JSP Application Form
Copy of your offer letter to the University of Auckland
Academic documentation – both academic transcripts and degree certificates
Certificate of Employment for the duration of employment issued by the company
Certificate of Income issued by the company
Certificate of Family Income issued by the company. Must be either your parents or spouses annual/monthly income.
Copy of your Passport
Valid IELTS test
Last Date for Apply– 19 July 2021
More Opportunities:-
High Potential Students Grant by RWTH Aachen University, Germany
Global Graduate Scholarship by University of Michigan Flint, United States
AIAS Foundation Scholarships by Academy Foundation's, Los Angeles, USA
IOE-ISH Taught Master's Scholarships, University College London, England