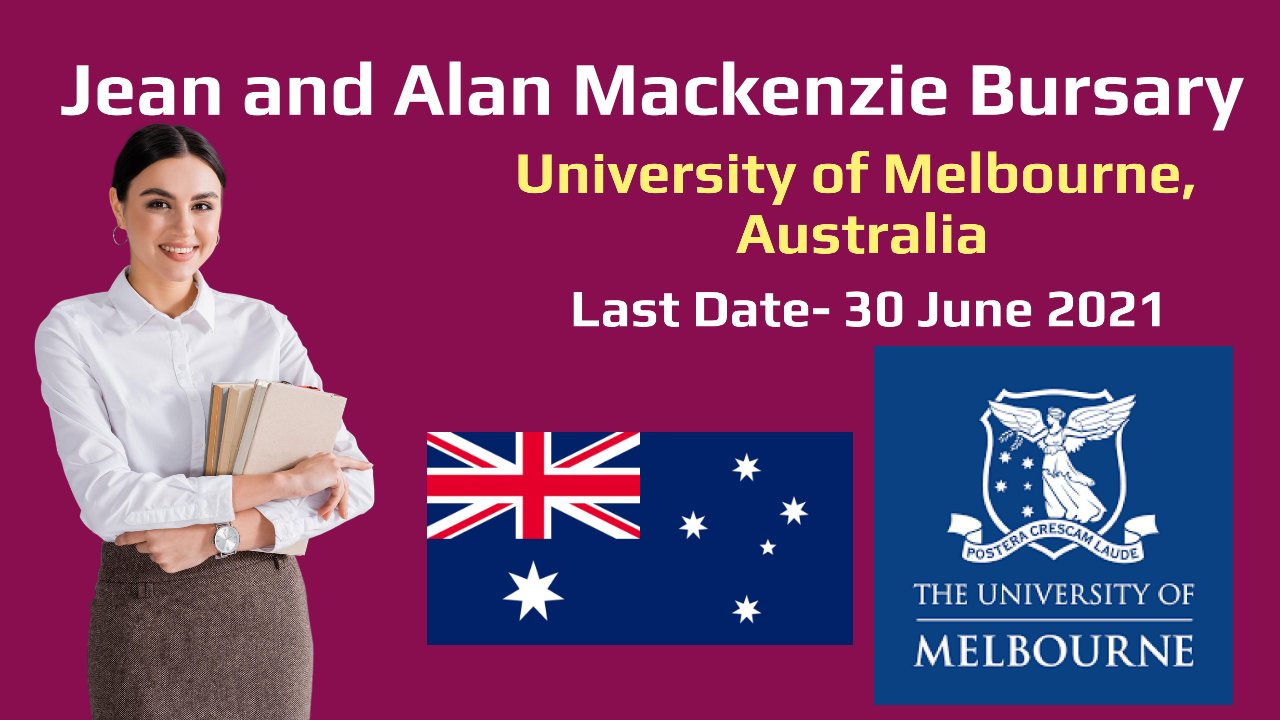 Designation/Position- Jean and Alan Mackenzie Bursary
University of Melbourne, Australia invites application for Jean and Alan Mackenzie Bursary for eligible and interested candidates
About- This bursary was established with a donation from Mrs. Jean Audrey Mackenzie and is offered to students with disabilities to enhance their student experience. University of Melbourne, Australia invites application for Jean and Alan Mackenzie Bursary for eligible and interested candidates
Study level- Master's Degree
Location- University of Melbourne, Australia
Eligibility/Qualification–
To be eligible for this scholarship, you need to:
be enrolled at the University of Melbourne
provide evidence of financial need
Citizenship requirements– Australian / domestic student
International student
You must be enrolled as a full-time student in a course at the University of Melbourne. You may be eligible to receive this scholarship while enrolled as a part-time student.
This scholarship cannot be deferred to the following year.
You must provide a brief report on the benefits of the scholarship and give permission for the University to provide the report, your name and course details to the donor.
Job/Position Description- 
Jean Audrey Mackenzie bequeathed 50 per cent of her residuary estate to the university to assist handicapped students. Robert Alan ('Alan') Mackenzie was Jean's wife, Alan was active at sport and school until, at the age of 13, he had a spinal tumor resulting in paralysis. Jean left this fund to the university as Alan was grateful for the opportunities the university gave him and he wanted to leave a legacy to assist others to undertake university education.
The scholarship provides an allowance of approximately $5,000 (exact amount determined when award is offered) paid in two instalments usually in April and September.
How to Apply- 
If you have submitted an application for the Student Grants you will be automatically considered for this scholarship.
Last Date for Apply– 30 June 2021
More Opportunities:-
High Potential Students Grant by RWTH Aachen University, Germany
Global Graduate Scholarship by University of Michigan Flint, United States
AIAS Foundation Scholarships by Academy Foundation's, Los Angeles, USA
IOE-ISH Taught Master's Scholarships, University College London, England