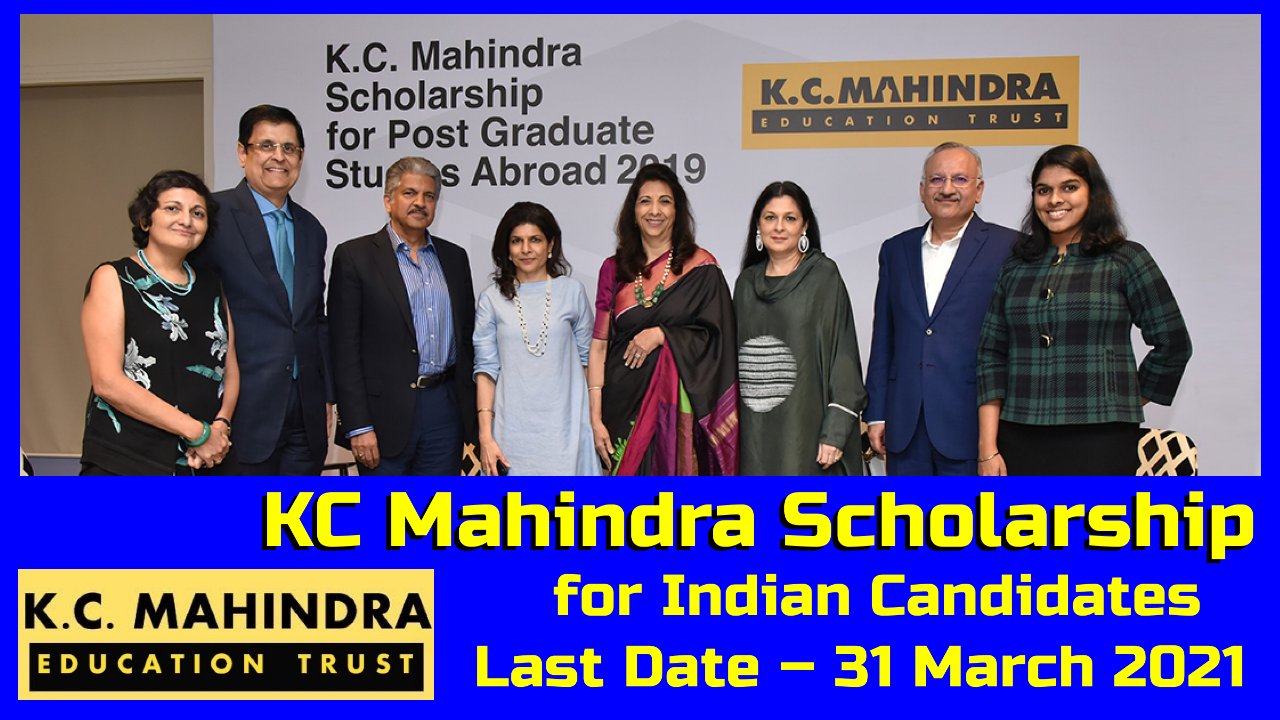 Designation/Position- KC Mahindra Scholarship
KC Mahindra, Mumbai invites application for KC Mahindra Scholarship for(post-graduate) eligible and interested candidates
About- Since 1956, K. C. Mahindra Education Trust has granted interest-free loan scholarships to deserving students to pursue post-graduate studies abroad in various fields. Since its inception, the trust has promoted education mainly by way of scholarships and grants to deserving and needy students. Some of these were instituted way back in the mid 1950s while others were founded more recently, a proof of its continuous efforts to bring about social and economic development through a literate, enlightened and empowered populace. KC Mahindra Scholarships is also available.
The K.C. Mahindra Education Trust was founded in 1953, by the late Mr. K.C. Mahindra, with the objective of promotion of literacy and higher learning in the country.
The Trust is registered as a Public Charitable Trust under the Bombay Public Trusts Act, 1950.
Study level- First Class degree or equivalent diploma
Location- KC Mahindra, Mumbai
Eligibility/Qualification–
Applicants must possess a First Class degree or equivalent diploma of similar standard from a recognised University for KC Mahindra Scholarships
Applicants must be Indian candidates who have secured admission or have applied for admission in reputable foreign universities for courses commencing from August 2021 but not later than February 2022.
Applications are now open for the academic year 2021
Students going abroad for undergraduate studies, seminars & conferences are not eligible for this scholarship
The deadline to apply for the scholarship is 31.03.2021.
Job/Position Description- 
Every year, we offer KC Mahindra Scholarships, as given below:
A maximum of Rs.8 lakh per scholar, awarded to the top 3 K.C. Mahindra Fellows .A maximum of Rs.4 lakh per scholar, awarded to remaining successful applicants
How to Apply- 
http://mahindraapps.com:8080/feedbackform/?id=KCMET_2021
Last Date for Apply– 31 March 2021
More Opportnities:-
UWGSS Graduate Studies Scholarship at the University of Winnipeg, Canada
Amsterdam Merit Scholarship at Universiteit van Amsterdam, Netherlands
Bangchak Master Scholarships 2021 at Asian Institute of Technology (AIT) in Thailand
Postgraduate Research Scholarship at The University of Sydney, Australia