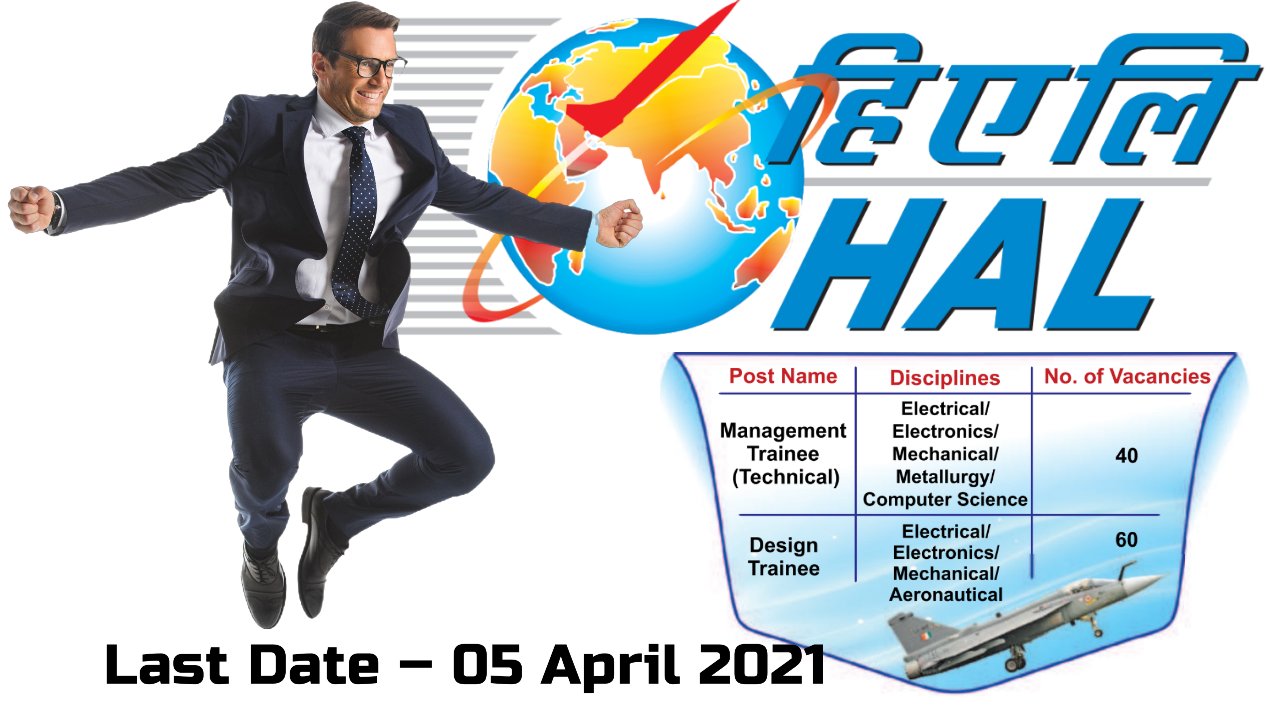 Designation/Position- Management/Design Trainees Post
Hindustan Aeronautics Limited, India invites application for Management/Design Trainees Post for eligible and interested candidates
About- Hindustan Aeronautics Limited (HAL) is a premier aeronautical complex in Asia, propelling the 'Make in India' dream of the Country by undertaking design, production, repair, overhaul and upgrade of Aircraft, Helicopters, Aero-engines, Accessories, Avionics and Systems. Hindustan Aeronautics Limited, India invites application for Management/Design Trainees Post for eligible and interested candidates
Study area- Electrical/ Electronics/ Mechanical/ Metallurgy/ Computer Science
Company Name- Hindustan Aeronautics Limited, India 
Eligibility/Qualification–
Details with respect to Reservation of Posts, Age, Qualification, Eligible Branches of Engineering, Emoluments, Application Fee (wherever applicable), Mode of applying, General Conditions etc., can be had only by visiting 'Careers Section' on the HAL website www.hal-india.co.in
Job/Position Description- 
HAL invites applications from young, energetic & result oriented Graduate Engineers for the post of Management Trainees / Design Trainees for its various Divisions / Research & Design Centres / Offices situated across the Country.
Management Trainees
Disciplines – Electrical/ Electronics/ Mechanical/ Metallurgy/ Computer Science
No. of Vacancies- 40
Design Trainees
Disciplines- Electrical/ Electronics/ Meehan ical/ Aeronautical
No. of Vacancies- 60
How to Apply- 
Applications should be submitted through 'ONLINE' mode only by logging on to www.hal-india.co.in between 1500 hrs on 17th March 2021 to 1500 hrs on 05th April 2021.
Applications will not be accepted through any other mode and after the last date specified for receipt of online applications i.e., 05.04.2021.
Candidates are informed that details of vacancies are hosted only on the Website of HAL (www.hal-india.co.in) and on no other Social Media Platform/Website.
Last Date for Apply– 05 April 2021.
More Opportnities:-
UWGSS Graduate Studies Scholarship at the University of Winnipeg, Canada
Amsterdam Merit Scholarship at Universiteit van Amsterdam, Netherlands
Bangchak Master Scholarships 2021 at Asian Institute of Technology (AIT) in Thailand
Postgraduate Research Scholarship at The University of Sydney, Australia