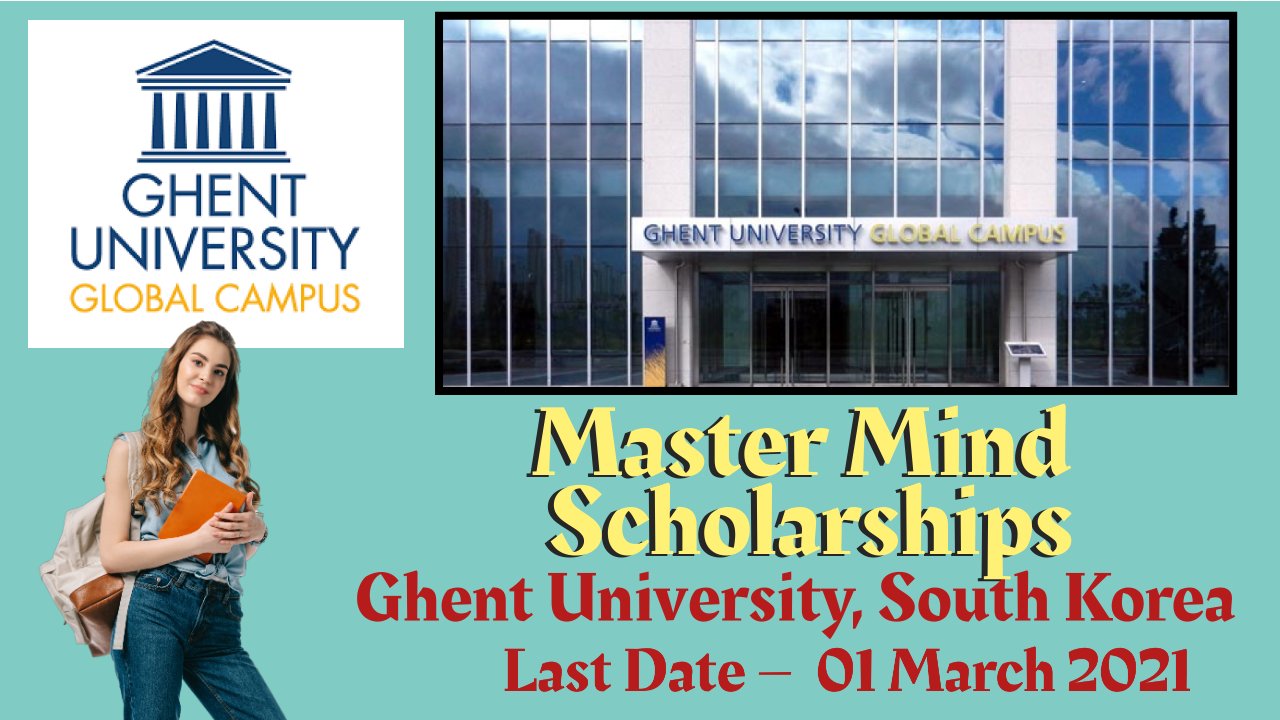 Designation/Position- Master Mind Scholarships
Ghent University, South Korea invites application for Master Mind Scholarships(Master programmes) for eligible and interested candidates
About- The Government of Flanders awards scholarships to academically outstanding students for master programmes in Flanders and Brussels. Ghent University is a top 100 university and one of the major universities in Belgium. Our 11 faculties offer more than 200 courses and conduct in-depth research within a wide range of scientific domains. Ghent University Global Campus is also the first European university in Songdo, South Korea.
Study level- Master programmes
Location- Ghent University, South Korea
Eligibility/Qualification–
All new international students who have been (academically) admitted to start any of the university's master programmes (including advanced masters) in the academic year 2020-2021 are eligible.
The applicant should have a high standard of academic performance and/or potential (a GPA of 3.5 out of 4.0 and good knowledge of the English language).
A student is not able to apply directly, it is the master programme coordinator who proposes a maximum of 3 applicants (motivation + ranking in case of several candidates). The International Relations Office will screen all files and submits a shortlist of maximum 20 students by the 30th of April to the Flemish Government who will make the final decision.
Shortlisted students will be contacted by the university's International Office by mid- April with the necessary information to complete their online Master Mind scholarship application in the Mobility Online tool.
The final selection results will be announced by the selection committee of the Flemish Government in June 2020.
Job/Position Description-
It is estimated that 30 international students (to be divided over the different Flemish higher education institutions) will be able to benefit from a Master Mind scholarship to start their studies in the academic year 2020-2021. For Ghent University this means approximately 6 students.
The duration of mobility is one academic year for a Master programme of 60 ECTS and two academic years for a master programme of 120 ECTS.
The incoming student is awarded a maximum scholarship of €8.000 per academic year.
Ghent University will ask the applicant for a tuition fee that equals the lowest rate of the yearly tuition fee for a student who receives a study grant from the Flemish Government. The rate for the academic year 2020-2021 is €111,9. This rate may increase slightly from year to year.
How to Apply-
The Master Mind scholarships are incorporated in the normal application scheme to obtain admission.
Only academically admitted students will be considered. The application for academic admission should be submitted before the 1st of March according to this procedure.
A student is not able to apply before he/she is preselected by the master programme coordinator (and, if necessary, by the International Relations Office).
Last Date for Apply– 1st of March each year
More Opportnities:-
UWGSS Graduate Studies Scholarship at the University of Winnipeg, Canada
Amsterdam Merit Scholarship at Universiteit van Amsterdam, Netherlands
Bangchak Master Scholarships 2021 at Asian Institute of Technology (AIT) in Thailand
Postgraduate Research Scholarship at The University of Sydney, Australia