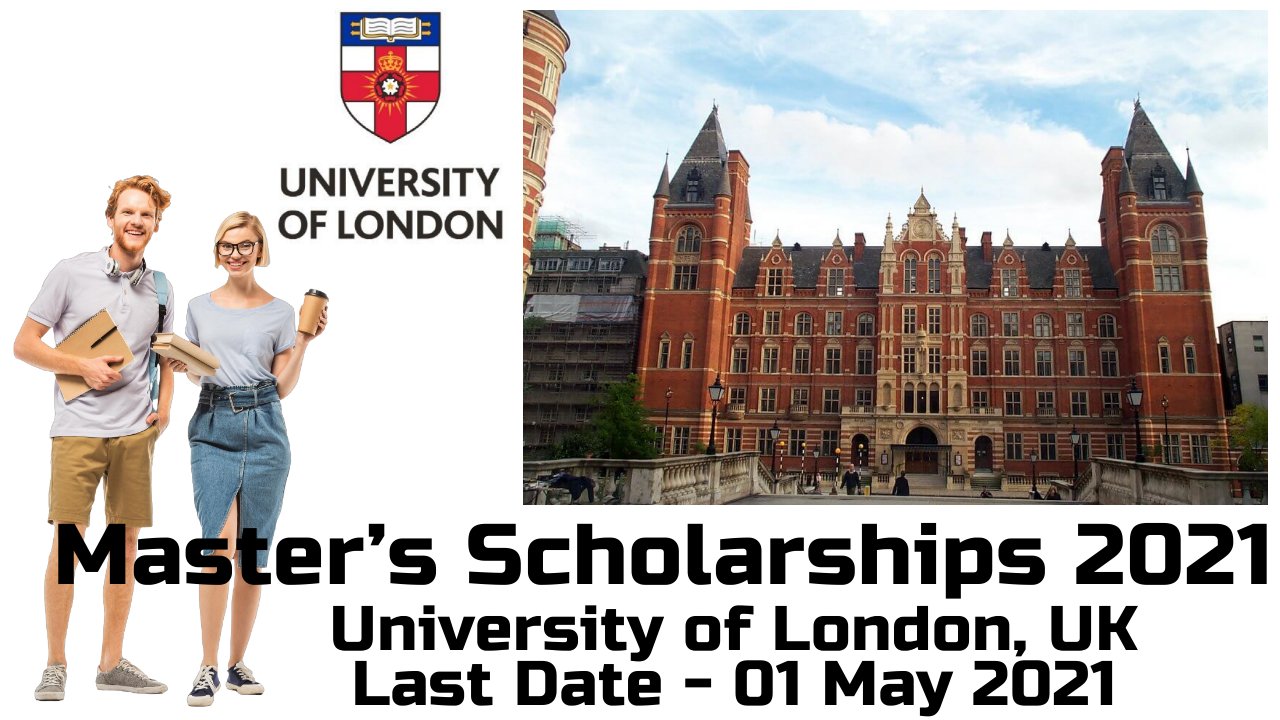 Designation/Position- Master's Scholarships 2021
University of London, United Kingdom invites application for Master's Scholarships 2021 for eligible and interested candidates
About- Master's Scholarships 2021 are avaiable for outstanding international postgraduate students, starting a master's degree in Engineering at City. Applications are considered three times a year. The School is committed to providing financial support to high-calibre international students on Engineering courses through the generous scholarship scheme.
Study level- First-class degree
Location- University of London, United Kingdom
Eligibility/Qualification–
Must hold a first-class degree or overseas equivalent OR be on course to achieve a first-class degree or overseas equivalent.
Must submit a strong supporting statement as part of their application.
Must have already made an application to their preferred course and provide a valid application number as part of their application.
Eligible courses
The following terms and conditions relate to the school's postgraduate scholarships for international applicants and are valid for the 2021/22 academic year:
The Scholarship will take the form of fee-waiver applied against the last payable instalment in any year
Scholarships are awarded at the discretion of the Scholarship Panel. The Panel may require applicants to submit an assignment or an essay, for example, as part of the selection process
Scholarships are only available to students paying the full fee on one of the participating courses
The scholarship is intended to assist the student to meet the cost of the fee payable in respect of the course and will be deducted from the fees charged to the student or the student's sponsor
The scholarship will not be recorded on the degree certificate from the Institute. However, references for students who have successfully completed the course may refer to the scholarship
Applicants may only apply for a scholarship once, but if a deadline is missed it will automatically be considered for the next round
Applicants who are eligible for a City, University of London 10% Graduate Loyalty Discount are eligible to apply for this Scholarship as well.
Disclaimer: City, University of London reserves the right to change these terms and conditions (including the list of eligible courses and application criteria) without notice.
Job/Position Description- 
Scholarships will be offered to international well-qualified applicants wishing to take up a place on any of the below courses in September 2021. The scholarships, each valued at £2,000, are intended to assist students to pay the fees for their chosen course of study. They will be awarded on a competitive basis to the most promising applicants.
How to Apply- 
Once you have applied to one of our Masters programmes, please complete the SMCSE International Scholarship Application Form to be considered for this scholarship.
Last Date for Apply– 
Round One: 1st March 2021
Round Two: 1st May 2021
Round Three: 1st July 2021 (this is the absolute deadline for scholarship applications for 2021/22 entry).
More Opportnities:-
UWGSS Graduate Studies Scholarship at the University of Winnipeg, Canada
Amsterdam Merit Scholarship at Universiteit van Amsterdam, Netherlands
Bangchak Master Scholarships 2021 at Asian Institute of Technology (AIT) in Thailand
Postgraduate Research Scholarship at The University of Sydney, Australia