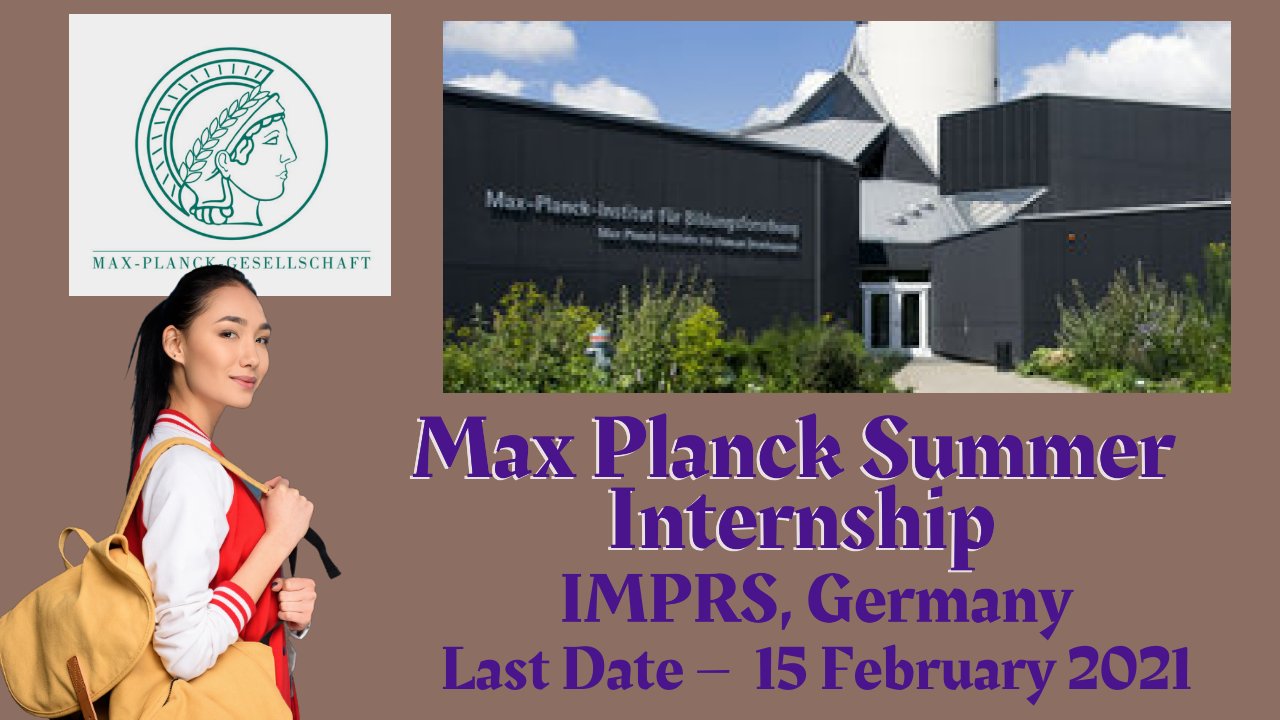 Designation/Position- Max Planck Summer Internship
Max Planck Institute of Biochemistry, Germany invites application for Max Planck Summer Internship for eligible and interested candidates
About- Our Summer Internship Program provides the opportunity for highly motivated undergraduate students to join one of the labs at the Max Planck Institute of Neurobiology(link is external) and the Max Planck Institute of Biochemistry(link is external). The program will allow you to become familiar with different scientific approaches and laboratory methods. The aim of our internship program is to provide excellent students with a broad range of research experiences and knowledge to promote them early on in their career.
Study Level- Undergraduate
Location- Max Planck Institute of Biochemistry, Germany
Eligibility/Qualification–
We invite excellent and enthusiastic students with top grades from all countries to apply. Training should be in Biology, Chemistry, Bioinformatics, Biophysics, Neuroscience and related fields.
The program intends to promote students early on in their career. We welcome applications from bachelor (second year and onwards) and master students that have already gained some research experience during their studies.
Applicants need to be enrolled at university during the internship or have completed their degree in 2021. Please note that the program is highly competitive.
Job/Position Description-
This is a fully funded internship program. Successful applicants will benefit from the following:
Free student accommodation
Stipend of approximately 800 Euro per month
Reimbursement of travel costs to and from Martinsried, near Munich
The internship is a full-time immersion for up to ten weeks. It takes place between mid-June to end-September. Within this framework, the starting date and duration of the internship is determined by mutual agreement between the host lab and the student.
During your internship, you will be a full member of the institutes with the ability to join numerous social activities such as lab parties, hikes, sports groups, PhD activities, the institutes' summer parties, in-house lectures and much more.
How to Apply-
The program committee will evaluate and select students based on their grades, research experience, CV, letter of motivation and letter of reference. The committee aims to announce their decisions to the applicants by the end of March 2021.
The number of internships is limited. Host labs will interview pre-selected students interested in working in their labs via Skype, Zoom or other means.
Questions? Please contact maxsip@neuro.mpg.de(link sends e-mail)
Last Date for Apply– 15 February 2021 (24:00 CET)
More Opportunities:-
Scholarships and Discounts for International Students at University of Derby, UK
Otto Koenigsberger Scholarship at University College London, United Kingdoms
Vice-Chancellor's International Scholarship, Macquarie University, Australia
Trent International Scholarships and Awards at Trent University, Canada