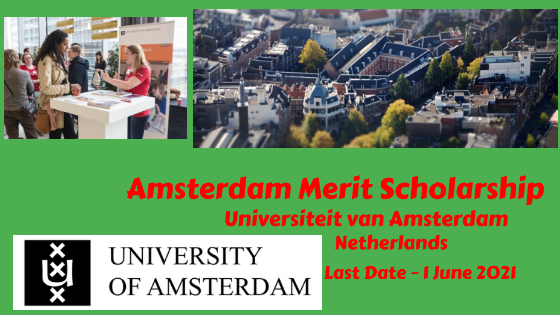 Designation/Position- Merit Scholarship
Universiteit van Amsterdam invites application for Scholarship for the Faculty of Medicine for eligible and interested candidates
About- The Academic Medical Centre of the Universiteit van Amsterdam offers the Amsterdam Merit Scholarship (AMS), a scholarship for outstanding non-EU/EEA students who have been admitted to one of the (Master's) programs of the Faculty of Medicine. The AMS is highly selective: only applicants with excellent study results and motivation will be considered for the scholarship. The scholarship is funded by the Universiteit van Amsterdam.
Research/Job Area- Faculty of Medicine
Location- Netherlands
Eligibility/Qualification–
You are elegible for the AMS scholarship if:
you hold non-EU/EEA passport;
you are not be entitled to receive a Dutch study grant or loan ("Studiefinanciering");
you are not be eligible to pay the reduced tuition fee rate for EEA students at the UvA;
you do not receive a full coverage scholarship for the same period of study as the Amsterdam Merit Scholarship;
you have been (or will be) admitted to the (Master's) programme of Medical Informatics at the AMC -UvA.
Job/Position Description-
Please note that the scholarship cannot be used as a (partial) tuition waiver. The applicant must still pay the full amount of tuition. The scholarship consists of € 4,000 or a proportional amount if you start the programme in February..
Conditions
Amsterdam Merit Scholarships are only awarded to applicants who have been admitted to one of the (Master's) programs of the AMC-UvA. A scholarship granted for a specific academic year cannot be transferred to another academic year. A scholarship will only be extended to the second year of study if the applicant has successfully completed 80% or more of the maximum number of credits in the first year of study.
How to Apply-
Applicants wishing to apply for an AMS scholarship should upload their application to the International Office via the Digital Student Service Desk. Only serious applications will be taken into consideration.
if you meet the requirements and would like to apply for an AMS Scholarship:
Please upload:
a letter of motivation (maximum 500 words) in which you explain the reasons for choosing the Master's programme of Medical Informatics (broader context, relevance for future career);
a letter of recommendation by your dean, teacher or academic supervisor, in which he/she also confirms that you belong to the top 10% of your class;
a description of your extracurricular activities such as participation in student commissions, international experience, sports or music at a high level or volunteer work.
Last Date for Apply– 1 June 2021
Applications for an AMS scholarship for the Master's program Medical Informatics should be submitted before June 1 (start in September) or November 1 (start in February).
More Opportunities
Education Future International Awards by The Education Future, India
Bangchak Master Scholarships 2021 at Asian Institute of Technology (AIT) in…